Los Angeles Lakers Could Score Big with Dwight Howard and Jameer Nelson
December 11, 2011
Kevin C. Cox/Getty Images
In a shocker of a trade that seemingly came out of nowhere, the Los Angeles Lakers have traded Lamar Odom to their western conference rival Dallas Mavericks for a conditional 2012 first round pick and possible future draft considerations.  In exchange, the Lakers will receive an approx. $8 million trade exception, by virtue of the fact that there were no players coming their way in the trade.
ESPN's John Hollinger had this to say about the surprising deal:
What is the Lakers' endgame? The obvious answer is that this trade is somehow a prelude to the Lakers acquiring Dwight Howard. It's either that or the Lakers are complete idiots; there's no in-between.
Jerry Buss and the Lakers brass are no fools, so I'm leaning more towards this trade being the first step in an eventual trade that will bring Dwight Howard and Jameer Nelson to the Los Angeles Lakers.
In 2004, I was a 14 year old hoop head, sitting at the deli of my local grocery store reading that month's issue of Sports Illustrated magazine.  On the cover of the magazine were the two latest first round picks of the Orlando Magic; Dwight Howard and Jameer Nelson. 
I remember saying to myself and to a fellow basketball fan the next day at school that these two players were going to bring a title to Orlando… as it turns out, I may not have been too far off.  There is a very good chance they will never win a title in Orlando and a good chance they never play another game in a Magic jersey. 
Nevertheless, these two players, alongside Lakers star Kobe Bryant, may be able to bring a title to Tinsel Town, here's how they'd both get there and why I think they'd have what it takes to win an NBA title alongside Kobe Bryant:
According to ESPN's John Hollinger, here's how Howard and Nelson could potentially join Kobe in Tinsel Town:
To make sense of an Odom trade with respect to a future Howard deal, about the best I can do is a four-for-two deal that sends Howard, Duhon and Turkoglu to L.A. for Pau Gasol and Andrew Bynum, and puts Jameer Nelson into the exception created by Odom's trade. In this scenario, getting Nelson to alleviate the point guard hole might ease some of the sting of the Lakers' trading both star big men to land Howard and would give the Magic added cap relief.
I'd have to say that, "about the best" John Hollinger can do would end up working out quite well for the Lakers.  As much as I hate to give up Andrew Bynum and Pau Gasol, I am confident it is in the team's best interest as long as Howard and Nelson are on the other end of the trade, here's why:
Nelson and Howard are already familiar with each other, meaning both players will immediately have a teammate they are comfortable with both on and off the court, not to mention under Kobe's influence, their on-court relationship will flourish, as will the way they live, think and play the game.
By acquiring one-time All-Star PG Jameer Nelson, the Lakers get an improvement over Derek Fisher.  The 29-year-old Nelson is a good shooter and good enough defender to take the starting job from Fisher. 
That being said, Fisher will still play an important role on this team as a leader—as we saw him do throughout the lockout—and as a mentor for Nelson, not to mention the fact that, as we are well aware, Kobe Bryant wants Fisher to stay in Los Angeles, so it also keeps him happy. 
As I mentioned, Nelson is a good shooter and will have no problem knocking down open threes as the result of double teams on Dwight and Kobe, and with some guidance from Derek Fisher, I am confident he will improve his game substantially and may even become just as clutch as Derek himself.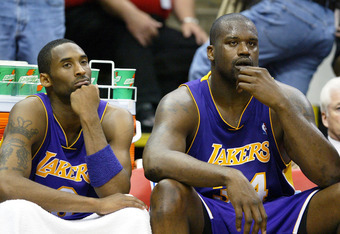 Jed Jacobsohn/Getty Images
Remember how much Raymond Felton improved when he went to the Knicks?  Imagine if Jameer Nelson could do the same.  Under the tutelage of Kobe Bryant and Derek Fisher, arguably the savviest backcourt in all of basketball, there is a very good chance of this happening.
The Lakers would be obliged to take on Hedo Turkoglu's contract, and although he is far from a permanent option for the Lakers at the three, I think the Lakers can find a way to make it work. 
When you're playing with Kobe, nothing but the best will do.  With Kobe lighting a fire under Turkoglu's butt both on offensive and defense, look for him to become more focused and determined.  Playing alongside Kobe and for a bonafide championship contender in a big basketball city like Los Angeles, we may see the Hedo of old—that's never a bad thing.  This could even allow the Lakers to amnesty Metta World Peace in order to free up some cap space.
As for Howard and Kobe, need I really say much?  This is basically the second coming of Kobe and Shaq, except Kobe is now the older veteran and obvious team leader while Dwight is the young stud.
The cape and the snake; here's hoping Black Mamba and Superman come together under the bright lights of the Staple Center.  Kobe would be poised for another ring and this could be the beginning of yet another Lakers three-peat for Kobe Bryant.