UFC 140: What's Next for Each Fighter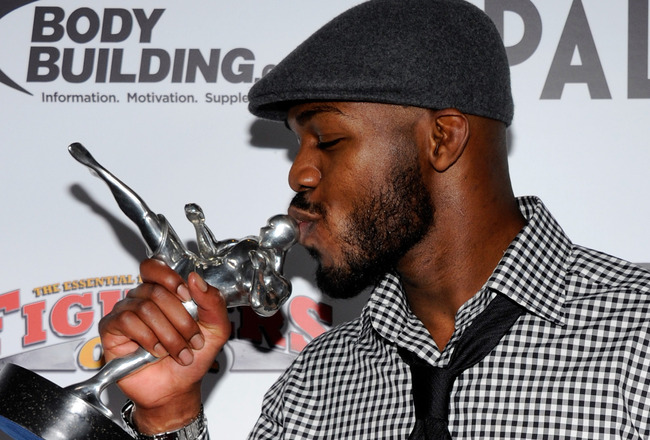 Ethan Miller/Getty Images
UFC has been riding a good streak of exciting pay per view events. UFC 140 did not disappoint.
It contained a seven-second KO, a submission that broke an arm, and a standing submission from a dominating champion that made his opponent pass out.
What is next for the winners and losers of UFC 140?
Antonio Rogerio Nogueira Def. Tito Ortiz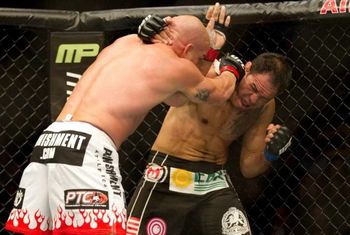 Antonio Rogerio Nogueira def. Tito Ortiz
This fight started out with Tito looking like he was ready to fight three people. As in his last few fights, the Huntington Beach Bad Boy came out "guns hot" and was actually connecting a little and hit "little Nog" good a few times and a little dirty boxing.
And then he went for a take down that got stuffed and that was it. Antonio Rogerio hit Tito with a solid punch that rattled him a little. Nogueira followed with a knee to Tito's body that dropped him to the floor and was very similar to the knee that Rashad Evans hit Tito with at UFC 133.
Little Nog eventually slipped enough elbows and punches on and passed a desperate Tito guard and caused a stop in the fight.
What's next for Antonio Rogerio Nogueira?
Little Nog could have saved himself from falling far down the light heavyweight division with his victory. While he was able to snap his two-loss streak, the fight was against an aging Tito Ortiz.
Antonio still has a ways to go to jump to the top of the light heavyweight division, and a fight against Stephan Bonnar should be next. Bonnar has been on a three-fight win streak and could be on the verge of a serious push by the UFC.
Bonnar vs. Nogueira could be an exciting stand-up war and the winner could be given a chance to fight amongst the top of the light heavyweight division.
What's next for Tito Ortiz?
As for the former light heavyweight champion, Tito Ortiz, he made it clear that his next fight in the UFC will be his last. Tito obviously wants to retire after a win and they way things have been going for him (one win in his last seven fights), it is not going to be easy.
Ortiz's opponent in his final fight of his career should be Wanderlei Silva, Chuck Liddell or Forrest Griffin. A fight against Silva will give Tito a decent chance at going out on top because Wanderlei is also in the end of his career.
A fight against Chuck Liddell may not be likely; but it is definitely a fight that fans would like to see. A rubber match between Ortiz and Griffin would be interesting; however, this probably isn't the best fight for Tito if he wants to win.
Frank Mir Def. Antonio Rodrigo Nogueira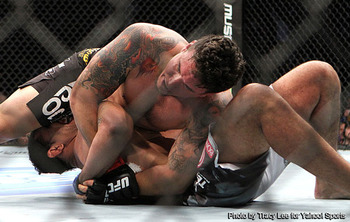 Frank Mir def. Antonio Rodrigo Nogueira
Frank Mir's kimura on "Big Nog," which broke his arm, almost made me vomit. Nogueira's arm looked like it was made of rubber. The fight was close to being over when Nogueira delivered numerous strikes, that made Mir off balance and knocked him down.
It looked as if Mir was all but done when Nogueira went for a submission instead of continuing to pound Mir with strikes.
Somehow, Mir was able to turn the tables and rolled into a kimura that broke Nogueira's arm. This makes Frank Mir the only person to knock out Antonio Rodrigo Nogueira and the only person to submit him.
What's next for Frank Mir?
Frank Mir's next fight should be for the gold. Mir's exciting win should have earned him a fight against Junior Dos Santos.
Frank Mir, the two-time Heavyweight champion, has won three straight fights and four out of his last five. If for some reason Mir is not given a title shot, a fight against his rival Brock Lesnar is possible.
What's next for Antonio Rodrigo Nogueira?
First things first, Nogueira has to take care of his broken arm. That injury could keep him out for a long time and it is possible that it could put his career in jeopardy (that's how nasty it was).
If Big Nog is able to get back to the octagon and depending on where Mir is in his career, a rematch between the two could be exciting as Mir was almost knocked out in this match.
Jon "Bones" Jones Def. Lyoto Machida
Jon "Bones" Jones def. Lyoto Machida
Jon Jones retained his UFC light heavyweight championship by submitting Machida with a standing guillotine choke. Two things that should be taken from this fight are that it is possible to hit Jones with some decent shots, and Jon Jones is able to recover after getting into trouble.
The first round was a lopsided round that favored Lyoto Machida. Machida was able to put some pressure on the champion and connected with some significant shots. This may show that Jones could be able to be beaten, depending on the opponent.
However, Jones was able to recover after losing the first round, and proved why he deserves to be sitting at the top of the light heavyweight division.
A legitimate question is whether Jones sharpens his elbows because one elbow shot to Machida's forehead opened up a huge gash on his head that was close to causing the fight to stop.
Jones somehow was then able to find a way to make Machida pass out standing up. Many people think Jon "Bones" Jones is cocky, but he sure does back it up.
Jones' year has to be considered one of the best years for any UFC fighter in history. He has won four fights and three of them have been against former champions.
What's next for Jon Jones?
There are three possible fights for Jon Jones. The obvious one being against Rashad Evans and the other two being Phil Davis and Dan Henderson. The fight between Evans and Davis at UFC on Fox 2 could very easily be a No. 1 contender fight.
Rashad Evans has deserved a shot to get his title back for quite some time now. Phil Davis is a "wonderful" young star who is currently undefeated. Jon Jones vs. Dan Henderson is also a possibility after Henderson defeated Shogun Rua.
What's next for Lyoto Machida?
Personally I didn't think Machida deserved a title shot against Jones. Lyoto Machida has now lost three out of his last four fights and his one win came against an old Randy Couture.
The Dragon has to find his identity and adapt if he wants to remain among UFC's elite. The next fight for Machida should be a rubber fight against Shogun.
Keep Reading