Chicago Bulls
Chicago Bulls: Its Time to Make a Deal to Land Dwight Howard
Dwight Howard
Christian Petersen/Getty Images
December 11, 2011
ESPN's Nick Friedell is reporting that the Bulls are going to throw their hat into the Dwight Howard ring.
Perhaps the additions of Chandler to New York and Battier to Miami—or the resignings of Greene in Boston and Richardson in Orlando—have alarmed management to the point where they feel they're going to be left behind. Whatever the reason, Chicago management seems to have a real interest in putting together a package to bring in "Superman" to play next to the "Chi City Kid."
I would suggest that management make the following moves so they can land the best center in the NBA through a trade with the Orlando Magic.
Cut: Keith Bogans ($1.7M), John Lucas ($950k) and Jannero Pargo ($1.26M).
Keep: Derrick Rose ($6.99M), Kyle Korver ($5M),  Ronnie Brewer ($4.71M), C.J. Watson ($3.4M), Omer Asik ($1.85M), Taj Gibson ($1.2M) and Jimmy Butler ($900k).
Sign: Kris Humphries ($5M) and Troy Murphy (veteran minimum).
Trade: Joakim Noah ($10M), Carlos Boozer ($13.5M), Luol Deng ($12.34M), Bobcat's 2012 first-round pick and Bulls 2012 first-round pick to Orlando for Dwight Howard ($17.8M), Hidayet Turkoglu ($10.6M), Jason Richardson ($6M) and Orlando's 2012 second-round pick.
Bulls Roster
PG: Rose, Watson
SG: J. Richardson, Brewer and Korver
SF: Turkoglu, J. Butler and Korver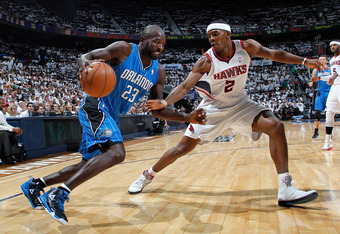 Jason Richardson
Kevin C. Cox/Getty Images
PF: Gibson, Humphries and Murphy
C: Howard, Asik
Lose: Bobcat and Bulls 2012 first-round picks
Gain: 2012 second-round pick 
Magic Roster
PG: Nelson, Duhon
SG: Redick, Q. Richardson and Wafer (already traded for him)
SF: Deng, Liggins
PF: Boozer, Big Baby (already traded Bass for him) and McRoberts (need to sign him)
C: Noah, Anderson
Gain: Charlotte and Bulls' 2012 first-round picks
Lose: 2012 second-round pick
Like the new article format? Send us feedback!