UFC 140 Results: Frank Mir Produces Most Monumental Finish Ever Against Nogueira
December 11, 2011
Former UFC heavyweight champions, Frank Mir and Antonio "Big Nog" Nogueira, collided in a rematch of validation at UFC 140.
Hollywood couldn't have scripted the conclusion to this fight better than what transpired tonight. Former two-time heavyweight champion Mir overcame adversity getting lit up and stunned on his feet, only to recover on the ground and slap a bone-breaking kimura submission on one of the greatest heavyweight ground specialist in the sport. 
Considering all the incredible factors from this first-round victory, Mir orchestrated what might be one of the most monumental finishes in UFC history. 
Belts aside, Mir confirmed that this consecutive victory over Nogueira was the most rewarding of his career. Here's a quote from his post-fight interview with Joe Rogan moments after the win, with his opponent still grounded on the mat having his limp arm looked after by doctors. 
"Now, not only am I the first guy to have knocked Nogueira out, I'm the first guy to ever submit him too."
This undeniable fact puts Mir back in heavyweight contention in a huge way. The hypothetical feather from this particular victory really overshadows the whole cap.
What's more impressive than submitting (breaking or popping a limb) a legendary fighter who is considered by nearly all pundits and fans the most accomplished heavyweight Brazilian Jiu-Jitsu player in the sport's history?
How about completing such a mind-boggling submission after getting rocked by Nogueira's surprisingly fast hands. Big Nog's speed and boxing looked miles improved from their first encounter. In fact, Mir looked surprisingly slower, inverting the situation from the first fight.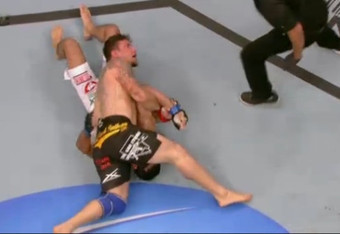 Tonight, Nogueira landed a powerful combination that had Mir scramble to regain his senses before hitting the ground. Things got worse for Mir after Big Nog stopped dropping ground and pound and decided to attempt a guillotine from the guard position. 
While still recovering from being dazed, Mir somehow came to enough to reverse his own position, achieve a kimura arm lock, rolled with Noguiera's escapes and finished the fight by breaking his opponent's arm. 
Mir has now been vindicated against a fellow heavyweight legend, both on his feet and on the ground, making him the best heavyweight ground practitioner the sport has ever seen. 
Be sure to stay tuned to Bleacher Report for all things UFC 140. B/R is your home for complete coverage of the December 10 fight card, from pre-fight predictions to in-fight coverage, results and post-fight analysis. 
_____________________________
Follow me on twitter @joeschafer84 and on Facebook