WWE News: Kelly Kelly's 'Home' in the WWE Is Destined to Go Up for Sale
December 11, 2011
Last month, I wrote this article prognosticating a Kelly Kelly departure from the WWE on the heels of the WWE Diva landing the high-profile cover of Maxim magazine.
At the time, any speculation on Kelly Kelly leaving the WWE was mild if not dormant. This was just another outside project by one of the WWE's top stars in a move that would undoubtedly bring more exposure to the WWE, not to mention (what's left of) the Divas division. 
But we know better than that.
I followed up the speculative article with a more aggressive prediction, seen here, that Kelly Kelly will leave the WWE within the next 12 months. Still, at the time, Kelly Kelly was just seen as a good soldier who was lending her unbelievably attractive face to the nice Maxim people simply as a promotional tool for the worldwide leader in sports entertainment. 
But let's get real.
Within the last week, reports have now surfaced that Kelly Kelly may or may not be putting feelers out to the other entertainment world, with the goal of transitioning into acting and/or modeling.
That's more like it. 
The Wrestling Obstruction Observer Newsletter reported earlier this week that Kelly Kelly was 'testing the waters' in hopes of landing some projects related to acting and modeling by late 2012. Like most stories originating from the glorified tabloid, the rumors were quickly shot down via Kelly Kelly's Twitter account as the Diva responded:
"Don't believe everything you read! Wwe is my home."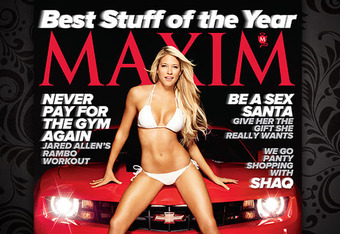 Saying that WWE is her home, while comforting to her fans at face value, should carry little weight with the more cynical and jaded crowd. We've seen this movie before, and if anything is certain in the arduous travel schedule and unstable working environment that comes with the WWE territory, it's that once opportunity knocks, an independent contractor will listen. 
Homes foreclose. They get sold. People move out of them. 
Once upon a time, Chico, CA was my home. When I left to go to college at UC Santa Barbara, Isla Vista was my home. After graduating into a recession, Chico, CA was my home. Now that I'm gainfully employed, I consider the Los Angeles area my home. 
The fact that Kelly Kelly, in a potentially deceptive fashion, proclaimed that the WWE is her home means nothing. Of course the WWE is her home, she hasn't found another gig worth leaving the company. 
Yet. 
If it is Kelly Kelly's intention to soldier on with the travel schedule and borderline-cameo appearance role she embraces in the WWE—even as one of the company's top divas—not only would such loyalty be shamefully naive, but her agent needs to be fired. 
The reality is Kelly Kelly is simply too hot (both physically and from a career standpoint) to be a pro wrestler for the foreseeable future, let alone the rest of her entertainment career. It also doesn't help that, despite Kelly Kelly's best efforts, chick can't work.  
It's why I had raised an eyebrow or two at Kelly Kelly's cover shoot for Maxim. After years of injuries, travel and brainwashing, a career outside of the WWE bubble can be like a get-out-of-jail-free for some superstars, especially in the Divas division where TV time is about as abundant as those Sin Cara phallic symbol t-shirts.
It's no coincidence that most women in the WWE seem to jump at the chance to branch out from the WWE, eventually leaving the company.
Stacy Keibler put on a pair of dancing shoes and showed up on ABC one night, never to return to the WWE. Now's she's dating that Clooney guy. 
Laura Jones took a sip out of the cup of coffee she had with the WWE and didn't even bother to finish it before starting her own fashion company.
Sable, Maryse, and Trish Stratus have all taken similar steps outside of pro wrestling to showcase their talents to their fullest—a scenario that the Divas division, featured on a limited basis in the WWE, would have never afforded them from a performance standpoint. 
There's a reason that the turnover percentage in the WWE is higher than that of Philip Rivers.  Pro wrestling, by design, is largely a short-term career choice—one way or another.   
Reports will continue to surface of Kelly Kelly's imminent departure until the inevitable happens, and we hear her name linked to an A-list star or buzzworthy TV and/or film project. The Maxim magazine photo shoot already punctured small holes in the WWE career of Kelly Kelly. She's one more big break from tearing them open and being rendered a 'special appearance' diva similar to the likes of Trish Stratus. 
With no health insurance in the WWE and black clouds always seeming to hover in the distance of professional wrestling, more power to her.
Watch Big Nasty's latest entry on B/R video, and follow Big Nasty on Twitter @ThisIsNasty.