Why the Kansas City Chiefs Are a Good QB Away from Title Contention
December 10, 2011
Jonathan Daniel/Getty Images
The entire world had an opportunity to see the Chiefs on the national stage three times this season; once on Halloween and twice on back-to-back weeks in November.
On Halloween Monday Night Football versus the San Diego Chargers, Matt Cassel went 19-of-32 passing for 261 yards, one touchdown pass and two interceptions. Cassel also fumbled the ball away to the Chargers in the 23-20 overtime victory.
On Monday Night Football on November 21 against the New England Patriots, Tyler Palko went 24-of-37 passing for 230 yards, no touchdown passes and three interceptions in his first career start, a 34-3 blowout loss.
In the November 27 Sunday Night Football matchup against the Pittsburgh Steelers, Palko's second career start, he went 18-of-28 passing for 167 yards, no touchdown passes and three interceptions. He also fumbled the ball away to the Steelers in the 13-9 loss.
The Chiefs had a chance to shine on the national spotlight three times. Cassel and Palko together combined for one touchdown pass, eight interceptions, two lost fumbles, a completion percentage of 62.8 and an average quarterback rating of 53.03.
Last month, Cassel suffered a season-ending injury against the Denver Broncos, opening the door for Palko. However, that door is about to quickly close on Palko as he continues to struggle.
Many will argue Kansas City's offensive line needs to adjust, which is true. However, the Chiefs quarterbacks have still been in position to win games this season and they have been thrown away due to poor quarterback play.
Palko is certainly not the quarterback of the future, nor should he be considered.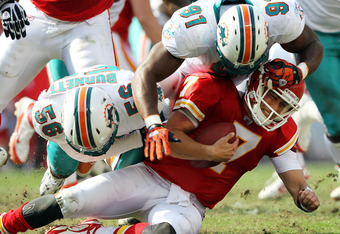 Jamie Squire/Getty Images
In his first three starts, his only touchdown pass came on a lucky Hail Mary pass. The pass was close to being picked off by Brian Urlacher, who dropped it to Dexter McCluster in the end zone for Palko's first career touchdown.
Other than that, Palko has not been able to put together a successful touchdown drive for the Chiefs.
Even though Palko did not turn the ball over last week against the Chicago Bears on the road, he has shown that he cannot lead an NFL offense.
Prior to his season-ending injury, Cassel threw 10 touchdown passes in nine games. Cassel also had nine interceptions, which surpassed his 2010 total of only seven interceptions.
Is inconsistent quarterback play setting the Chiefs back from being serious contenders? With or without Cassel, the Chiefs have had four games this season where they could not score a single touchdown.
The defense has been playing lights-out lately and have done everything they can do keep the Chiefs in position to take charge in games. Imagine how good the Chiefs will be next season when they get back Jamaal Charles, Eric Berry and Tony Moeaki. If the Chiefs can have a good offseason, they will be set to have a bright 2012 season.
But if there is no improvement made at the quarterback position, fans won't be as excited and there will be a lot of fear that this team cannot move forward unless they find a better quarterback.