Boston Celtics: Predicting the Impact of Celtics' Rookies in 2011-12
December 10, 2011
Jamie Squire/Getty Images
As the NBA free-agency period steals headlines early on to start the season, little attention has been given to the 2011 draft class, and that is perfectly valid. This year's draft class is full of players who will see limited action over the course of this season, and a handful of international players who won't even make it to the states this year.
Even more predictable is the impact of the two picks by the Boston Celtics: JaJuan Johnson (27th overall) and E'Twaun Moore (55th overall), both of Purdue. 
The last rookie who averaged more than 20 minutes a game with the Celtics was Rajon Rondo, back in 2006 when the team went 24-58. Even then, he didn't see major minutes until the second half of the season when his fate was already decided.
The last draft class that actually made somewhat of a significant impact for Boston was in 2004 with Al Jefferson, Delonte West and Tony Allen, none of which remain on the team anymore (trade for Keyon Dooling all but kills chances for West returning). Since "The Big Three" came together in 2008, Boston has regularly signed veterans before and midway through the season, diminishing all rookie roles. 
With the additions of David West, Chris Wilcox, Brandon Bass and Dooling, Boston looks poised for one last run with a veteran group, one in which, similar to the last four years, will probably exclude the younger group. Coach Doc Rivers admitted Friday that this season will probably be this group's last shot at winning it all before a rebuilding process is needed. 
"I was very honest with them about that," he said. "That doesn't mean we don't have some of them back next year or not but there's a chance we will not and this is most likely our last shot."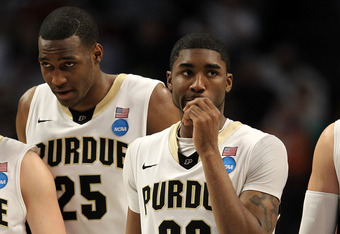 Jamie Squire/Getty Images
"If there's a 50- or 60-game season, advantage Celtics," captain Paul Pierce said. "I think in the last four years we've probably been the best team in the first three months of the season."
Pierce is right on that point, but the team hasn't had to play this amount of games in such a short time. As one of the oldest teams in the league, they may not be so much on the beneficiary side. Therefore, we could expect an expanded role for Johnson, unless another veteran is signed. Seeing how Danny Ainge has ran things over the past few years, that is likely to happen at some point during the season, if not before.
What Johnson does have going for him is that he's a very good shooter, and big men with range have always flourished with Rondo. He does need to get stronger and improve on the defensive end, however. Assuming Jermaine O'Neal is part of the deal for West, Boston will have five players at forward and center. Unless injuries become a major factor, Johnson could be in for a season on the bench. 
Now almost completely out of the race for Chris Paul, the team will probably look to keep all of its guards and maybe sign one more. Last year's first-round pick, Avery Bradley, who saw very limited action on the court, will back up Rondo, and Dooling will play both the point and shooting guard behind Ray Allen.
That leaves Moore out of the mix, and so he'll likely spend most of his time in the D-League like Bradley did last year. At 6'4", he's a little undersized for a shooting guard. The four-year star at Purdue spent the lockout playing for Benetton Treviso of the Italian League and could offer a spark off the bench with his three-point shooting ability. 
As of Friday night, Moore has reached a guaranteed deal with the Celtics, meaning he could be in the team's long-term plans in the "post-big three era," though, Johnson has yet to be signed.