Reeves Nelson Dismissed: Why UCLA Basketball Is Better off Without Him
December 9, 2011
Mike Ehrmann/Getty Images
Reeves Nelson's rocky UCLA career ended abruptly Friday afternoon when Ben Howland officially dismissed him from the team.
It's a significant blow to a Bruin unit that already is short on talent, but you know what? UCLA will be better for it. 
Suspended indefinitely twice in December, Nelson has finally run out of chances. He's done nothing this year but divide UCLA and undermine Howland's effectiveness with his players.
Off the court, Nelson's gotten into verbal altercations with the head coach, put in sub-par practices, and missed the team plane to Maui. On the court, he's skipped team huddles, missed practice, looked lackadaisical on the floor, and spent much of the waning moments of UCLA's 69-59 loss to Texas having a good laugh and time with people in the crowd, a game in which Nelson did not see action in the second half.
Nelson's final dismissal from the team is a step many believed Howland should have taken earlier when the negative signs began to mount, but Howland was hesitant to pull the trigger in the past. In the face of such obvious insubordination, Howland took the high road, wanting to teach Nelson instead of cutting him. 
Now, it seems he had no choice. Nelson is gone, and UCLA will have to refocus if they intend to compete for anything this season. 
However, Nelson's departure isn't necessarily a bad thing for UCLA. In fact, it's probably a step in the right direction.
At 2-5, UCLA's problems run deeper than tactics or statistics. Yes, the Bruins miss open shots, get out-rebounded despite their size inside, and still don't play complete defense, but those are merely symptoms of a larger sickness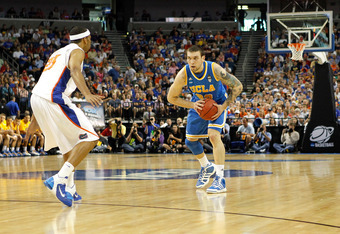 J. Meric/Getty Images
The problems that plague UCLA exist at a more basic level: team chemistry. Players can make big shots, but it takes a total team effort to win games. It's the "team" and "effort" that's been missing so far this season, and it's led to defensive breakdowns, poor shooting, turnovers and a weak mentality.
With the introduction of so many new faces (the Wear twins, Norman Powell and De'End Parker) expected to play significant roles, the Bruins have yet to come together as a team simply because they don't yet know each other well enough. 
Nelson, a veteran leader, only hampered this process with his poor example. I imagine he was resentful of the Wear twins for taking his minutes, and angry at Howland for not rewarding his years of productive service with more playing time. His personal gripes only served to divide the team, and now that he's gone, that process can resume.
UCLA is better off without Nelson, not only because he was detrimental to off-court team chemistry, but because he was a growing liability on the court as well.
Fresh off a 2010 season in which he averaged 13 points and nine rebounds, Nelson's stats took a significant dive in 2011. Through six games this year, he's averaged 5.7 points and 4.5 rebounds in just under 20 minutes per game; this from a guy who some believed had All-American potential in the preseason.
His stats reflect the lack off effort Nelson has put into all aspects of his game. He routinely missed close shots, failed to defend, and was generally passive. He appeared disinterested in the Texas game and put up just one shot versus the Longhorns.  
Contrast that to the aggressive, passionate player Nelson was in years past and you see why he needed to go. His poor play was eating up possessions, and with the Wear twins showing renewed dedication, how could Howland sub them out for an ineffective Nelson?
With Nelson gone, Howland will lose depth down low, but that's an area he can afford to be a little thinner at. Brendan Lane, a role player who's logged decent minutes in the past, will now get an opportunity. And once Parker gets healthy, UCLA should still have a decent rotation at the wing and post. 
What matters is that now Howland can be sure that every player in a Bruin uniform actually wants to be there. Nelson was good, but UCLA can no longer stomach the baggage that came with him. Now they can finally put their focus solely on basketball with that distraction put to rest.
With upcoming games against Penn, Eastern Washington, UC Davis, UC Irvine and Richmond, UCLA should have plenty of time to rebuild before Pac-12 play begins on Dec. 29.
It's time for that siege "us against the world" mentality the road-bound Bruins should have had all along. Removing the deadwood only furthers that ambition.