MLB: Tampa Bay Rays Hit Home Run, Sign Matt Moore to Extension
December 9, 2011
J. Meric/Getty Images
In the business of baseball, especially during the offseason, transactions occur almost every day. Players are sent within their respective organizations, traded to other teams, signed to other teams or signed to extensions. It's all part of the game.
Today, the Rays hit a home run.
ESPN's Jerry Crasnick reported that the Rays signed lefty Matt Moore to a contract extension that is guaranteed at five years and $14 million, but could reach eight years at as much as $40 million. For a variety of reasons, this might go down as one of the smartest signings in Rays history.
Many Rays fans will remember 2008, when the Rays shockingly signed then-rookie third baseman Evan Longoria to a long-term contract. It is a move that has almost been a Rays trademark—signing young future stars to long-term contracts to make sure they remain cheap and in Tampa Bay.
Needless to say, the Longoria signing worked out extremely well, and he is going to be a Ray for at least the next few years at a cost that is very team-friendly.
But today, the Rays may have outdone themselves. By signing Moore, they have secured a potential future ace at the price of a middle reliever.
Let's put it this way. Moore probably has the ceiling of someone like Clayton Kershaw. Given how well Moore pitched late in the season, there is a fair chance that he can approach the type of production that Kershaw has given the Dodgers relatively soon. At the very least, the Rays can expect that Moore will become at least a No. 3 starter by 2013, if not sooner.
If the Rays pick up every option they now have on Moore, they have him signed through 2019, when he will be 31-years-old. They will likely be saving anywhere from tens to hundreds of millions of dollars, depending on how much Moore actually pans out in the majors.
Regardless, this might be Andrew Friedman and company's finest work.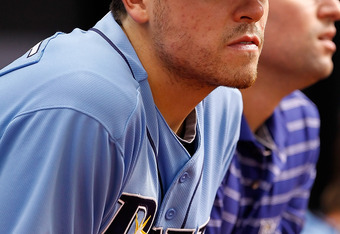 J. Meric/Getty Images
Had this move not been made, Moore probably would have started the season in AAA and treated much the same way as Desmond Jennings was last year. That's all because of baseball's "Super Two" rule, something that is not worth explaining in this article because it is now irrelevant for Moore. The point is that Moore will now start the season in the majors.
Of course, this means that the Rays will undoubtedly trade a starter. Whether that starter is James Shields, Wade Davis, or Jeff Niemann remains to be seen, but one can expect that the return for any of those pitchers will be a good bat or two, something that the Rays desperately need.
Not only was this extension the right move financially, but it was the right move in terms of personnel. Moore is ready to start the season in the majors and he will be the front runner for Rookie of the Year in the AL.
The Rays' front office has been considered among baseball's best in recent years. But today, with the extension of Matt Moore, the men in charge of putting a team on the field may have had their finest hour.