Los Angeles Clippers: Adding Caron Butler to the Mix Makes Them West Favorites
December 8, 2011
Ronald Martinez/Getty Images
Caron Butler is a Clipper.
Remember back when the combination of "Clippers" and "free agent" were only combined when news broke of a Clipper player leaving, not coming. Those days are gone. Players actually want to play for this franchise now.
Caron Butler wants to play for this franchise, for three years and $24 million, according to The Los Angeles Times.
The long known "other team" in Los Angeles once famously associated with a prison sentence by Ron Harper has turned a corner. Suddenly, this is the place to be and a team with real potential to make a run in the 2011-2012 season.
As of this signing, the projected starting five seems to be Blake Griffin, Chris Kaman, Caron Butler, Eric Gordon and Mo Williams. Not to shabby a group to march out there especially when you consider the abbreviated schedule which is heavy on back to backs. This group is young and should better withstand the rigors of a schedule that might negatively impact older squads.
Suddenly, the Lakers are scrambling to keep up with the excitement surrounding their co-tenant. Talks are heating up between the Purple and Gold and Hornets to bring CP3 to Los Angeles.
Wouldnt it be something if the Clippers snatched that right out of the Lakers hands?
Who would you want more if you were the New Orleans Hornets, Luis Scola and Kevin Martin or Chris Kaman, Al Farouq-Aminu and Eric Bledsoe? Not taking anything away from Scola and Martin—who are being shopped in a three-way potential deal with Gasol going to Houston and CP3 to the Lakers—but the Clippers' trio is younger with a higher ceiling.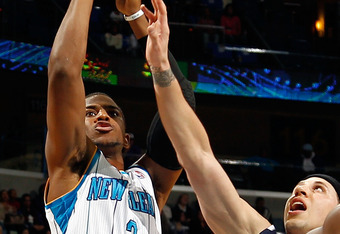 Chris Graythen/Getty Images
I don't envy the Hornets; you never win when you trade a superstar, but when you consider their Los Angeles offers, the Clippers' one looks better than the Lakers'.
Yet another area where the Clippers surpass the Lakers this season!
Imagine if you will, a Clipper starting five of Griffin, DeAndre Jordan, Caron Butler, Eric Gordon and CP3. Not only does that make them a favorite in the West, but it puts a dagger in the Lakers' dream of matching the "Big Three" of Miami with CP3, Kobe and Dwight Howard.
Make that trade and Los Angeles becomes a Clipper town.
Caron Butler was the first domino piece to fall, but on the day that Arte Moreno, owner of the Angels, swept in and shocked MLB by acquiring Albert Pujols and CJ Wilson, the Clippers are poised to match the shock value by acquiring Paul. If they can pull it off, the shockwaves would reverberate all over the NBA community, but the epicenter would be at 555 North Nash Street El Segundo, CA.
Lakers headquarters.
Caron Butler is a Clipper. Is CP3 next?