Ben Tate: Why the Back Deserves to Share Time with Arian Foster
December 7, 2011
Bob Levey/Getty Images
Arain Foster is a fantastic RB and is amongst the best in the NFL. There is no doubting his ability. 
However, Ben Tate has proven that he can be just as productive at running the ball and has emerged as a credible offensive weapon.
Tate is an absolute bowling ball when he gets the chance. He is a tough player and likes to take it right at the defense, in between the tackles. 
He is fantastic at keeping his feet moving and powering his way for additional yardage. 
Arian Foster is the type of runner to look for a cut up the field and use his explosiveness and agility to get upfield. 
I am not saying that Tate does not have any explosiveness and Foster is weak, but their running styles are somewhat different and compliment each other very well.  
For Houston, having a two-headed monster is a huge advantage on offense. 
And it is an advantage I feel that head coach Gary Kubiak does not take full advantage of. 
Now with their top two quarterbacks on the depth chart out for the season, the running game will be what allows this offense to move the ball with any consistency. 
Rookie QB T.J. Yates cannot be counted on to be effective if Houston does not establish a running game first. 
To best do that, Houston should give Ben Tate the ball at least 15 times per game.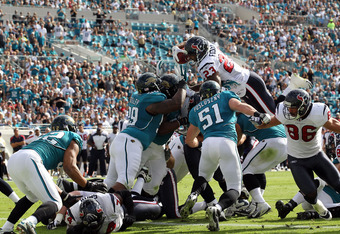 Sam Greenwood/Getty Images
Yes, that might mean Arian Foster will be limited to 20-25 carries, but I am perfectly fine with that. 
Tate can punish the interior defense of the opponent and wear them out with his physical style of running. 
And Foster can tire the opponent with his speed and explosiveness. 
It will be a mutually beneficial relationship. 
Defenses will consistently tire as they have to chase Foster and drag down Tate. 
However, Tate and Foster will now have better endurance and have more in the tank late in the game as they each take the pressure off each other.
This will hold more truth as the season progresses and the postseason comes along.  
Also, this could serve to help further Foster's career.
Foster has had some injury issues and taking some of the pressure off of him by giving Tate more carries just makes sense. 
Tate is also having a more efficient season than Foster. 
While Tate is averaging 5.5 yards per carry, Foster is averaging just 4.1. 
He has been incredibly effective in his limited action since Foster has come back healthy. 
And it is about time he gets the time on the field he deserves.