DeSean Jackson: Playmaker or Pariah for the Philadelphia Eagles?
December 6, 2011
Jonathan Ferrey/Getty Images
DeSean Jackson has become the poster boy for a disappointing season that is tortuously spinning down the drain. On a Philadelphia Eagles team that has wildly underachieved, he has taken more blame than anyone, aside from offensive line coach turned defensive coordinator Juan Castillo.
Jackson's desire for a new contract has soured some fans and cast an unusually bright light on his substandard performance. One wonders if the contract issue wasn't on the table, how much of this heat would he still be taking?
The question begs to be asked—is DeSean Jackson a playmaker who deserves to be fairly compensated, or is he a pariah that needs to move on?
After slipping to the second round of the 2008 draft due to perceived character issues, DeSean Jackson made an immediate and unprecedented impact on the Philadelphia Eagles offense. He became the second player in NFL history to top 100 yards receiving in his first two games.
To his credit, as far as character issues go, the only time it surfaced was in his first Monday Night Football appearance. Jackson infamously flipped the ball behind him before he crossed the goal line. The Eagles managed to score the touchdown anyway.
From that point on, though, Jackson managed to be the most explosive receiver in Philadelphia since Terrell Owens. He even stepped up his game in the postseason, helping Donovan McNabb bring the team to the NFC Championship Game with an ailing Brian Westbrook.
Jackson posted a reception of over 30 yards in each of his three playoff appearances, topping it off with a 62-yard go-ahead touchdown catch in the NFC Championship Game. He averaged 18.8 yards per reception in the postseason and even forced a fumble during a return of a McNabb interception.
Over the next two seasons, Jackson continued to display his big-play flair. In 2009 and 2010, he became the first Eagle since Irving Fryar in 1996-97 to top 1,000 yards receiving in consecutive seasons.
Did he place himself with Larry Fitzgerald or Andre or Calvin Johnson? Not quite, but he did prove himself to be his own entity.
During his first three NFL seasons, he was a unique weapon. He averaged 1,045 yards per season on 18.2 yards per reception. He also proved to be more than just a wide receiver. He returned four punts for touchdowns, and added three rushing touchdowns. He scored 24 times total over that span.
To add to DeSean Jackson's mystique, 15 of those touchdowns were on plays over 40 yards. There was really no other player as explosive. Highlighting his three-year run was a scintillating 65-yard punt return touchdown as time expired to cap a 21-point, fourth-quarter comeback against the New York Giants.
Playmaker.
Fast forward to 2011. After being eliminated by the Green Bay Packers in the Wild Card round of the playoffs, it was widely believed that the Eagles would sign Jackson to a lucrative contract extension. After being such a game-changer for three years, it seemed to most that it was deserved.
After the lockout, however, the Eagles threw money every which way but toward DeSean Jackson. A short holdout ensued, but Jackson ended it after 11 days.
He wanted to be with his teammates, and he wanted to remain an Eagle. He was assured that a contract would be easier to negotiate if he was with the team. He complied.
Jackson said all the right things, but on the field, he seems to be more wrong than ever before. Speaking on just his production, he has not approached his previous levels of dynamic and electrifying play.
After a six-reception, 102-yard, one-touchdown effort in St. Louis to start the season, his production has fallen dramatically. In the 10 games since, Jackson has 37 receptions for 596 yards and one touchdown. He doesn't have a single touchdown of more than 40 yards.
The explosive element he brought to the Eagles offense seems to have dissipated.
As mentioned before, he has always been a weapon as a punt returner and a runner. In 2011, he has 12 punt returns for just 87 yards. Fifty-one of those yards came on one return, and he also has 11 fair catches, just one less than his actual number of punt returns.
On five carries this year, he has totaled just 14 yards. He is also in the midst of a six-game touchdown drought.
All of this has come to a head with a personal foul for taunting in New York that negated a 50-yard play, and three dropped passes against New England, two of which would have gone for touchdowns. Adding to that are the perceived behavioral problems.
He was suspended for a must-win game against Arizona, which of course they lost. Two days after that suspension and defeat, he was filming a video for his birthday party. He has been accused of sulking and lacking effort. He has become the focus of the fans' ire for this failure of a season. But is DeSean Jackson merely a pariah?
Think about a few things before you answer that question. DeSean has been the best player on the offense for the past three years. He has far exceeded his contract. Without his organization taking care of him, he has seen a lot of other, less-deserving players get taken care of.
First is Michael Vick, who after two-thirds of an up-and-down season was given $100 million, $40 million of which is guaranteed. For all of the glitz of his 2010 campaign, he was very pedestrian over his last six starts.
The Eagles were just 3-3 in those last six games, and Vick turned the ball over nine times. He also missed three-and-a-half games due to injury over the course of the season. DeSean proved his worth for three years—had Vick really proven anything?
This season, Vick picked up right where he left off, missing three-and-a-half more games and turning the ball over 13 times in nine games.
Then came the money to outside players. $28 million for Jason Babin, $60 million for Nnamdi Asomugha and $25 million for Cullen Jenkins, all on five-year contracts.
Also, one-year deals were offered to Vince Young and Steve Smith for $4 million a piece. Only Jenkins has proven to be a worthy investment this season.
DeSean Jackson is 5'10" and 170 pounds. His game is predicated on his blazing speed and dizzying agility. Those are not traits that last over an extended career, and neither is his size. Jackson probably only has one big contract in his rail-thin body.
Last year, he suffered a serious concussion on a frightening hit. You don't think that replays in his mind? You don't think he has a right to be worried about his future? Look what happened to Matt Forte. He almost suffered a catastrophic injury with no safety net to fall back on.
DeSean is not wrong for worrying about his future and his financial stability. His career could be over at any minute. Would you be upset if you broke your back at your job and never got a raise?
And then what if you had to watch new employees come in get paid about 10 times more than you? How about if coworkers on the level of Winston Justice and Jason Avant were making twice as much as you were?
Before all-time beloved Eagle Brian Dawkins departed in 2009, he said he owed it not only to his wife and kids, but to his grandchildren and their children to get as much out of this game as he can before he retires.  Nobody faulted B-Dawk.
On the field, as much negative attention as DeSean has gotten the past few weeks, he isn't the main reason they have lost eight games. Does anyone remember the perfect strike Mike Kafka threw to Jeremy Maclin on fourth down in Atlanta, trailing 35-31?
Well he dropped it inside the 20-yard line to end the game.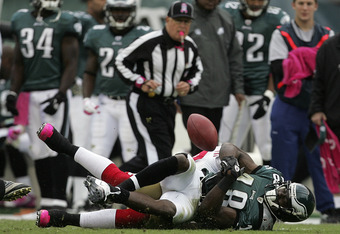 Rich Schultz/Getty Images
How about that embarrassing 24-23 loss against the 49ers? After blowing a 20-point second-half lead, the Eagles were driving to get into field-goal range. After Maclin gained 17 yards, he was stripped of the ball on the 32-yard line, the 49ers recovered it, and they had fallen to 1-3.
Another wide receiver who has his slippery fingerprints on this season is Jason Avant. In Buffalo, he lost a fumble in Eagles territory after a 35-yard gain, which led to a Bills field goal. Then, trailing by a touchdown, inside the two-minute warning, he dropped a pass that ended up being intercepted on the Buffalo 25-yard line to effectively end the game.
Jackson is not alone in his on-field struggles. He didn't forget how to play football, and he hasn't had much help from Vince Young over the past three games, as he has routinely under-thrown him when he had the defense beaten.
As far as off the field, having gone through this with Terrell Owens just six years ago, the front office should have known better than to let it come to this. Instead of signing Steve Smith, Vince Young and Ronnie Brown to a combined $10 million, they should have taken care of No. 10.
Keep in mind that Jackson is not a player who is ever in trouble with the authorities or setting a bad example for his young admirers. Remember that DeSean is leading an anti-bullying crusade. He took teenage bully victim Nadin Khoury with him to the ESPY Awards. Does this sound like a pariah?
DeSean Jackson has had a bad year on a team full of players doing the same. He has looked disinterested at times. He has looked frustrated and made some boneheaded mistakes.
He is foolish if he thinks he warrants a payday comparable with the top five wide receivers in the game. But he is not a pariah.
What he is is a playmaker. Even if everyone else forgot.