NBA Rumors: Players That Will Not Re-Sign and Are Bound To End Up on a New Team
December 6, 2011
Mike Ehrmann/Getty Images
While there are some restricted free agents such as Arron Afflalo  that would shock the world if they opened the season wearing a new uni, there are some unrestricted free agents who are highly unlikely to be back with their former clubs. Here are the six biggest stars who will be changing teams. 
Tyson Chandler is getting a lot  of attention after he helped to lead the Mavericks to a championship last year. Marc Stein makes it clear he's unlikely to be back with them though. 
Negotiations with the Mavericks have stalled, prompting Chandler to tell ESPN.com on Wednesday night: "I really think I'm going to be on a new team come training camp."

With little movement in the talks in the days since, sources say that Golden State, Houston and New Jersey have emerged as the most serious suitors for Chandler, who is widely credited with changing the defensive culture in Dallas and combining with Mavs mainstay Dirk Nowitzki to spark the franchise to its first-ever championship.
My guess is he ends up with Houston, as that's the better fit. He won't be a Mav though. 
Nene is getting some serious courting from teams like the New Jersey Nets, who may be the growing favorite to gain his services. The notion of playing alongside Brook Lopez and having Deron Williams to feed him the ball has to be inviting to Nene.
The other thing that has to be intriguing is Mikhail Prokhorov and his unquestionable commitment to do what it takes to build a winner. With the Nets, you get the impression he's going to make it happen and that's Nene's priority over money. With the Nets though, he can have both money and play for a winner.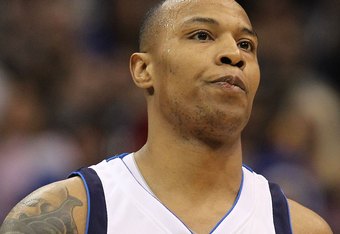 Ronald Martinez/Getty Images
David West has barely batted an eye in the direction of the team that made him a star. He has been getting less buzz than you might expect from a player that has averaged around 19 points and eight rebounds a game over the last five years, but there doesn't appear to be as much interest in him as you would have expected. Once Tyson Chandler and Nene have signed, he might start getting more calls. 
Worst case scenario for West though is the Indiana Pacers. 
Jason Richardson is one of the top shooting guards available but here's an interesting tweet from Real GM's Jarrod Rudolph, "I'm hearing the Knicks, Bulls and Nets will be contacting Jason Richardson. I'm sure the Magic will also be reaching out to Richardson." Maybe it's just the way I'm reading it, but it doesn't sound like Richardson is on the top of the Magic's list. 
Jamal Crawford gave a list of teams, in order, that he'd like to play for. According to SI.com, a source close to Crawford named his preferences in order, "the Hornets, Suns, Bulls, Hawks, Nets and Pacers." The Hawks are pretty far down on that list, and it's not likely he'll end up being back with Atlanta next year. 
Caron Butler has already visited the Bulls, after which visit he tweeted, "That went great." The Bulls are apparently willing to offer him the full mid-level exception, and based on his tweet and other comments he's made such as "I hope I don't have to leave," Chicago and Butler are making serious googly eyes at each other. They will be signing Butler on Friday unless Jason Richardson knocks their socks off.