John Carlson & Zach Miller: Dynamic Duo at Tight End for Seahawks in 2012?
December 9, 2011
Otto Greule Jr/Getty Images
Last week when putting together a list of 'Hawks that won't likely be returning next season, one particular player left me feeling that his time in Seattle was somehow incomplete.  
Many times this season I've written about John Carlson and even though I included him on the list, I started to realize in the days that followed it might be a mistake if the Seahawks let that happen.  
When you break it down, it becomes a matter of perspective with two schools of thought on Carlson:
1. He got a raw deal since Pete Carroll took over and could really help next season with Zach Miller.
2. He was never that great, especially the past two years and we need to move on.
While it's easy at first to lean towards Option No. 2, Option No. 1 could be the bolder, yet smarter move.
Understand that re-signing Carlson is not without risk, but a fair deal for all parties may provide a new wrinkle in the team's offensive scheme that was lost this season after he went down with a shoulder injury during training camp.
Zach Miller's signing initially seemed to be a threat to Carlson, but in hindsight perhaps head coach Pete Carroll and GM John Schneider were really onto something. 
If they truly believe the potential in the two-TE attack, then they should make a good faith effort to bring Carlson back. When you look at what the New England Patriots are doing with Rob Gronkowski and Aaron Hernandez, it makes you wonder whether the 'Hawks could employ a similar approach with their passing game.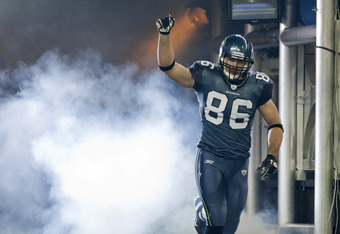 Jay Drowns/Getty Images
Regardless of who is under center next season, this could be a major help to a team that has trouble moving the ball through the air at times. 
Yes, the team has a nice complement of receivers with Sidney Rice, Doug Baldwin, Golden Tate and some combination of Ben Obomanu and Mike Williams, but there are still a lot of questions about this unit. 
Can Rice as the big free-agent pickup stay healthy for the better part of a full season?
Can both Baldwin and Tate continue to surprise us and grow with greater expectations?
Can either Obomanu or Williams even consistently show up week to week?
Meanwhile, the tight end position has been filled this year, strictly in name only. 
In fairness to Miller he hasn't really been given a fair chance to show anyone his Pro Bowl passing-catching skills given how much time he's spent blocking on an initially young/raw and now depleted offensive line.  Last week, we saw a brief glimmer of hope against the Eagles as he made two catches for 53 yards, but beyond that it's been a lost season. 
As for in-house alternatives, backups Cameron Morrah and Anthony McCoy haven't shown much promise in the absence of Carlson either.  
So what does the future hold?
I'm skeptical that Pete Carroll and John Schneider will put much thought into Carlson beyond making a polite offer to keep up appearances, but it might be the only offer given the constant churn of talent and push for youth in the league. 
If left with few options, perhaps Carlson comes back, especially if what Carroll initially preached to Danny O'Neil at the Seattle Times when they signed Miller back in August is true:
"We think those guys will play together in tandem. They'll be on opposite sides. We'll be moving them around for matchups and all kinds of stuff. I think it's a great asset for us now."
Imagine next season a healthy Carlson opposite Miller with the offensive line that started to gel like they did prior to the injuries to Russell Okung, James Carpenter and John Moffitt. A pass attack that includes both Miller and Carlson can fulfill what Carroll discussed and very well provide the underneath protection that (either) Tarvaris Jackson (or whoever) will need as a fail-safe to dump off short passes in a pinch.
So while Zach Miller and John Carlson may not be on par with New England's Gronkowski and Hernandez, pairing them together could spice up an offense in need of more than a healthy dose of Marshawn Lynch and a mix of questionable receivers.  
This year, the 'Hawks have had the luxury of signing Zach Miller, but simply haven't made the most of their investment. I'm fearful little will change for Miller next year unless some significant changes are made.
Bringing John Carlson might be a good start.