Colt McCoy: Should the Cleveland Browns Keep Him or Let Him Go?
December 5, 2011
Jason Miller/Getty Images
Colt, Colt, Colt. 
What should the Browns do with you?
Week in and week out, you are a different player. One week, you are the future of the Cleveland Browns organization. You throw quick and accurate passes while the offensive line lets the floodgates open and you get destroyed on each and every play. Yet, you still fight, throw two touchdowns and try to throw a ball out of bounds and it ends up being intercepted.
The next week, you play the Baltimore Ravens and throw errant balls all over the field, including a horrible interception after telegraphing your pass. 
You're so inconsistent, yet at the same time, so consistent. 
Such an enigma. 
Colt has around a 76 QB rating and ranks around the middle of the league in terms of this statistic. He's young and yet doesn't seem to be growing, as most young players with potential are supposed to do. 
He has no offensive line. His receivers lead the league in drops. His running back has been out for half of the season with a seemingly phantom injury. His current running back was a good friend of his in college and has filled in admirably, yet is not the answer. 
His coach is a rookie and coaches like one. His head coach also works as the offensive coordinator, which is way too much for him to handle. 
How does this all add up? Do all of these factors conclude in keeping the faith in Colt or in looking elsewhere come the offseason?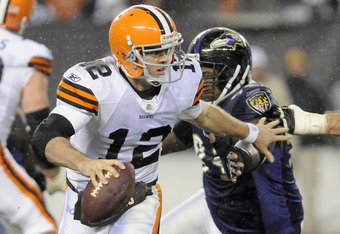 Jason Miller/Getty Images
The Browns have to stick with Colt.
That has been the problem with the Cleveland Browns since their expansion in 1999: They can't stick to something and work with it. 
Eric Mangini had two years as the Browns' head coach. TWO. Sure, the Holmgren factor played into things there, but a two-year tenure is an incredibly short time period to evaluate.
No, Colt hasn't been great. He's made bad throws. He's made bad decisions. But, that's almost beside the point. 
Sure, if he continues to make these bad decisions next year and the year after, maybe it will be time to make a change. For now, you have to stick with him.
He's young, he's undersized and he has less than average talent around him, and when you look at that and the things he is doing on the field, one has to realize that with what he's been given, he's doing pretty well.
When you look at guys who have around the same numbers as Colt—Philip Rivers, Joe Flacco, Mike Vick, Mark Sanchez—you see that these guys are all veterans with incredible talent around them. Rivers has Jackson. Flacco has Boldin, Rice, Evans and Smith. Vick has McCoy, Jackson and Maclin. Sanchez has Plax, Green, Holmes and maybe most important of all, Mangold.
Colt has Ogbonnaya, Little, Norwood, Massaquoi and Watson.
To be in the same league as these guys with the weapons that Colt has around him is pretty impressive to me.
Maybe the answer is not to replace Colt, but to scare him.
Seneca Wallace is a decent backup, and in my opinion did a wonderful job last season, but Colt knows he's in no danger of losing his job.
Maybe if the Browns draft the likes of a Case Keenum, Kellen Moore or maybe even a Kirk Cousins, Colt will have somebody to push him to become better. Thaddeus Lewis and Seneca Wallace are not getting it done.
Colt is a tough kid. He proves that week after week. He goes out and gets his clock cleaned, doesn't complain, gets up and competes. That is what the Browns need in a QB. For what he has around him, Colt is doing a decent job.
If the Browns decide that they are going to upgrade the talent around Colt and he continues to falter into the next few seasons, maybe it will be time to get rid of him.
In the meantime, Shurmur needs to step away from the offense (WAY far away), Peyton Hillis needs to get his act together and Holmgren needs to revamp the receiving corps as well as the offensive line before we can make any judgment on Colt.
Draft a QB in the later rounds and prepare to replace Colt, but give him another year or two to prove that he can grow and have what it takes to be a competitor in this league.