Chicago Bears: Matt Forte Injury Does Not Justify Rushing to Sign Donovan McNabb
December 5, 2011
Chicago Bears fans, I want you all to listen to me good and loud...
Ready? Okay, good.
Stop it—seriously. Quit it with the cries for Donovan McNabb. I'm getting sick of it.
Without Matt Forte, whom the Bears lost early in the first quarter with a reported MCL sprain, backup QB Caleb Hanie was forced to step into the offensive spotlight and deliver Chicago to victory over a God awful Kansas City Chiefs team.
Hanie was not ready, not focused and completely dropped the ball.
For the contest, Hanie completed 11 of his 24 passes for 133 yards and threw three picks.
He had two shots to get in the end zone. Late in the second quarter, he overthrew WR Earl Bennett on a wheel route. Then, with 3:00 to go in the game, he threw a dart at WR Roy Williams, who juggled the ball for a KC interception.
One of those plays is directly his fault while the other is more a matter of tough luck.
Put aside the bad decision making and consider how efficient the Bears were when it mattered most. Chicago was 0-for-11 on third down, 0-for-2 on fourth down and 0-for-3 on trips in the red zone. I don't consider that learning on the job.
What might be most upsetting about the 10-3 loss on Sunday at Soldier Field is that Hanie showed no progress from his Week 12 start at Oakland—his first with the Bears. Following up a three-interception game with another three-interception game is not progress.
The honest truth of the matter is that Caleb Hanie is not an NFL quarterback. The Chiefs were in his ass all afternoon long with a solid pass rush. Hanie had concrete feet in the pocket and didn't show the ability to escape pressure like he did against the Raiders.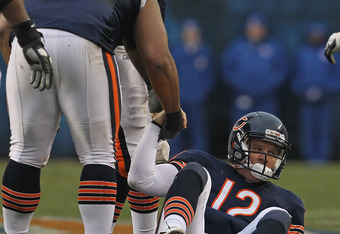 Jonathan Daniel/Getty Images
Of the seven Kansas City sacks, Hanie himself was responsible for most of them. Don't blame the offensive line. Don't blame the play-calling. Hanie's decision making should rightfully take all the blame.
Look at Hanie's counterpart Tyler Palko.
Palko, since replacing Matt Cassel, had thrown for no touchdowns and six interceptions in just over two games. His performance on Sunday? Not pretty, but effective.
Palko finished 17/30 for 157 yards and a touchdown. He never challenged the defense deep or down the seams. He made simple, easy, high-percentage completion throws and let his backs carry the offense.
The Bears were defeated by a guy who checked down more often than he threw deep.
Obviously, Hanie and offensive coordinator Mike Martz weren't ready to run an all-Hanie offense. It showed.
After making such an argument that the fault is squarely on the shoulders of No. 12 for Sunday, you would assume I would be making a case for why McNabb needs to be signed to provide "veteran backup."
If only that were the case.
The Bears shouldn't bother wasting the time or effort to bring in a 35-year-old who hasn't played professional football in almost two months.
McNabb is not familiar with the Martz offense, which is distinct and unique. The complex offense is focused on the philosophy on throwing balls to areas of the field, not on receivers and their positioning.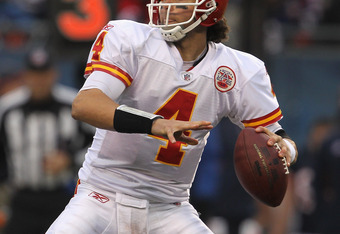 Jonathan Daniel/Getty Images
Also, Bears QBs are not allowed to audible out of plays once they're called. Think a thirteen-year veteran is going to be okay with learning a brand new offense in which he has no input?
Prior to his thumb injury, Jay Cutler was playing fantastic football this season in what is his second under Martz. This kind of play-calling takes time and reps to learn. It's not something you can just pick up and run with.
It was an ugly game for Hanie and in every way he should bear the fault for losing. However, Bears fans better get used to seeing him under center, because he's not going anywhere.
Due to the fact that the Atlanta Falcons, Detroit Lions and New York Giants all lost on Sunday, their pursuit of the Bears for an NFC wild-card spot was briefly halted. It would have been (and should have been) a golden week to gain a game on all three teams, but obviously that was not the case.
With four weeks to go, the Bears are in a good position to make the playoffs. Chicago ends the season at Denver (7-5), vs. Seattle (5-8), at Green Bay (12-0) and at Minnesota (2-10). Overall, the schedule is soft and favorable for Chicago's run to the postseason.
Next on the docket is a bad Broncos team with a quarterback who-shall-not-be-named that is incapable of running a pro style NFL offense. Force him to stay in the pocket and make throws and the defense should have a feast day with interceptions.
Immediately after that, Chicago gets a one-dimensional Seattle team that poses no threat other than Marshawn Lynch.
When the Bears go to Lambeau Field on Christmas Day, the Packers could have realistically wrapped up everything in the NFC and may elect to rest their starters. If that's the case, Chicago has a chance to take that game.
Finally, the Vikings host the Bears to wrap up the season. If Minnesota was smart, they would realize the season is long-lost and shut down running back Adrian Peterson before he hurts himself further in a meaningless game.
That schedule is as close to an early Christmas gift as it comes right now.
The Bears will be just fine down the stretch as long as they can readjust the offense to something Hanie is capable of running. Adding more play action, increasing the roll out plays, power running on short yardage situations, running back screens and quick slant routes to slot receivers would make him more effective.
I'm not saying mimic the Chiefs-Palko playbook, but learn from it. Kansas City never asked Palko to do something he was incapable of doing, and they proved to be victorious.
Know what you have to work with and make the best of a bad situation. It's as simple as that.
Hanie is in the process of learning. These last two non-NFC losses hurt the overall record, but they'd hurt even more if they were against NFC opponents.
Chicago fans need to breathe a collective sigh and take a couple chill pills. The season is not lost and there is no reason to push a mythological panic button.
Just because Matt Forte is out for two-to-four weeks doesn't mean the next month is lost. It will be a dog fight to the end. However, in the large scheme of things, isn't that what makes the game so entertaining and enticing?
Brett Lyons is a Featured Columnist for Bleacher Report. Unless otherwise noted, all quotes were obtained firsthand or from official interview materials.
Follow Brett Lyons on Twitter @BrettLyons670.