NFL Power Rankings: 3 Teams Primed for Playoff Push
December 5, 2011
Adam Bettcher/Getty Images
There are some teams that we know will make the playoffs. The Green Bay Packers, San Francisco 49ers, Pittsburgh Steelers, Baltimore Ravens and New England Patriots come to mind. 
But, plenty of playoff spots are still up for grabs in the NFL this year. 
These next few weeks are going to be really interesting in terms of which teams show they really want to be in the playoffs. 
It's time for teams to put up or shut up, to go big or go home. Here are three teams that are preparing to make a serious run at the playoffs. 
Denver Broncos (7-5) 
Tim Tebow has the Broncos sitting pretty atop the AFC West, but they aren't guaranteed anything yet. 
The Oakland Raiders are also at 7-5, though they are coming off an embarrassing loss to the Miami Dolphins. 
If the Broncos defense can keep giving Tebow a chance to win late in the fourth quarter, they could earn themselves the No. 4 seed in the AFC playoffs. 
With games against the reeling Chicago Bears, Buffalo Bills and Kansas City Chiefs left on the schedule, it's not unreasonable to think the Broncos could be heading for a 10-6 season.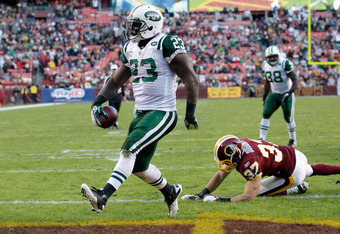 Rob Carr/Getty Images
New York Jets (7-5) 
The Jets got a monster effort from Shonn Greene against the Washington Redskins on Sunday.
Greene ran for 88 yards and three touchdowns in the Jets' 34-19 victory.
They are going to need him to keep running hard and take pressure away from Mark Sanchez if they are going to sneak into the playoffs. 
The Baltimore Ravens or Pittsburgh Steelers will take one AFC wild-card spot, but with Greene playing the way he did Sunday, the Jets have to be considered the favorites for the second wild-card spot.
Atlanta Falcons (7-5) 
The Falcons lost a tough game to the Houston Texans on Sunday, but they are still very much alive in the NFC wild-card hunt. 
The New York Giants are sitting at 6-6, the Chicago Bears are at 7-5 and have lost Jay Cutler and Matt Forte, and the Detroit Lions (7-5) have cooled off after their hot start. 
So, there's no reason Matt Ryan shouldn't be able to lead his team to the playoffs. 
Considering the fact the Falcons play the Carolina Panthers and Jacksonville Jaguars the next two weeks, Atlanta should have a solid hold on an NFC wild-card spot at 9-5 heading into a December 26 showdown against the New Orleans Saints.
Adam Spencer's NFL Power Rankings: 
Green Bay Packers (12-0)
New England Patriots (9-3)
Baltimore Ravens (9-3)
San Francisco 49ers (10-2)
New Orleans Saints (8-3)
Pittsburgh Steelers (9-3)
Houston Texans (9-3)
Atlanta Falcons (7-5)
Detroit Lions (7-4)
New York Jets (7-5)
Denver Broncos (7-5)
Cincinnati Bengals (7-5)
Tennessee Titans (7-5)
Dallas Cowboys (7-5)
Chicago Bears (7-5)
New York Giants (6-6)
Oakland Raiders (7-5)
Miami Dolphins (4-8)
Buffalo Bills (5-7)
San Diego Chargers (4-7)
Seattle Seahawks (5-7)
Carolina Panthers (4-8)
Arizona Cardinals (5-7)
Kansas City Chiefs (5-7)
Washington Redskins (4-8)
Philadelphia Eagles (4-8)
Tampa Bay Buccaneers (4-8)
Cleveland Browns (4-8)
Jacksonville Jaguars (3-8)
Minnesota Vikings (2-10)
St. Louis Rams (2-10)
Indianapolis Colts (0-12)