Boston Celtics: The Celtics Need to Go All-in or Bust for the 2011-12 Season
December 5, 2011
Nick Laham/Getty Images
"One more year."
Boston Celtics have been saying this for the past few seasons now, although it feels like much longer than that.
After the Celtics—led by the Big Three of Paul Pierce, Kevin Garnett and Ray Allen—won the NBA championship in 2008, things seemed to go downhill almost immediately.
Although the 17th championship banner was raised to the TD Garden rafters that October (with this writer in attendance) and the Celtics got out to a 27-2 start that year, KG would go down midyear with a season-ending knee injury, taking away much of the Celtics' interior scoring and rebounding. The Celtics would suffer an early playoff exit in the Eastern Conference Semifinals at the hands of the Orlando Magic and watch the Lakers win their 15th Championship that June.
Although KG returned for the 2009-10 campaign and the Celtics got out to yet another fast start (23-5), they went 27-27 down the stretch and stumbled into the playoffs at 50-32. They somehow found a way to win in May and June, and soon made one of the most improbable finals appearances in NBA history. Kendrick Perkins was lost in Game 6 to a devastating knee injury, and a heartbreaking Game 7 loss to the Lakers followed.
The effort, however, gave fans hope that they would need just one more year to raise banner 18.
It was, once again, not to be. Long story short, the aged Celtics lost to the superstar-laiden Miami Heat in five games in the semifinals, and were left to wonder, along with fans, what was to happen next. And with the 149-day lockout following the 2011 NBA Finals, more uncertainly was added to the mix.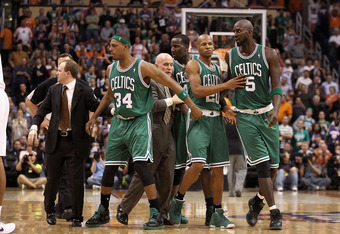 Christian Petersen/Getty Images
Now here we are once more, on the precipice of a new NBA season. The Big Three are entering what may very well be their final season together, all of them another year older with more wear and tear on their bodies. They'll be back, once again, to provide both on- and off-court leadership for a younger core of players who will serve as their supporting cast in yet another quest to win yet another championship.
The Celtics are at a crossroads. One era is about to come to an end, and it is likely that another rebuilding year is about to begin. The Celtics may have to suffer another dark down period, although hopefully not as long as the 22-year championship drought between 1986 and 2008. Still, it'll take some time for the front office to plan the Celtics' future beyond the Big Three, especially when it comes to acquiring top-level talent.
With all this in mind, the Celtics can't sit back and use this year as a bridge year. Sure, you may want to phase out the Big Three and give way to the likes of Jeff Green, Delonte West and Glen Davis (assuming they're all re-signed), but the priority has to be on winning now with the players they currently have. The Big Three can still produce, and if surrounded by the right supporting cast, they're still a very dangerous team.
I'm sensing that this could very much be a "damn the torpedoes!" kind of year. The team and the fans know that this will be the last shot at a title with this group of players, and no doubt everyone wants to see the Celtics give it that one last push. It'll require a whole lot of luck in addition to on-court production; everyone will need to stay healthy, and an elite team or two may need to suffer a few injuries of their own. At times, raw drive and emotion will be needed to will this team to victory.
It's a tall order, but it's not impossible for the Celtics to reign supreme to just one more time with the Big Three.
They just need a whole lot of that Luck of the Irish and some Celtic Pride.