BCS Standings: Should Alabama Be Punished for Not Even Winning Its Division?
December 4, 2011
Kevin C. Cox/Getty Images
This year's great debate: I'm lovin' it.
Alabama vs. Oklahoma State.
No, the two won't face each other—even though I'd pay good money to see that game—but the two are currently doing battle among poll voters across the country. Early in the day, Alabama topped Oklahoma State in both the AP and USA Today polls at No. 2, and the Crimson Tide are widely expected to be awarded a rematch against LSU in the 2012 BCS National Championship.
Meanwhile, the Cowboys are crying foul, as they won their conference championship, unlike Alabama. Oklahoma State has also played more ranked teams and more quality opponents, although Alabama had the tougher overall schedule, hailing from the SEC.
This raises a question as to whether Alabama is the right team for the title game, despite hailing from, for all purposes, was the strongest division in all of college football.
During Thanksgiving week, all eyes swooped to the SEC West, as No. 1 LSU, No. 2 Alabama and No. 3 Arkansas topped the BCS Standings. LSU had yet to play Arkansas (and would go on to beat them convincingly), but at the time, there was no question that these three schools were the best in the country.
Schools like Stanford, Oregon and OK State trailed behind, but this season saw a single division emerge from within entire conferences to top the Top 25.
It stands to reason that the Cowboys deserve a shot over the Crimson Tide. After all, the Big 12 is no cakewalk. (UPDATE: Apparently I can't tell the Big Ten and the Big 12 apart. Oklahoma State hails from the Big 12, despite no one in the South being able to tell the difference. Apologies for the mistake.)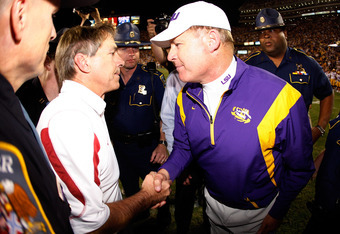 Chris Graythen/Getty Images
But, well, yes it is if we're comparing it to the SEC, where quality defense is not the exception, but the rule. For those who recoil at the notion that 9-6 games make for boring football, suit up and see if you can score 40 points against either LSU or Alabama, who together hold opponents to an average of about nine points per game.
Both offenses routinely put up over 30 to 40 points, and both have to manage with the best of college football week in and week out.
Simply put, Alabama should not be punished simply because they come from the same division as one of the best teams in college football history in LSU. Alabama deserves their rematch, not because they played LSU down to the wire in their first meeting, but because the gap between them and LSU is much smaller than the gap between the Tide and the rest of the NCAA.
It's that simple.