BCS Rankings 2011: Who Got Screwed in the Week 13 Standings?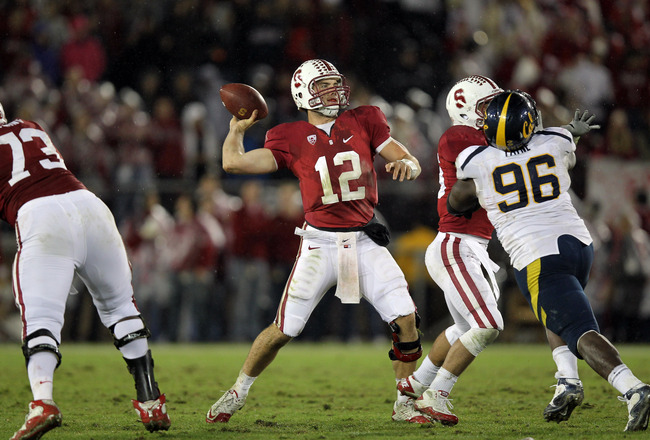 Ezra Shaw/Getty Images
The Week 13 edition of the BCS standings are out. Compared to Week 12's BCS mania, Week 13 was relatively calm.
No major Week 13 upsets spells status quo in the BCS standings. Even so, some teams are not necessarily properly placed among college football's elite teams.
LSU is the clear-cut No. 1. Beyond that are several debates for LSU's prospective national championship opponent. That makes for a murky BCS Top 10.
Nos. 11-25 in the polls are no less cloudy. Some teams have been consistent all season while others seem to be peaking at the perfect time.
Outside of LSU, and maybe Alabama, many teams run together in terms of talent and BCS resume. However, some teams deserve more credit than they are given.
Here are 10 teams that deserve a boost in this week's BCS standings:
Michigan Wolverines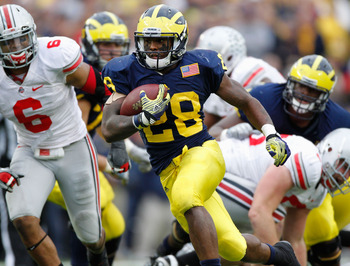 Gregory Shamus/Getty Images
The Michigan Wolverines grabbed their 10th victory of the season with their Week 13 defeat of Ohio State.
The Wolverines had not beaten the Buckeyes in eight years. This spelled a huge victory for first-year coach Brady Hoke, and a huge momentum builder for the Wolverine squad.
A 10-2 record is arguably Top 10 caliber. The Wolverines have been dominant this season despite their two losses to Michigan State and Iowa.
Michigan State isn't a bad loss considering the Spartans' record and spot in the Big Ten Championship Game. Iowa is worse, but still should not knock the Wolverines out of the Top 12.
The Wolverines' best victories are over Notre Dame, Nebraska and Ohio State. Illinois did look nice before the Fighting Illini lost six straight to close the season.
Michigan is in the top tier in rushing offense, scoring offense and scoring defense. Their 10 victories have been lopsided.
The Wolverines have shown vast improvement. Their defense is light years better than last year, and Denard Robinson has made a solid adjustment to Hoke's offense.
This isn't a title team, but they should be considered in any BCS conversation.
Georgia Bulldogs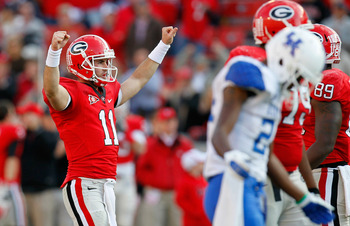 Kevin C. Cox/Getty Images
The Georgia Bulldogs are 10-2 and arguably the hottest team in college football.
However, they currently sit behind South Carolina in the BCS standings. The Gamecocks have the same record and own the head-to-head over Georgia.
Still the Bulldogs are the team in the SEC Championship Game, not South Carolina.
Georgia has not lost since its hiccup against the Gamecocks in Week 2. Prior to that, the Bulldogs fell to Boise State in Week 1. Two losses, but very solid losses for an SEC team.
The Bulldogs own victories over Florida, Mississippi State, Auburn and Georgia Tech. These are not top-level opponents but they are solid victories nonetheless.
The Bulldogs are still young and inexperienced. However, they have overachieved this season and probably saved Mark Richt's job.
Houston Cougars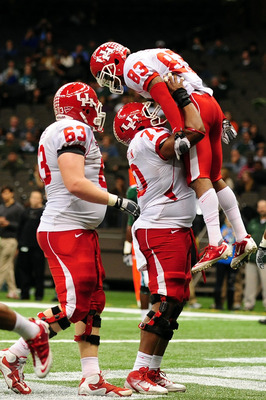 Stacy Revere/Getty Images
The Houston Cougars are 12-0. However, their Conference USA association does not give them the same respect as LSU's 12-0 mark in the SEC.
The Cougars do not have any signature wins. Either way, they are undefeated and 12 wins should count for something.
As of now, Houston is expected to get an at-large bid into a BCS bowl. If they lose in the Conference USA championship, TCU could jump the Cougars for that spot.
This should not happen, nor should the Cougars currently be behind Boise State.
The Broncos are the BCS darlings of recent memory. Without a 35-yard shank against TCU, the Broncos were looking at a BCS National Championship berth. But at the end of the day, Boise has lost one more time than Houston.
Houston shouldn't be ahead of anyone from the Pac-12, Big 12 or SEC. The ACC is questionable and thankfully the Big East is not in the equation.
The Cougars have an argument for the title game simply because of their record, but their resume sets them back.
Oregon Ducks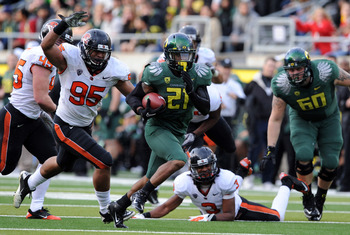 Steve Dykes/Getty Images
The Oregon Ducks have two losses this season. The USC Trojans and the LSU Tigers managed to upend the speedy Ducks squad.
Based on talent, Oregon is undoubtedly a Top 10 team. Their two losses should put them right behind the one-loss teams and Houston.
The Ducks have defeated Stanford but lack any big wins otherwise. The Cardinal are a Top 5 team and that should go a long way in the BCS's eyes.
The loss to LSU looks less like a loss every week. Given that the loss was in Week 1 is a tremendous boost for the Ducks as well.
Oregon still has a chance to grab one more victory in the Pac-12 championship against UCLA. A victory over the Bruins wouldn't boost their stock, but it's another win either way.
The Ducks are the most explosive offensive team in college football outside of Oklahoma State. They are a virtual lock for the BCS, and have enough talent to play in the national title game.
TCU Horned Frogs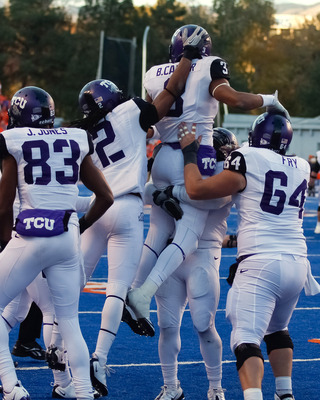 Otto Kitsinger III/Getty Images
The TCU Horned Frogs lost the head-to-head matchup against Baylor. However, they have two losses and Baylor has three.
The Bears defeated Oklahoma and run a tough Big 12 gauntlet. However, the Horned Frogs knocked off then-No. 5 Boise State on the infamous blue turf. That victory snapped Boise State's 65-game home win streak.
TCU has a small chance of jumping into the BCS conversation if Houston loses in the Conference USA championship game. Baylor has no chance at a BCS game whatsoever.
The Horned Frogs do not have the credentials to be a Top 10 team. Their strength of schedule doesn't allow it.
They should be ahead of Baylor, either way.
Arkansas Razorbacks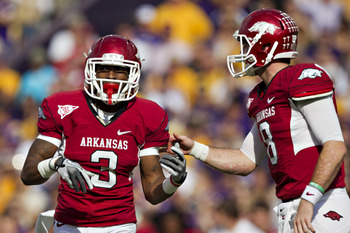 Wesley Hitt/Getty Images
Arkansas has two losses this season against Alabama and LSU.
Considering these two teams are No. 1 and No. 2 in the BCS standings; it is tough to fault the Razorbacks.
Arkansas is currently the highest-ranked team with two losses. They sit behind Boise State and Houston. Neither have the resume or the talent of the Razorbacks.
The Razorbacks have defeated Auburn, Texas A&M and South Carolina. These are three quality wins.
At 10-2, the Razorbacks have not had a perfect season. However, their losses are tough to consider given the dominance of LSU and Alabama.
If you have only lost to Nos. 1 and 2, how can you be ranked below No. 3?
Michigan State Spartans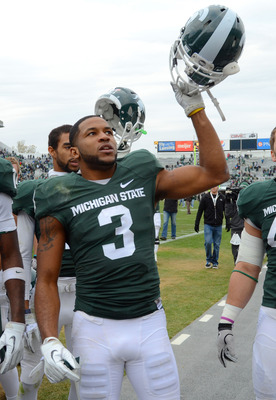 Mark A. Cunningham/Getty Images
Michigan State has victories over Wisconsin, Michigan and Ohio State. They are 10-2 and heading to the Big Ten Championship Game.
The Spartans should be ahead of South Carolina, without a doubt. The Gamecocks play in the tougher conference, but they have struggled over the second half of the season.
Michigan State's spot in the Big Ten Championship Game should go a long way. It's a major conference, and the Spartans have run a tough schedule to earn their spot in Indianapolis.
The Spartans are not necessarily a Top 10 team. Their resume and consistent play should put them ahead of the polarizing Gamecocks.
Southern Miss Golden Eagles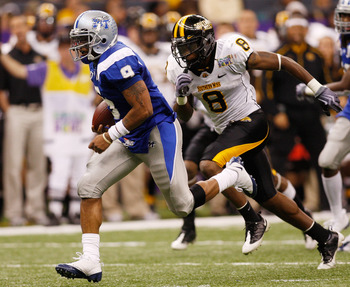 Chris Graythen/Getty Images
Southern Miss is 10-2. With two losses, they should not be ahead of a four-loss Texas team and probably should be ahead of Penn State as well.
The Golden Eagles do not have a strong schedule. Without a signature win, they will be left on the outside of any BCS picture.
However, that shouldn't keep them behind other mediocre teams. Texas and Penn State have had multiple slip-ups. Penn State's resume is not that much better than Southern Miss's.
Teams outside of major conferences will always have a chip on their shoulders. In the eyes of the BCS, they are second rate.
The Golden Eagles should be as high as No. 21 in the BCS rankings.
Wisconsin Badgers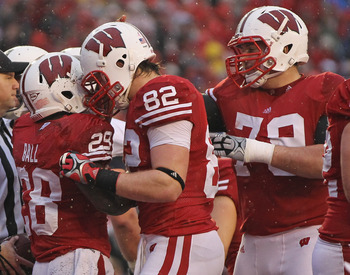 Jonathan Daniel/Getty Images
Wisconsin would be ahead of Oklahoma without preseason BCS rankings. The Badgers' two losses are against better teams and came in better fashion.
Barring two last-minute Hail Marys, the Badgers could be sitting in the title game right now. Instead, the Badgers sit behind an Oklahoma team with losses to Texas Tech and Baylor.
Baylor and Texas Tech are not great teams. Neither is Ohio State, but Michigan State is.
The Badgers did put themselves in position to lose those games. However, the Badgers are definitely a Top 10 team based on talent.
Wisconsin has a chance for a major boost if it can defeat Michigan State in the Big Ten Championship Game.
If they can, the Badgers could climb into the Top 12.
Stanford Cardinal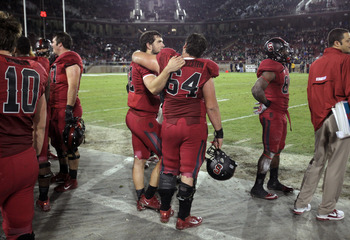 Ezra Shaw/Getty Images
Stanford's one loss was at the hands of the Oregon Ducks. Oklahoma State's one loss is to Iowa State.
Both teams have one loss. Stanford is currently 11-1. Oklahoma State is 10-1. Considering the quality of their one loss, the Cardinal should be ahead of the Cowboys.
If the Cowboys can defeat Oklahoma next week, this is a totally different situation. However, they haven't beaten Oklahoma yet.
Stanford has defeated USC. Granted, that is their lone quality victory but it's quality nonetheless.
Oklahoma State has a better resume, but its 10 victories and horrible loss to Iowa State should have them behind the Cardinal.
This is very close. Oklahoma State became the trendy pick for the national title because of its record and flashy offense. It continues to ride that momentum despite Stanford nipping at its heels.
Keep Reading