Heisman Watch: 5 Reasons Why LSU's Tyrann Mathieu Has a Legit Case for Trophy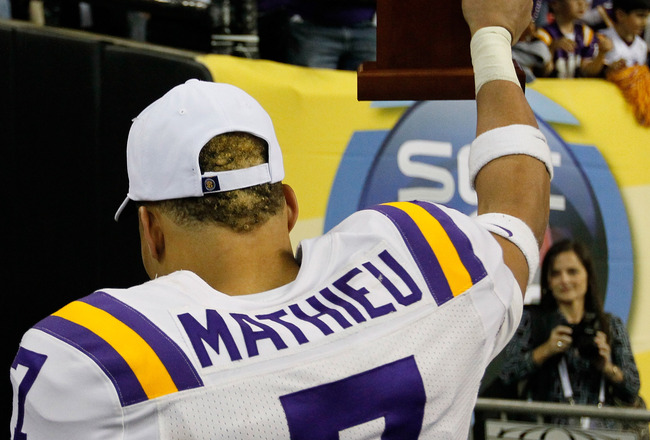 Kevin C. Cox/Getty Images
The Heisman is generally reserved for skill position players.
There is a definite bias favoring quarterbacks as well.
Since 2000, nine quarterbacks have won the award including Cam Newton's Heisman winning campaign in 2010.
The other two winners were running backs Mark Ingram and Reggie Bush who was forced to vacate his trophy after allegations that he received illegal gifts during his playing days at USC.
A defensive player hasn't won the award since University of Michigan star Charles Woodson in 1997.
However, this season, Tyrann Mathieu has made a very strong case to be the surprise winner of the vaunted award.
Here are five reasons why the corner ought to get serious Heisman consideration...
5. None of the Quarterbacks Pulled Away from the Pack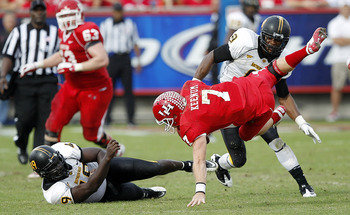 Bob Levey/Getty Images
A few weeks ago, the obvious candidates for Heisman Trophy were Andrew Luck of Stanford, Robert Griffin III of Baylor, Case Keenum of Houston, and Matt Barkley of USC.
Of that group, Keenum was unable to will his team to a win in the C-USA championship, throwing a pair of interceptions. Richardson was unimpressive in his big game against LSU last month, and put up big numbers against the "weaker" teams by SEC standards—his 203 yards against Auburn for example.
Luck could not get his team to its conference championship, and Matt Barkley is a quarterback of a team that is not even eligible for postseason play.
Robert Griffin has lived up to the hype, and played outstanding football for the Bears. However, where is Baylor really going? They are on the fringe of BCS at-large discussion. Is that the type of team deserving of a Heisman winner?
4. He's a Game-Changer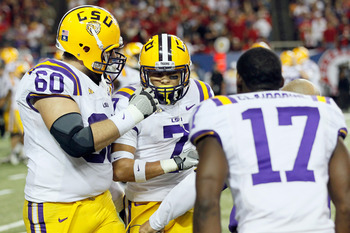 Kevin C. Cox/Getty Images
The Tigers found themselves down 10-0 in their conference championship game this weekend.
The Bulldogs decided to punt to Mathieu...big mistake.
Mathieu took the punt back 62 yards for a touchdown on an unbelievable individual effort that seemed to give LSU life.
In the third quarter, Mathieu recovered a fumble to set up the LSU go ahead score, and returned a punt 47 yards to set LSU up again for another short field and a score.
Last weekend against Arkansas, he took a punt back 92 yards for a score.
The Honey Badger came up huge in the biggest of spots for LSU.
3. His Numbers Are off the Charts
Kevin C. Cox/Getty Images
He has two interceptions, he's forced five fumbles, recovered four fumbles, and he has seven pass breakups.
He also has four touchdown returns—two of them coming in huge games against Arkansas and Georgia—and averages over 10 yards a return.
2. He Compares Favorably to Charles Woodson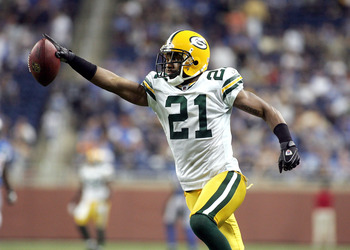 Domenic Centofanti/Getty Images
U Mich.'s Charles Woodson was the last primarily defensive player to win the Heisman; he turned the trick in 1997.
In that year, Woodson edged out future franchise quarterback Peyton Manning of Tennessee to win the award. Mathieu will need to edge out future franchise quarterback Andrew Luck.
Mathieu's seven PBUs are pretty even with Woodson's nine in that year. Where Woodson had a huge edge is his eight interceptions to just two by Tyrann Mathieu.
However, Woodson had one punt return touchdown, while Mathieu has four this season,
1. He's the Best Player on the Nation's Best Team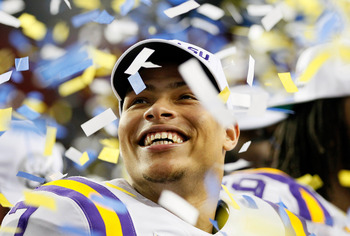 Kevin C. Cox/Getty Images
The LSU Tigers are 13-0, they are SEC Conference champs, they have a spot locked up in the BCS National Championship game and Mathieu is one of the major reasons why this is the case.
LSU has ridden its defense all year up until this point, and since Mathieu is the best player on that unit and the units top playmaker, he ought to have his name called among the finalists in New York for the Heisman Trophy.
Keep Reading

LSU Football: Like this team?