Plaxico Burress: Why His Revival Deserves Applause, Not Mockery
December 3, 2011
Jeff Zelevansky/Getty Images
He's nothing more than a spoiled diva; an athletically gifted man-child who has no concept, no appreciation for the privileges afforded to him. He whines in an attempt to hoard more than anyone could ever spend all the while showing no respect to the sport or the fans that made him who he is.
Anyone could have said this about Plaxico Burress three short years ago. You would be hard pressed to find any football fan who would disagree with it, surely any New York Giants fan. It was a career whose legacy already seemed to be set in stone. A familiar path chosen by countless professional football players that came before him in the National Football League and by the looks of things in today's game, it will surely be the road most traveled by those who follow.
The newspaper headlines across the sports media machine in the summer of 2008 all read with the same condemning theme: Diva Receiver Burress Refuses to Participate until Paid. Knee deep in a bitter contract dispute with the New York Giants, Plaxico found himself on the sidelines of both games and practices while he and his infamously aggressive agent Drew Rosenhaus attempted to hold the Giants up for a more lucrative long term contract.
His mindset and his priorities were never been more evident than in a June 11, 2008 quote taken by the New Jersey Star-Gazette. "I personally don't like the way it's going, I'm not happy about it and I'm going to choose not to participate" Burress said when asked why he chose to appear at Giants practice facilities yet refused to participate in Giants game preparations. The 2008 incarnation of Plaxico Burress shamelessly held his team hostage for a greater pay, all the while professing how he wished the Giants would have kept the issue quietly in-house; which he professed loudly at several press conferences.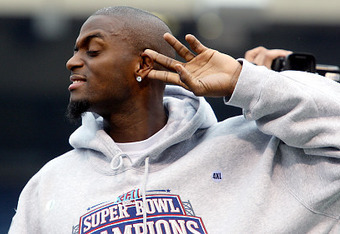 He was a man whose priorities were purely material and purely economic until he stepped foot in a New York City nightclub on a fateful November night later that year.
We all know the story by now. We all know how foolish the decisions made by Burress on that night were. The one thing that not many will admit to is the deep down admonition that when you heard about what happened to him, the thoughts that crossed your mind included one that may have considered karma to have supplied deserved justice. Did the spoiled millionaire professional athlete who was dumb enough to carry a gun in the waistband of his surely overpriced designer sweatpants, only for it to go off by his own hand, actually deserve what he got?
The media circus that was soon to follow the accidental shooting is deserving of a book unto itself. By deciding to investigate an apparent cover up conducted by the hospital and physicians who treated Burress, New York City Mayor Michael Bloomberg put the event, as well as Plaxico Burress, directly in the crosshairs of a political marksman. There was no escaping punishment for Burress; the spotlight was shining too brightly for everything to be swept under the rug like it had clearly been for so many public figures before. Unlike so many of the cornerbacks he had eluded on the football field, a significant prison sentence was an inevitability Burress could not evade.
In absolutely no time at all, Plaxico Burress went from one of the most sought after talents in the National Football League to a non-entity in the professional sports world. There were no offers of multi-million dollar contract extensions, no publically staged holdouts concocted by his ravenous agent. In the quickest blink of an eye, Burress was a flash in the pan whose 15 minutes ended far too abruptly.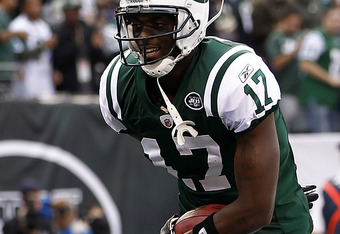 Jeff Zelevansky/Getty Images
It is now 2011 and a most humbled Plaxico Burress takes his first breaths of freedom in almost 24 months. While his phone takes some time to ring from NFL front offices hesitant to invest in another rehabilitation project, Burress has learned an unquestionable lesson that so many former athletes did not learn in time. It is the game, not the fame or the fortune, that a professional athlete should covet the most. A knock at the door from Rex Ryan and the New York Jets later, and Plaxico Burress is once again relevant in the NFL in 2011. He speaks repeatedly of how the typical trials and tribulations of game losses and team struggles no longer affect him the way they once did. Every time he speaks with reporters there is an underlying message of happiness, contentment and enjoyment with the game that has been graced with a second chance to compete in.
I absolutely shudder when I hear network commentators refer to the NFL or specific teams as halfway houses for troubled youth. From the situations involving Michael Vick, Pacman Jones or Plaxico Burress, I consider these ignorant comments a hackneyed attempt to metaphorically satirize the mistakes a few isolated NFL players have experienced and I find it to be in tremendously bad taste. I detest hearing media personalities defend those who mock or slander troubled players under the ridiculous excuse that if they did not want to be mocked, they should not have done what they did. The absolutely deplorable celebration of the Buffalo Bills Stevie Johnson last week in their loss to the Jets does not deserve the attention it has gotten. It was nothing more than a desperate and transparently premeditated act of an irrelevant player trying to bring attention to himself while ironically costing his team victory.
What is much more valuable though is the response of Plaxico Burress to all of this. As Burress was quoted on ESPN.com, "I don't think he took into consideration that happened to me when he did it…he's realized what he did and how he made himself look…those are the things you learn and being immature at times." Plaxico Burress has matured to such a degree in such a short time following traumatic experiences that many of us can only hope to never have, that to mock him is to mock personal growth. To ridicule him, to make him the subject of grossly ill-timed and ill-mannered humor, has no effect on the grown man Plaxico has become. It is something we could all learn something from.