Yakubu Aiyegbeni: Will He Be EPL's Top Scorer This Season?
December 3, 2011
Chris Brunskill/Getty Images
Blackburn Rovers striker Yakubu Aiyegbeni could well end up as the English Premier League's top goalscorer at the end of the season, after his four-goal haul against Swansea City showed he's in the form of his life.
Like most footballers, Yakubu, at 29, has hit his peak form athletically, having better strength, energy, muscular endurance and cardiovascular fitness than he has ever had before.
And it's certainly paying dividends with seven goals in his last five matches.
In the game against Swansea at Ewood Park, Yakubu's enhanced physical game, combined with his innate talent, helped ease the pressure on under-fire boss Steve Kean.
For his first goal, the Nigeria international's energy and willingness to run found him in a great position to brilliantly curl home the opener.
His third came about due to good positioning and that characteristic out-muscling of the defender in an aerial challenge.
And of course, when a player is feeling so good physically, they feel good mentally, too. Yakubu's fourth forced a confident, cheeky penalty to wrong-foot Swansea 'keeper Michel Vorm.
Such goals have been characteristic of Yakubu's play this season, with the imposing forward able to dominate weak defences with ease.
It's why he has gotten so many goals recently and also why his goal-scoring history this season has been erratic and inconsistent.
On his Premier League debut for Blackburn Rovers, at home to Arsenal, Yakubu scored twice. Quite logical considering the Gunners' defence at the time was at its weakest—physically and mentally—especially when playing away from the Emirates.
But in the three games that followed, the Nigerian couldn't even score in a brothel.
Why? He was up against Newcastle United, Manchester City and Tottenham Hotspur, playing only 20 minutes against the latter, three teams with some of the best defensive records in the Premier League, especially Newcastle at St. James' Park.
But after playing 70 minutes in the following game against Norwich City at Carrow Road, Yakubu scored and won the Man of the Match award, with the Canaries' defence having conceded eight goals in five home games before that match.
In the next game at Ewood Park, he played the full 90 minutes but wasn't given any good service and couldn't find the net.
The opponents? A resurgent Chelsea determined to work harder than ever to prove a point, with Andre Villas-Boas' men surprisingly tough defensively away from home, conceding just five goals in six away games before this match.
But in the match after that, away from home, Yakubu again notched a brace and won the Man of the Match award.
And the opposition this time was Wigan Athletic, a notoriously poor team this season with a weak defence. Yakubu took advantage to full effect.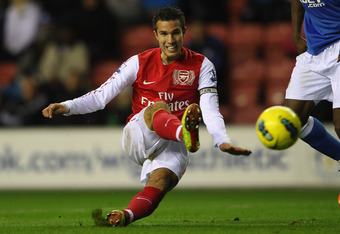 Alex Livesey/Getty Images
Following the Wigan game, Yakubu once again couldn't get a goal, despite playing the full 90 minutes.
The Nigerian was up against Stoke City at the Britannia Stadium, with goals always at a premium on any visit to Stoke.
And in his ninth appearance in the campaign, Saturday's home encounter with Swansea, a team that has conceded 15 goals in their seven away matches this term, Yakubu completely destroyed their weak backline.
Two things are clear from Yakubu's form: he's virtually always guaranteed to score against poor defences and the most physically weak defenders are the ones who tend to concede the most goals. 
So what sets Yakubu Aiyegbeni apart from the likes of Sergio Aguero, Edin Dzeko, Robin Van Persie or Wayne Rooney?
Whilst they may be more naturally-talented forwards playing in better teams and scoring more consistently, the one thing they don't have on Yakubu is the ability to physically demolish weaker defenders.
Athletic performance is one of, if not the most important, factor in the Premier League today.
Out of any striker in England's top-flight, it seems Yakubu is quite possibly the best athlete or the optimum athlete with the ability to prolifically score.
Therefore, if he continues to punish weak defences with a flurry of goals like he has been doing this season, Nigeria's third highest-ever goalscorer could end up as the top dog in the Premier League come the end of the season.
After all, Dimitar Berbatov ended up as top scorer for Manchester United last season as he scored a bucket load against the less-skilled Premier League defenders.
It may be something of a wacky notion, but Yakubu Aiyegbeni to score more than the likes of Rooney, Van Persie and Aguero? Why not.