Chelsea FC: Roman Abramovich Sacking Andre Villas-Boas? No Chance
December 2, 2011
Mike Hewitt/Getty Images
Chosen to be Chelsea manager by Roman Abramovich himself (despite his advisers clamouring for Guus Hiddink), the chances of Andre Villas-Boas being sacked as Blues boss are virtually zero.
According to the Telegraph, in the past, the decision to sign a new manager was influenced by other people besides the owner.
A source speaking to the paper said the big-name managerial signings were more to do with other Chelsea staff members rather than the man at the top.
"When Ancelotti was selected that had much to do with Andriy Shevchenko. With [Luiz Felipe] Scolari it was [the then chief executive] Peter Kenyon. With Mourinho it was [the agent] Pini Zahavi. But with Villas-Boas it has been Roman. Purely Roman."
And it's hard to disagree with that statement, seeing as the Blues owner unprecedentedly forked out £13.2 million to get his man on the dugout.
So when the under-pressure man himself insists he won't be sacked any time soon, it's also difficult to disagree with him.
Villas-Boas, 34, said: "I will still be here because I was brought in for a three-year project and we believe in it."
Which is exactly what is happening at Stamford Bridge at the moment—a three-year project.
While the Blues' recent form has been unassailably poor, and perhaps a fair amount worse than most people inside Chelsea would've predicted, in the grand scheme of things, it makes little difference to Villas-Boas' and Abramovich's plans. 
The former FC Porto boss was brought in to achieve UEFA Champions League glory.
He proved in Portugal that he can make that happen, given his sensational side steamrolled their way to the UEFA Europa League crown, with the young tactician being in charge for just one season.
Unlike his predecessor, Carlo Ancelotti, Villas-Boas' football philosophy is the one required in today's game to win European honours, not the one of four or five years ago when Ancelotti won the Champions League with AC Milan.
Combine that with his excellent man-management (especially in regard to getting the best out of the under-performing stars like Hulk last season), revolutionary style (getting his players to play with freedom, unlike every other Premier League side, with scripted play) and knowledge of the club (having worked under Jose Mourinho at Chelsea before), and it's clear to see why he's the one man in a better position than most to achieve European glory for the Blues.
In season one of his three-year deal, it's all about building a team capable of challenging Real Madrid and FC Barcelona at the top of the game for Andre Villas-Boas.
Which means chopping and changing the squad, clearing out the old guard and bringing in the new. Although, not before trying to persuade the senior players into his way of thinking—hence there wasn't a summer exodus at Chelsea.
As recent results have shown, not a lot of players are willing to work harder and change their game for the new manager.
Therefore, as long as they don't crash out of European competition altogether this season, getting big-time results this campaign isn't the top priority.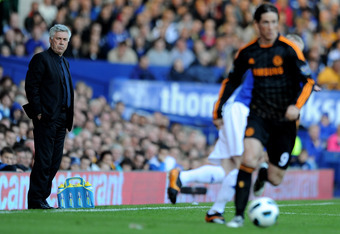 Chris Brunskill/Getty Images
The rebuilding process has started with Juan Mata, Romelu Lukaku, Oriol Romeu and Raul Meireles, but it'll take a few more signings in January and a load in the summer to really kick-start this new project at the Bridge.
That, in turn, will mean clearing out the old-timers and deadwood, with Nicolas Anelka, Didier Drogba, Salomon Kalou, Alex, John Obi Mikel, Florent Malouda, Jose Bosingwa and Paulo Ferreira all being sold, perhaps along with the two most influential dressing room players John Terry and Frank Lampard, if the manager is feeling bold.
And so, as long as the Blues finish fourth come the end of the season (although, they'll obviously aim higher), results this season aren't a major issue for Villas-Boas.
Heck, even if they just end up in the Europa League places, as long as Chelsea have European competition next season, the manager should be fine.
After all, if Chelsea did well in or won the Europa League in 2012/13, it'd give them great momentum going into the following campaign.
The part where it heats up and the manager's position is really on the line is in season two, the dress rehearsal for the next season, when the real attack on the Champions League commences.
With old players gone and new players in, as well as key ones like Juan Mata and Daniel Sturridge fully integrated, Villas-Boas' second season will be about winning a major title, and doing significantly well in Europe.
If it goes to plan in this season, or even better, i.e. they actually win the Champions League, Villas-Boas will most likely keep his job and be rewarded with a contract extension.
If it doesn't go well, this will be the time when Villas-Boas will be genuinely under pressure.
And of course, if the Champions League isn't won in three years, then it will most likely be curtains for the then-37-year-old.
So it all means, at the moment, that Andre Villas-Boas has virtually no chance of being sacked. 
As long as his side finishes in the European places and have a squad of players showing star potential for next season, Villas-Boas' job security is safe.
After all, why invest £13.2 million for a leader to a three-year project, just to sack him months later, without any possibility of gaining a significant return?
That would be madness.