Stanford and Duke Seek First NCAA Women's Soccer Title
December 3, 2011
For the third year in a row, Stanford has advanced to Sunday's Women's College Cup finals, blanking Florida State 3-0 in Friday's national semifinal hosted by Georgia State University. 
The top-ranked Cardinal, now 24-0-1, will try to win their first NCAA title against the new boss of the ACC, Duke. The Blue Devils defeated ACC conference rival Wake Forest by 4-1 in Friday's other semifinal to improve to 22-3-1 on the season. 
In no other sport can the more dominant team frequently end up behind on the scoreboard, and the Seminoles were the latest example of that in Friday's first semifinal. Stanford managed only nine shots to Florida State's 12, and only three of those Cardinal shots were on goal—and they all went in. 
FSU controlled play during the first 20 minutes, only to see Stanford strike for a pair of quick goals. The Cardinal's fast freshman forward, Chioma Ubogagu, took off on an 80-yard breakaway after a Seminole corner kick, exchanged passes with senior All-American midfielder Teresa Noyola and rammed a left foot shot off FSU keeper  Kelsey Wys for a 1-0 lead. 
Only two minutes later, Ubogagu raced with the ball down the left sideline and found a sliding Kristy Zurmuhlen in the goal mouth for a strike past Wys, and just like that it was 2-0 Cardinal. 
Stanford added the dagger early in the second half on a header by Mexico World Cup team member Alina Garcia Mendez. 
The second semifinal followed suit, as Wake controlled most of the play in the first half, only to see Duke convert a late corner kick for a 1-0 halftime lead.  The teams traded early second-half goals before Duke added a third goal on a Mollie Pathman penalty kick, her second goal of the game.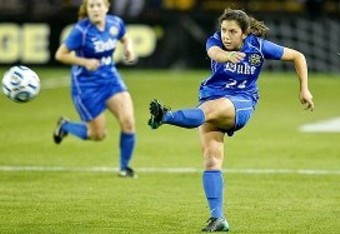 That pretty much finished off the Demon Deacons, who were making their first Final Four appearance, and now the Blue Devils will play on Sunday seeking their first NCAA championship.
While Stanford's star frosh Ubogagu (10 goals, 10 assists) was born in London (where her Nigerian father played for Tottenham), Duke's freshman scoring sensation Kelly Cobb is from a more unlikely soccer hot bed—Alaska. Cobb has 11 goals and eight assists and leads a balanced Blue Devils attack.
In the 2009 and 2010 finals, Stanford fell behind 1-0, an unaccustomed deficit for a team that since 2006 has won 93 times and lost just one regular season game. If the Blue Devils jump out to a lead, the Cardinal will need to maintain their possession style, avoid wishful long balls and continue to create shots.
One thing is assured: There will be a first-time NCAA women's champion on Sunday afternoon. Stanford hopes its third consecutive finals appearance will be the charm. If not, the public address system at the Atlanta airport may well announce that, "Coach Ratcliffe, we have the Buffalo Bills on line two."