St. Louis Rams vs. San Francisco 49ers: 7 Reasons the Niners Will Win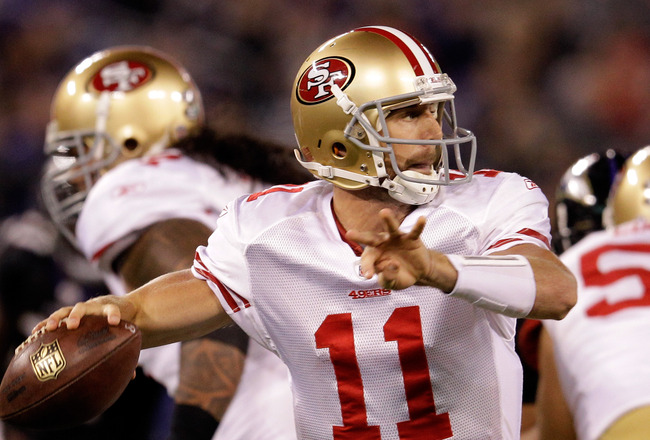 Alex Smith leads the 9-2 49ers against the 2-9 Rams on Sunday.
Rob Carr/Getty Images
The 9-2 San Francisco 49ers can wrap up the NFC West this Sunday with a win over the 2-9 St. Louis Rams (or through losses by the Seattle Seahawks and Arizona Cardinals).
Both San Francisco and St. Louis are coming off defeats. The Rams lost 23-20 to the Cardinals last Sunday, and the 49ers were stifled by the Baltimore Ravens, 16-6, on Thanksgiving.
For the Rams, it was simply more of the same as they continued to watch preseason hopes of the playoffs evaporate through injuries worthy of a MASH unit. For the Niners, it was a disappointing, but not crushing, blow that ended an eight-game winning streak and gave Ravens coach John Harbaugh at least temporary bragging rights over brother Jim of the 49ers.
Available talent will have a lot to do with the outcome on Sunday:
Can the Rams overcome their numerous injuries—especially to quarterback Sam Bradford, defensive end Chris Long, offensive tackle Mark LeVoir and defensive tackle Justin Bannan?
Will 49ers running back Frank Gore and offensive lineman Adam Snyder be up to snuff?
Will the Rams' offensive line be put back together to create holes for running back Steven Jackson and protect either Bradford or his backup, A.J. Feeley?
The answers should favor San Francisco. Here are seven reasons the 49ers will emerge from Candlestick Park on Sunday with their first NFC West championship since 2002.
Reason 1: Frank Gore Eats the Rams Alive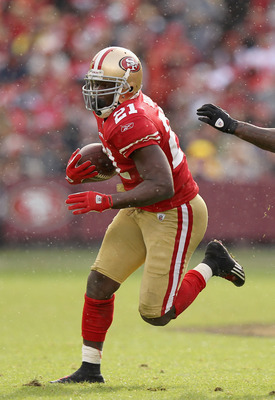 49er running back Frank Gore needs just 91 rushing yards for his fifth 1,000-yard season.
Ezra Shaw/Getty Images
As writer Cam Inman observed in Thursday's San Jose Mercury News, Frank Gore has eight games in which he's scored two touchdowns per game—four of those games were against the Rams.
Beyond that, Gore needs just 91 yards to post his fifth 1,000-yard rushing season, and 22 to break Joe Perry's franchise record of 7,344 yards. That's additional motivation for Gore to wrap a little extra tape around his sore ankle and continue blasting the middle for big yardage.
Reason 2: Rams QB Sam Bradford May Be out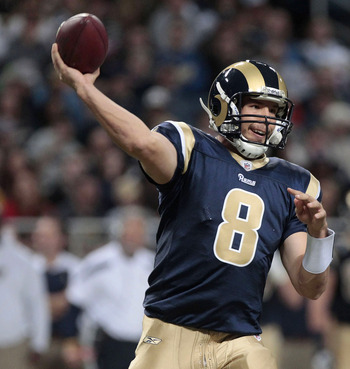 Sam Bradford's ankle sprain makes the Rams' QB questionable for Sunday.
Whitney Curtis/Getty Images
Bradford, the Rams' second-year quarterback, former Heisman Trophy winner and last season's Associated Press offensive rookie of the year, has an ankle sprain that kept him out of practice on Thursday and held him to limited action on Friday. He's listed as questionable for Sunday's game.
Even when healthy (he's missed two starts this season), he's having a bit of a sophomore slump, with just six touchdown passes versus five interceptions and seven lost fumbles.
If Bradford can't play, his backup A.J. Feeley will get the call. Feeley, now in his 12th year out of Oregon, reeled in one of the Rams wins this year—a 31-21 victory over the New Orleans Saints. That said, he's a career journeyman with 27 touchdowns against 29 interceptions. Facing the 49ers' stout pass defense, either Feeley or a gimpy Bradford may well struggle.
Reason 3: The Rams' Best Receivers Are on Injured Reserve
Mark Clayton is out, as is receiver Danny Amendola.
Matt Sullivan/Getty Images
Both Mark Clayton and Danny Amendola are out, and that has put a big hole in the Rams' pass offense. Before Week 7, the Rams traded a draft pick to the Denver Broncos for wide receiver Brandon Lloyd, who has responded with four TDs, including one in each of the last three games.
The Rams can also go to wideouts Brandon Gibson, Danario Alexander and Austin Pettis, but Clayton and Amendola are still greatly missed.
Reason 4: The Rams' Offensive Line Is Suspect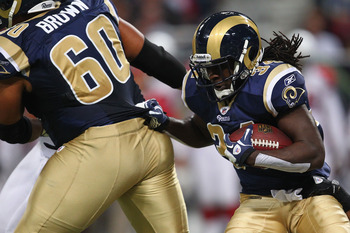 St. Louis center Jason Brown (60) has been anchoring an ailing offensive line.
Dilip Vishwanat/Getty Images
Last week, the Rams compensated for offensive-line injuries, including LeVoir's pectoral strain, by shuffling personnel to new positions. It worked well enough for the passing game; the revamped line gave up just two sacks in the loss to the Cardinals.
Run-blocking was another story. Stellar running back Steven Jackson was held to just 64 yards and no touchdowns on 17 carries.
It could be more of the same this week. The 49ers' rushing defense is first in the NFC for a reason, and Rams linemen in unfamiliar positions may find themselves overwhelmed.
Reason 5: The Rams Defense Is Hurting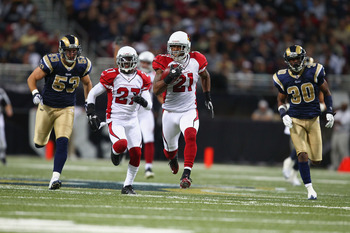 Linebacker David Nixon (53) and cornerback Nate Ness will need to step up on Sunday,
Dilip Vishwanat/Getty Images
Starting defensive end Chris Long missed practice on Friday with a bad ankle, and starting defensive tackle Justin Bannan (shoulder) was out Thursday and limited on Friday. Both are listed as questionable for Sunday.
If they're unavailable or at best sub-par, 49ers quarterback Alex Smith may find an extra second in the pocket, and the offensive line—with or without a healthy Adam Snyder (who's listed as probable)—should be able to open big holes for Gore, Kendall Hunter and Bruce Miller (also probable following a concussion).
Reason 6: The 49ers Will Contain Steven Jackson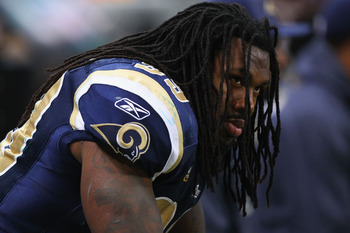 Steven Jackson has three 100-yard-plus games this season, but is averaging just 3.3 yards per carry over the last two weeks.
Dilip Vishwanat/Getty Images
One of the Rams' remaining bright spots is Steven Jackson, in his eighth year out of Oregon State. He's the Rams' all-time leading rusher, and needs just 47 yards on Sunday to pass Henry Ellard for third place on the team's career all-purpose yardage list.
Even so, Jackson has gained only 106 yards in the last two weeks, with a 3.3 yard average during that time (likely cause—the problems on the offensive line). This Sunday, he'll be going up against the NFC's best rush defense. Look for him to have another frustrating day against a unit that's giving up only 75.5 rushing yards a game.
Reason 7: The Rams Are Just Too Banged Up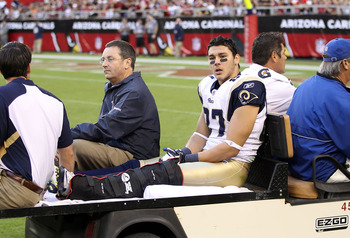 Wide receiver Greg Salas, leaving the field against Arizona on November 6, is one of 13 Rams on injured reserve.
Christian Petersen/Getty Images
As of Friday, St. Louis had 13 players on injured reserve and 11 on the day-to-day injury list.
The 49ers have a few injuries themselves—most notably to Gore, Snyder, tackle Anthony Davis and receiver Braylon Edwards—but have stayed solid. On the basis of both health and talent, this game goes to the 49ers, as the Rams muse about the season that might have been.
Keep Reading

San Francisco 49ers: Like this team?