Week 13 Fantasy Rankings: Top 30 RBs, Plus Analysis on the Week's Best Plays
December 2, 2011
Streeter Lecka/Getty Images
Figuring out what the best running back plays are from week to week is a little easier than doing so for wide receivers, but by no means is it simple. With some of the league's top players injured and a few inter-division rivalries to consider, Week 13 is certainly no walk in the park.
That's why those of us in the fantasy industry put together these lists for you—to give the reader a gauge of what to expect from his or her players on any given Sunday.
With that, here are the weekend's top 30 running backs, along with some detailed analysis on the five best plays for the week:
30. Toby Gerhart (vs. Den)
29. Mark Ingram (vs. Det – Sunday Night) 
28. Ahmad Bradshaw (vs. GB) – LISTED AS QUESTIONABLE TO PLAY (Foot)
27. James Starks (@ NYG)
26. Donald Brown (@ NE)
25. Shonn Greene (@ Was) 

24. Steven Jackson (@ SF)
23. Cedric Benson (@ Pit)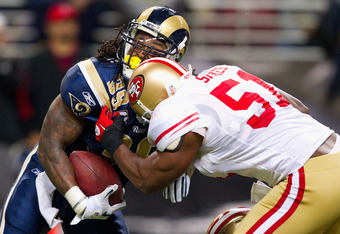 Dilip Vishwanat/Getty Images
22. DeAngelo Williams (@ TB)
21. Peyton Hillis (vs. Bal)
20. Jonathan Stewart (@ TB)
19. Willis McGahee (@ Min)
18. Kevin Smith (@ NO – Sunday Night) – LISTED AS QUESTIONABLE TO PLAY (Ankle)
17. Roy Helu (vs. NYJ) 
16. Beanie Wells (vs. Dal)
15. Rashard Mendenhall (vs. Cin) 
14. Michael Turner (@ Hou) – LISTED AS QUESTIONABLE TO PLAY (Groin)
13. BenJarvus Green–Ellis (vs. Ind) 
12. Michael Bush (@ Mia)
11. Darren Sproles (vs. Det – Sunday Night)
10. Ryan Mathews (@ Jax – Monday Night)

9. Reggie Bush (vs. Oak)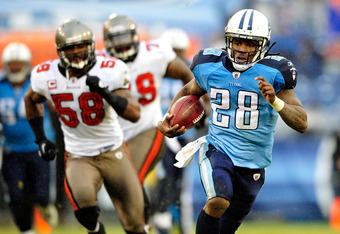 Grant Halverson/Getty Images
8. Chris Johnson (@ Buf)
7. Arian Foster (vs. Atl)
6. DeMarco Murray (@ Ari)
The Top Five

5. Matt Forte (vs. KC)
Despite his recent stretch of three straight games putting up less than 90 total yards per game, Matt Forte still leads the league in yards from scrimmage by quite a large margin now that Fred Jackson is out for the year.
I expect him to get back on track this weekend by putting up around 130 yards or so, playing against a Chiefs defense that has allowed the sixth-most fantasy points to opposing RBs this season.
Either way, the Bears are going to lean on him heavily the rest of the year with Jay Cutler sidelined and if they can get him a good 25 touches in this one, he should be able to do some damage.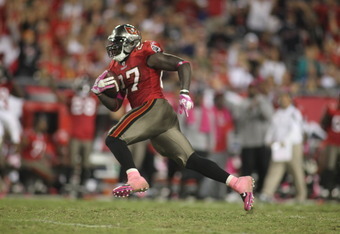 Marc Serota/Getty Images
4. LeGarrette Blount (vs. Car)
It's not very often a running back like LeGarrette Blount gets ranked among the top handful of guys for the week, but whenever a back faces off against the Panthers, there's no reason in the world not to.
Carolina owns by far the worst run defense this season, allowing the most fantasy points per game to opposing RBs—numbers which include giving up the most rushing and receiving TDs by a running back along with the third-most rushing yards in the league.
In addition, Blount seems to be on a bit of a roll right now, putting up two straight 100-yard games (both on the road) and a season-high 159 total yards last weekend.
3. Maurice Jones–Drew (vs. SD – Monday Night)
MJD currently leads the league in rushing attempts with 230 and is second only to LeSean McCoy by just 10 rushing yards for the league rushing title (until last night).
Basically, the Jaguars have decided to ride their little wrecking ball until they can't ride him no more.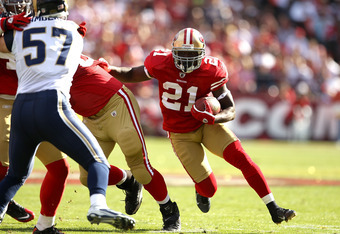 Ezra Shaw/Getty Images
San Diego doesn't have a bad rush defense, but they aren't the best, either, allowing Michael Bush to rush for a season-high 157 yards three weeks ago and Shonn Greene to register his only 100-yard game of the season before that.
If Jones-Drew can get 25 carries in this one, which he should, it's pretty much guaranteed that he'll come out of the game with 100-plus yards and a TD.
2. Frank Gore (vs. StL)
Frank the Tank has had a rough go of it over the 'Niners' last few games, but he should be able to turn it around in this one.
Gore has faced the Rams twice in the last two seasons and put up no less than 132 total yards while rushing for at least 87 yards and a touchdown in each game (three total TDs), numbers he could easily match this Sunday.
St. Louis has allowed the fourth-most fantasy points to opposing running backs this season and has given up six rushing TDs along with TWO 200-yard rushers over the last six weeks, so I fully expect Mr. Gore to have a dandy of a game running at home in front of a 49ers crowd.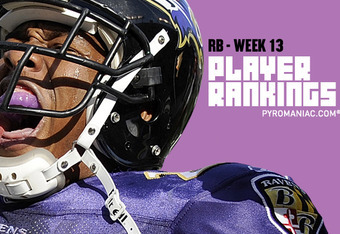 1. Ray Rice (@ Cle)
Rice has been a total-yards juggernaut over the last three seasons, trailing only Chris Johnson for the second-most yards from scrimmage in that time (5,076 to 5,085).
With Cleveland giving up five 100-yard games in the last five weeks, there's no reason to think a back of Rice's caliber won't be able to do the same.
In fact, the Browns have also allowed opposing RBs to rush in five touchdowns during that stretch, so you can probably chalk up a TD for Ray-Ray this Sunday as well.
Considering the Browns lead the league in pass defense to this point, there's no reason to think that the Ravens won't use their run game quite a bit in this one and give Rice every opportunity to rack up some major fantasy points for your team.
Click here to see the Rankings For All Other Positions

Brought to you by pyromaniac.com
Listen and subscribe to our Pyro® Weekly Podcasts: http://pyromaniac.buzzsprout.com
Follow Pyro® on Twitter:  https://twitter.com/pyroman1ac
Follow Pyro® on Facebook:  http://www.facebook.com/pyromaniac