Marshawn Lynch: Fantasy Football Superstar, Lover of Skittles
December 2, 2011
Jay Drowns/Getty Images
The Story of Marshawn Lynch's Rebirth and His Impact on Fantasy Football
Marshawn Lynch's career looked to be over in 2009. There wasn't much hope for the former 12th overall pick from Cal.
He had gone from a promising young runner with back-to-back 1,000-yard seasons to start his career to a backup with red flags.
In 2009, Lynch pleaded guilty to a weapons charge and was suspended for three games that season. By the time he returned to the field, the Bills had moved on. Fred Jackson became the starter in Buffalo that year and Lynch saw the fewest carries of his career with 120. 
Lynch started the 2010 season on the Bills' roster. But with Jackson penciled in as the starter and rookie C.J. Spiller, who the Bills drafted ninth overall in 2010 draft now on the roster, Lynch was expendable.
Four games into the 2010 season, Lynch was traded to Seattle for two draft picks, a fourth-rounder in 2011 and a conditional pick in 2012.
It would be the beginning of something beautiful for a guy known for going into "Beast Mode."
"Beast Mode" Defined
According to the UrbanDictionary.com, going into "Beast Mode" is explained as:
A state of or doing anything excessively and or aggressively; wildin' out.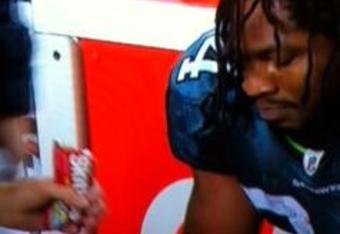 That certainly described Lynch's running style on Thursday night. In fact, he's been stuck in "Beast Mode" for the past eight games now. 
When Lynch took the field against the Philadelphia Eagles in Week 13, he was on a seven-game touchdown scoring streak. 
With 9:19 remaining in the first quarter, Lynch looked like he was stopped on a simple dive play. Brad Nessler, the play-by-play guy for the NFL Network, even proclaimed him down. But Lynch's legs kept churning and defenders kept missing. 15 yards later, Lynch was in the end zone for the eighth time in his last eight games.
Lynch finished the game with 22 carries for 148 yards and two touchdowns, leading the Seahawks to a 31-14 victory over the Eagles.
Lynch's Rise to Fantasy Football Superstardom
It took a knockout performance against the Eagles for Lynch to find himself in the national spotlight, if only for one day.
But for the fantasy football owners who have started Lynch during his eight-game scoring streak, they were already well aware of Lynch's impact this season.
Since his scoring streak began, only two running backs have averaged more fantasy points per week than the Seattle running back.
Top 10 scoring running backs since Week 4 (standard scoring leagues)
1) Arian Foster - 21 fantasy points/game (168 points in eight games) 
2) LeSean McCoy - 17.2 fantasy points/game (155 points in nine games)
3t) Marshawn Lynch - 16.5 fantasy points/game (132 points in eight games) 
3t) Adrian Peterson - 16.5 fantasy points/game (116 points in seven games) 
5) Fred Jackson - 16 fantasy points/game (112 points in seven games) 
6) Ray Rice - 15.25 fantasy points/game (122 points in eight games) 
7) Matt Forte - 14 fantasy points/game (112 points in eight games) 
8) Michael Turner - 13.8 fantasy points/game (111 points in eight games)
9t) Maurice Jones-Drew - 12.8 fantasy points/game (103 points in eight games) 
9t) Steven Jackson - 12.8 fantasy points/game (103 points in eight games)
The Skittles Phenomenon
Lynch has gone from an afterthought in Buffalo to perhaps the most important player on Seattle's roster—not to mention your fantasy team.
We also learned on Thursday night that Lynch has a thing for Skittles.
Apparently, Lynch's mom used to give him Skittles after he'd score a touchdown in high school. Lynch was seen on the sidelines of Thursday's game chowing down on the colorful candies after his touchdowns.   
According to reports, the people at Skittles are offering Lynch a two-year supply of the candy as a thank you for all the free advertising on national television.
I'm sure fantasy owners don't care whether or not he accepts the deal, they just hope he keeps eating a lot of them the rest of this season.