Indianapolis Colts Shake-Up: What Does Jim Caldwell Do All Day?
December 2, 2011
Andy Lyons/Getty Images
Now that one Indianapolis Colts coach has been shown the door over this year's disaster of a season, it's only natural to wonder who could, and should, be next.
Why not start at the top?
Vice Chairman Bill Polian might not think coach Jim Caldwell's job is in any jeopardy at this point, but for those of us living here on planet Earth, the vibe is a little different.
The Colts are 0-11 and just blew the best chance they had left to try and win a single game this season. The next two weeks are guaranteed losses against New England and Baltimore, then it's three straight divisional games against opponents who've already beaten them by a combined 78-20.
Perfect.
Clearly, it's going to take a miracle just to keep this team from going 0-16, then, and clearly the question of where this team ranks among the worst ever fielded is definitely looming just around the corner.
Really, Bill? You're not seeing any cause for concern there, huh?
Of course, Caldwell's job is in jeopardy. Hell, Polian's own job is in jeopardy after this jaw-dropping train wreck of a season, for that matter, and he even has an extensive background of success to his credit.
What does Caldwell have? 
Not much, sad as it must be for the third-year Tony Dungy protégé to admit.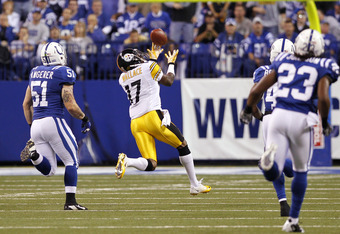 Joe Robbins/Getty Images
A magical '09 campaign in which the Colts threatened to go undefeated has since been overshadowed by a lackluster sophomore season. The team limped into the playoffs then lost in the Wild-Card round. This season, a never-ending comedy of errors that has seen the formerly dominant Colts transform under Caldwell's watch into a clumsy, barely competitive gang of goobers virtually overnight.
What makes Jim Caldwell so expendable is not simply that his team totally sucks this year, however, it's that three years into his tenure, it's still not very clear to anyone just what this guy actually does for a living.
Who is Jim Caldwell, anyway?
Does anyone really feel like they know?
He's quiet, mysterious, and for all practical purposes, completely invisible. He whispers when he talks. He never loses his temper. His presence is rarely felt during the course of any game, and he rarely intervenes when his team is not performing as it should.
So what exactly does this guy do with his time?
At this point, it's much easier to say what he doesn't do.
Let's start there:
Prepare for Obvious Matchups
Or, if he is preparing for upcoming personnel matchups every day, Jim Caldwell is definitely not doing a very good job at it, at least.
Quick, what do Dwayne Bowe, Peyton Hillis, Mike Wallace, Drew Brees, LaGarrette Blount and Marques Colston all have in common?
Well, besides all being standout players any opposing team should know to prepare for in advance, every single one of them also had their best game of the season this year while playing against the Colts.
It's not just household names who've been coming up big against Indianapolis either: running backs Ben Tate, Mark Ingram, and Jackie Battle also notched their best performances of the season when it was their turn to embarrass Caldwell's helpless defensive unit, as did receivers Julio Jones and Chastin West and pretty much every offensive lineman the Colts have faced.
Several of those guys are still in their first or second seasons. All of them should have been a focal point in preliminary game planning. None of their collective success can be deemed a coincidence.
One of the most basic defensive strategies you always hear about is to try and nullify an opposing team's playmakers so that other, lesser talent is forced to step up and beat you instead.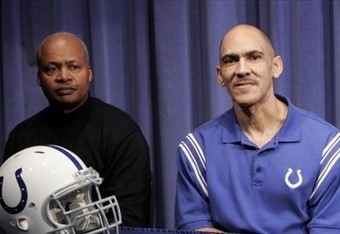 Not on Jim Caldwell's defense.
No, sir: when you play the Colts, you decide who gets to have a big day.
They'll take care of the rest.
Correct Obvious Mistakes
There's no such thing as the "perfect team," but there are ones who limit their mistakes more than others.
Care to guess which category the 2011 Colts fall under?
Every time this team takes the field, they look just as hopeless as the time before. There's been no substantial improvement in any facet of their game.  Turnovers practically produce themselves. Opposing running backs jog five yards before anyone even recognizes they have the ball. Field goals feel like genuine accomplishments.    
And what is even left to say about the quarterback play we've seen out of this team so far?
That's the element of this lost 2011 season that really puts Jim Caldwell's value in perspective—the dismal performance of Kerry Collins, Curtis Painter and Dan Orlovsky.
It's nothing personal, as Caldwell and the players themselves were admittedly at a tremendous disadvantage considering how accustomed we all are to seeing this offense excel, but this is just unacceptable.       
Kerry Collins looked like a 40-year-old rookie this season.
Curtis Painter surprised everyone with a pair of decent games back in October, then made us all cry for ever believing in him shortly thereafter.
Dan Orlovsky? His already-doomed reign as Peyton Manning's temporary seat-warmer starts on Sunday, and that just might mark the first time in league history where handing your offense over to a third-string career backup actually sounds like a good idea.
It's not just that the quarterbacks Indy has started this year have lacked talent, however, which clearly they have, it's that making quarterbacks play better is supposed to be one of Jim Caldwell's most defining assets.
Caldwell was a quarterback coach for seven years at Penn State and eight at the professional level before taking charge in Indy.
Helping quarterbacks improve should be something this guy knows how to do. He's as qualified in this regard as any coach could possibly be, and between his years of experience and his extensive work with one of the greatest quarterback minds we've ever seen in Peyton Manning, you'd expect Jim Caldwell to not only be up to a challenge like this, but to welcome it as an opportunity to showcase his fine-tuned abilities.
Nearly 12 games in and we've still yet to see just what those abilities actually consist of, however, and if the first 11 contests are any indication, we probably won't see any trace of them this season. 
If anyone should have been prepared for Manning's absence, it's Jim Caldwell.
Clearly that wasn't the case.
Make Important Decisions 
One crucial aspect of his position Caldwell definitely hasn't been spending his time fulfilling is that of "Decider-in-Chief."
Late in Caldwell's first season as coach, the '09 Colts were 14-0 and tasked with the enviable dilemma of deciding whether to rest their starters for the playoffs or to press on and contend for an undefeated season. They opted to rest, and at the time, Caldwell (and others) seemed to imply that the decision had largely been his to make.
Bill Polian, however, discussed the decision in a similar manner after that controversial 15th game took place (which the Colts lost to the Jets after Manning was replaced by an unknown rookie named Curtis Painter) in a way that likewise implied his own involvement in choosing to bench the starters.
OK, so it must be some sort of democracy, then. Everybody gets their vote. Got it.
Earlier this season, however, when the Colts parted ways with cornerback Justin Tryon, the disappointing fourth-year player immediately took to Twitter and declared "Caldwell wanted to start me but it wasn't up to him!"
So much for the whole "democracy" notion.
To be fair, Caldwell did deny the accusation shortly thereafter by saying "if I wanted him to start, he would have started," and Colts owner Jim Irsay did address Caldwell's apparent undermining with one of his patented, semi-psychotic Tweet rambles:
"There is no chaos/disarray,thinking that is a delusion maker,nothing but unity n believe,that u could c sunday nite,fighting thru adversity"
Well that settles that.
Or does it?
Why would the Colts bring in former Ohio State coach Jim Tressel as a "gameday consultant" earlier this season unless they had doubts over Caldwell's ability to perform that role himself?
And what about back in August, when Kerry Collins was chosen to fill in for the injured Peyton Manning.
Whose call was that?
Sure, Caldwell has ties to Collins through Penn State, but so does Bill Polian, as he was the man that brought the 38-year-old quarterback into the league with a No. 5 draft pick back in 1995.
Then there's Irsay, the only member of the organization willing to discuss the search for a replacement while it was ongoing, who at the time seemed to suggest through his nearly incomprehensible Twitter feed that control over making the decision rested solely with him.
Finally, when you consider how disastrous Collins looked when the time came for him to actually perform the job he'd been given, you can't help but think a quarterback scout as seasoned as Caldwell would have known in advance this just wasn't going to work, and even if the coach did sign off on bringing in the veteran, you can't help but think it was going to happen anyway, with or without his approval, based on the way the whole situation played out.
Just how much authority Jim Caldwell really has we may never know, then, but we do know for certain that it's shared with at least two other Indy executives, and we can safely assume, consequently, that mulling over big picture adjustments is probably not a priority on Caldwell's day-to-day schedule.
So what is?
Here's what we know Caldwell does on a regular basis:
Receive a Fat Paycheck
It might not be on pace with some his peers, but we know on any given day Big Jim rakes in about $9,500. That's a start.
Lose a Football Game
At least once a week, we know you can usually find Caldwell on the losing end of a game of football. Including last season's lone playoff game and this year's preseason, we've seen him lose 15 of them so far in 2011. Now we're getting somewhere.
Calmly Stare Off into Space
While Caldwell has been caught blinking a couple of times, more often than not you're likely to find him sporting a stone cold, deer-in-headlights sort of look and rarely straying from it. No question Caldwell is doing some serious gazing every single day, then, and from the looks of things, there's a good chance this might even be a recurring activity on the coach's daily schedule.
Finally, here's what we assume Caldwell probably does every day:    
Work on his Tony Dungy Impression
As far as the public can tell, Caldwell's foremost focus since being promoted in 2009 has been to convince the world he's the same exact coach as the one he replaced.
Tony Dungy was known for his guru-like presence and disciplined composure as coach of the Colts for seven remarkable seasons last decade.
Caldwell has adopted this behavior and, in many ways, amplified it to help create the illusion of a seamless coaching transition.
The similarities are striking, and the effort to create them is obvious.
Caldwell used to be Tony Dungy's understudy.
Today, he's more like Tony Dungy's obsessed, delusional super fan.
The voice, the mannerisms, the attitude—Caldwell has this shtick down pat and don't think for a second he hasn't spent countless hours fine-tuning this little masquerade of his to absolute precision. Caldwell is to Tony Dungy what Robert De Niro is to tight-lipped mafia crime bosses. If they filmed a movie about Dungy tomorrow, Caldwell would be first in line for the lead. 
You really think a performance that accurate just comes naturally?
Pray for Peyton Manning's Neck
As excited as everyone in Indianapolis must be about the imminent selection of Stanford quarterback Andrew Luck in next year's draft, if you're Jim Caldwell, you're much more excited about Peyton Manning's possible return than anything else.
Luck may be one of the greatest draft prospects we've ever seen, but he is just that: a prospect. He'll still face a learning curve, and he'll still need the same guidance and direction any rookie would to succeed.
Not Peyton Manning.
No sir, Peyton Manning is an established, proven veteran who can excel in this league no matter the conditions, and if everything goes to plan, he'll return next season and get right back to work covering up as many of this team's shortcomings as he possibly can, including but not limited to Caldwell's struggles as coach.
The faster Manning returns, the faster we'll forget how helpless Caldwell's team was without him.
Is it possible a single day passes without that thought crossing Caldwell's mind?
Just Go with the Flow
While little of Caldwell's day-to-day activities will ever be known, by now, everyone has a pretty good idea how his time is probably spent: aimlessly.
Caldwell doesn't strike anyone as the kind of guy who tries to buck the system. He's not what they call a "game-changer," and nobody ever accused Jim Caldwell of being a "rebel" either.
"Oh there goes that Jim Caldwell again, changing everything up and challenging authority like he always does!"
See you're never going to hear that.
What you might hear instead is something more like "Jim Caldwell? Oh is that the guy who kept nodding his head and agreeing with everyone?" Or maybe "if that Jim Caldwell fella doesn't start speaking up soon I'm just going to stop listening altogether!"     
Caldwell?
He's just kind of there.
After a season this atrocious, however, he might not be there for long.
Follow me on Twitter: @RussPunt