Raiders vs. Dolphins: Comparing Michael Bush to Reggie Bush
December 1, 2011
Thearon W. Henderson/Getty Images
On Sunday afternoon the Oakland Raiders will take on the Miami Dolphins in Miami. 
Not only will Miami have another chance to play spoiler to a team looking for a playoff berth, but they will also see two of the most electrifying running backs compete with Michael Bush on the Raiders and Reggie Bush on the Dolphins. 
The two running backs are similar in more ways than just the shared surname (they're not related). 
Michael Bush has run the ball 163 times for 668 yards and six touchdowns. Reggie Bush has had 30 less carries than Michael, but has thus far rushed for 567 yards and four touchdowns. Both backs also share the running back duties. Reggie splits carries with rookie Daniel Thomas, while Michael Bush has in the past shared carries with Darren McFadden (who's been out since Week 7).
In fact, both of them have had to carry the ball while the second part of each team's rushing tandem has been hurt (Thomas has missed three games so far this season). 
Michael Bush has proven himself to be a better featured back. He can run between the tackles well and has been an important part of the Raiders offense. 
Reggie Bush has at times showed potential as a featured back, however running between the tackles is still a challenge for the former Heisman Trophy winner (former as in he isn't considered one anymore, not former in the sense that he was one in the past). Reggie's main strength has been on tosses and sweeps, as well as catching the ball out of the backfield.  So far this season, Reggie has 35 receptions for 237 yards and a touchdown. 
Out of the backfield for Oakland, Michael Bush has 20 receptions for 273 yards and a touchdown.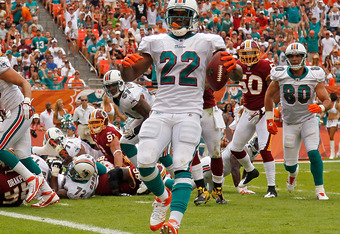 Mike Ehrmann/Getty Images
If you were to compare careers, Michael Bush so far has the better stats (2,333 yards on 539 attempts and 20 touchdowns in four seasons, compared to Reggie's 2,657 yards on 657 attempts and 21 touchdowns in six seasons) but Reggie Bush does have a Super Bowl ring with New Orleans from 2009/2010 season. 
This season though, it will be Michael Bush who will have the better shot at a ring. 
Expect both of these electrifying players to put on a show on Sunday afternoon when the Raiders play the Dolphins, and expect both defenses to prepare for the two running backs. 
It should be a lot of fun to watch.