Falcons vs Texans: 5 Keys to a Houston Victory
December 1, 2011
Ronald Martinez/Getty Images
For the second straight week, it's time to do a preview with the Texans running out a quarterback who is making the first start of his career.
When the Texans selected T.J. Yates out of North Carolina in the fifth round of the NFL Draft last April, it was met with a lot of criticism from the fanbase. The team needed to rebuild their defense and this seemed like a luxury pick when you had Matt Schaub as the clear cut franchise quarterback. But wouldn't you know it, just like the drafting of Brooks Reed, it makes the Texans' war room look genius.
When pressed about why they selected Yates, the Texans brass said they were never going into that draft looking for a quarterback. But when he was there in the fifth, and they had placed a fourth-round grade on him, they decided it was worth the pick. Was he the quarterback of the future? No one was willing to say. But if he is, now is the time to prove it.
For more on my thoughts of what to expect from T.J. Yates, be sure to check out Can Rookie QB T.J. Yates Lead Houston into the Playoffs?
This week against the Falcons, who are my "B Team" if you will, the future is now. But there are more factors to winning this game than just what their rookie quarterback can do. Let's take a look at a few of the ways Houston can hang on to that No. 1 seed in the AFC that they currently possess. 
Don't Turn The Ball Over
It might be a good idea if Arian Foster tried a little harder to hang onto the ball this week. With a rookie quarterback starting, Kubiak doesn't want to put him in a position to play from behind and be forced to air the ball out excessively under heavy pressure. With a guy like Yates, who has big-play potential, you're also going to get big-mistake potential.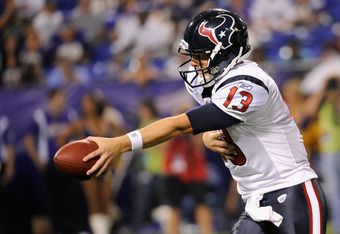 Hannah Foslien/Getty Images
Yates played smart in that two-minute drill in Jacksonville and I'm excited to see what he can do when the playbook is opened for him. But I'm expecting a rookie mistake or two against the Atlanta defense this Sunday. It's expected from a fifth-rounder making his rookie debut against a potential playoff team. But the rest of the team needs to help him out by not putting the ball on the turf.
Stop Michael Turner
Here is how the Falcons win football games; They run the ball. A lot. Michael Turner is that kind of guy who will get one yard, two yards,one yard and then BOOM. Big gain. If he gets going, then this frees up Matt Ryan to get into a rhythm and find one of his numerous weapons in the receiving game.
Houston has been very successful against the run this year, but Atlanta is one of the most stubborn teams I have ever watched when it comes to running the ball. They're a grinding team whose success begins and ends with the running game. If you force Matt Ryan to throw the ball close to 40 times, you should be successful.
Get to Matt Ryan
One of the biggest criticisms of Matt Schaub from Texans fans is how he doesn't do well under pressure. If the defense starts to disrupt him, he gets "happy feet" and makes poor decisions. Well, Matt Ryan makes him look like Stonewall Jackson when the same thing happens. If the Texans' pass rush can continue the success they've had the past month, you have to like their chances in slowing down the Falcons offense.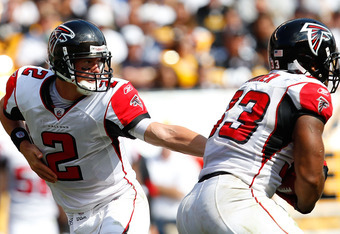 Jared Wickerham/Getty Images
Regardless of what anyone tells you, Ryan has regressed this season. One of the biggest misconceptions around the league to the casual NFL fan is the assumption that the Falcons have an explosive offense. No they don't. They have a ton of players with explosive potential, but they're not going to run up the points on you. It's just not the style with a team whose success is predicated by the running game. 
Special Teams Must Step Up
The past few weeks, the Texans have played extremely well on special teams in regards to the return game. Jacoby Jones is having his best season ever as a punt returner and Sherrick McManis has looked great filling in for Danieal Manning returning kickoffs. But the other side of special teams are the ones who need to have a big game.
Falcons kick returner Eric Weems has the ability to take it to the house on any given return. The last thing you want to do is give Atlanta good field position the whole day when the defense is likely going to face more snaps than they're used to with a rookie-led offense on the other side. Brett Hartmann needs to have some big kicks, too.
Don't Get Down Early
The biggest way this team could set T.J. Yates up to fail is if the defense comes out flat and the Texans get down by two scores early. The only way Yates has the potential to lead the Texans to victory Sunday is for the defense to remain as dominant as it has all season and keep the game close.
If Yates only has to be a game manager, hit short throws, hand the ball off to his running back duo and just not make stupid plays, he should be okay. Honestly, he's still a mystery and we have no real clue how he is going to do running this team. But don't put him in a position to be playing catchup all afternoon and I like his chances much better.
Mike Kerns is a featured columnist for the Houston Texans at Bleacher Report. Feel free to follow him on Twitter at @Zepp1978 and catch his latest Texans podcast at State of The Texans.