Can Rookie QB T.J. Yates Lead the Houston Texans into the Playoffs?
November 29, 2011
Al Messerschmidt/Getty Images
It seems like just ten days ago I was writing this same kind of article but with the words "Matt" and "Leinart" in it. Oh, that's right...I did. But in a season that has seen the Texans hit with a new injury to a key player every week, they lost their starting quarterback for the second straight game.
After two weeks of convincing ourselves that Matt Leinart could be the guy and could lead the Texans to their first playoff berth, he didn't even last until halftime of his 2011 debut. Don't beat yourself up about it too much, how could we have known this would happen in back-to-back games?
We couldn't. Just like we have no idea what to expect in handing the keys of an 8-3 football team to a 24-year-old rookie quarterback who was never expected to see the field before 2013 at the earliest.
There are two types of fans in Houston right now: The ones who believe that Yates will do fine leading this team based off of how he ran the two-minute drill cold last Sunday in Jacksonville and the ones who think we're screwed because of how abysmal the offense was in the second half of that same game. 
Myself, I'm in a wait and see approach. But let me offer some free advice to both parties in the aforementioned statement.
First, to the believers going off of that two-minute drill, I will tell you what I told you on Twitter right when it happened. I said that I wanted to see how he looked against a defense that wasn't playing prevent before I crowned him the next Kurt Warner. Unfortunately, we didn't really get to see it and I'll touch on that in a second.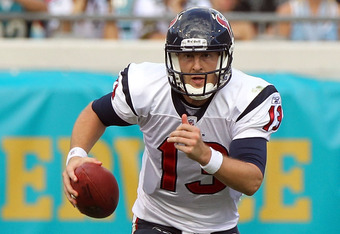 Sam Greenwood/Getty Images
To the ones who are writing him off as a bum after going scoreless in the second half, that's a pretty poor template to go off of. Why? Because Gary Kubiak knew that the Jaguars' offense couldn't score on the Texans' defense, so he chose to run the ball, eat the clock and not put Yates in a position to do something he wasn't ready to do.
When we were a sprained ankle away from Owen Daniels entering the game as the emergency quarterback, I think it was the right call.
With a week of practice and reps with the first team squad, the playbook will get opened up a little more this week when the Falcons come to Reliant Stadium. With Houston down to its third string quarterback, the team is playing with house money. No one would be shocked, or even upset, at the team if they fell apart now. How can you blame the coaching staff for having two freak injuries to your QB1 and QB2 in a span of two games?
It's a terrible situation and I feel for those guys. Right now, they're the No. 1 seed in the AFC and they have an unknown at quarterback. That's a tough break for a franchise and city that has been dying for any type of success for a decade now. But we have to look forward and you better believe the team isn't hanging their heads and whining.
The bottom line is, this team will still make the playoffs. They have a two-game lead in the division with five left to play. At the most, they'll need two more wins to put away the pests that are the Tennessee Titans.
Looking at the Texans' schedule, any team in the league could beat the Colts right now, so that's one win right there. Even though I think 9-7 would win this division, I'll see if I can find another win out of the remaining four games.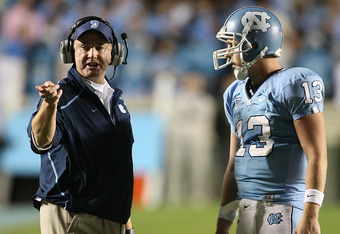 Streeter Lecka/Getty Images
Home for the Falcons, Panthers and Titans and on the road for the Bengals. Even if you're the biggest T.J. Yates hater out there, you have to think they can win one of those games simply by running the ball 50 times. 
So calm down, Houston. It doesn't matter who the Texans bring in as a free-agent quarterback because even with T.J. Yates, Reliant Stadium will be hosting her first playoff game since being constructed come January. After that, I'm not expecting much. I'm taking a wait-and-see approach on Yates and I do believe he will be a starter in this league someday, I'm just not sure he's ready to make noise in the postseason this year. That's just being completely unrealistic.
The positives on Yates succeeding are that Butch Davis did have Yates study tape of the Texans' offense while at North Carolina running their pro-style system. That is a good start for grasping this complicated scheme.
He showed willingness to stand in the pocket and throw the ball to the middle of the field, and I think he'll be able to make some plays. He's also going to make a lot of mistakes that we are not used to seeing from the quarterback position. That's just what you're going to get with a rookie facing teams like Atlanta and Cincinnati, which are competing for playoff spots too.
In the end, I hate the breaks the Texans have gotten this year. This city went from saying they'd be happy with a one-and-done playoff team earlier this year, to seeing no reason why they shouldn't be an AFC-title contender. If healthy, they still would be and that is what hurts the most.
However, keep your head up and remember that this entire team is coming back next season (Mario is questionable, but that's a topic for another time) and you better believe they'll be hungry. Also, getting to see if T.J. Yates really is the quarterback of the future should be fun ride.
Mike Kerns is a featured columnist for the Houston Texans at Bleacher Report. Feel free to follow him on Twitter at @Zepp1978 and catch his latest Texans podcast at State of The Texans.