NFL Week 13 Picks: Kansas City Chiefs and Underdogs Sure to Score an Upset
December 1, 2011
Jamie Squire/Getty Images
Week 13 of the NFL will be full of upsets, and you can bet that the Kansas City Chiefs will upset the Chicago Bears.
Although the Chiefs (4-7) have lost starting quarterback Matt Cassel for the year, the Chicago Bears (7-4) are in a similar position as Jay Cutler is lost to a broken thumb.
Kansas City will be looking to Tyler Palko to carry the load. If he doesn't do the job early on, former Bear Kyle Orton might take over.
The Chiefs offense will be against a tough Bears defense, but they will not face their nickel/dime cornerback.
The Bears offense really struggled with backup quarterback Caleb Hanie against an average Oakland Raiders defense. Indeed, the Raiders had a mediocre secondary, yet Oakland managed to intercept three of Hanie's passes.
Hanie also overthrew running back Matt Forte twice and seemed out of sync with his receivers on some plays.
Besides trouble at quarterback, Forte has also put up pedestrian numbers throughout the last three games. He has run for 180 yards on 50 carries and scored one touchdown.
Look for the Chiefs to put eight men in the box to stop Forte and force Hanie to beat them through the air. 
Prediction: Chiefs 20, Bears 17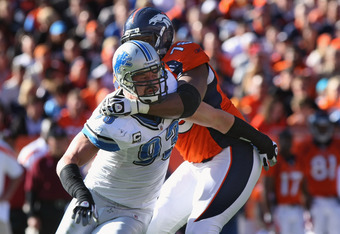 Doug Pensinger/Getty Images
Detroit Lions (7-4) at New Orleans Saints (8-3)
The New Orleans Saints are coming off a three-game winning streak as the Lions lost an embarrassing 27-15 game against the Green Bay Packers (11-0).
Even with Lions defensive tackle Ndamukong Suh suspended and Nick Fairley taking over, Detroit still has a potent defensive line lead by Kyle Vanden Bosch. Look for Detroit's line to put pressure on Saints quarterback Drew Brees.
Brees will still probably pass the ball as the Saints have the NFL's top passing game (324.4 yards per game), challenging the Lions' sixth-rated pass defense (202.2 yards per game) that has 15 picks. 
The Saints are 2-2 when Brees has two or more interceptions this year.
On the offensive side, Lions quarterback Matt Stafford will try airing it out to wide receiver Calvin Johnson. The Saints have the 27th-ranked pass defense (253.7 yards a game) and give up three-times as many touchdowns (18) to interceptions (6).
The Lions are 4-1 on the road and will play extremely hard in a must-win game.
Prediction: Lions 27, Saints 20
Carolina Panthers (3-8) at Tampa Bay Buccaneers (4-7)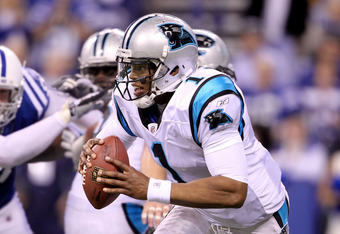 Andy Lyons/Getty Images
The Panthers are coming off a huge confidence-boosting 27-19 win over the Indianapolis Colts and are facing a struggling Buccaneers team that has lost five in a row.
Carolina quarterback Cam Newton has had an amazing rookie season and leads the NFL's ninth-ranked passing offense (263.5 yards per game). The Bucs' secondary has struggled all year (28th at 254.9 yards per game) and will have a hard time containing Panthers wide receiver Steve Smith.
Defensively, the Panthers are not as strong, but Tampa Bay has only scored 17.2 points per game during their losing streak. Buccaneers quarterback Josh Freeman has been equally ineffective, throwing 10 picks against seven touchdowns during that stretch.
Carolina's star power of Newton, Smith and running back DeAngelo Williams will prevail here.
Prediction: Panthers 21, Buccaneers 17
San Diego Chargers (4-7) at Jacksonville Jaguars (3-8)
While the Chargers definitely have more talent, they have also lost six games in a row.
San Diego quarterback Phillip Rivers has been a mess on and off the field, while the running game (17th at 109.9 yards per game) hasn't supported the passing attack well. Vincent Jackson will likely be doubled as Mike Tolbert and Ryan Matthews are not as dangerous.
Defensively, the Chargers have given up big plays and have a weak rush defense (25th at 131.9 yards per game). Expect the Jags to pound the ball as their passing game is dead-last in the NFL (131.3 yards per game).
The Jags need a win and playing a struggling team at home should do the trick.
Prediction: Jaguars 17, Chargers 14