L.A. Lakers: Hey, Shannon Brown, Don't Let the Door Hit You on Your Way Out
December 1, 2011
Harry How/Getty Images
Los Angeles Lakers guard and free agent Shannon Brown has made things unnecessarily complicated for Lakers GM Mitch Kupchak this offseason.
Serving as Kobe Bryant's primary backup, Brown was expected to be under contract for the Lakers in 2011-12 for $2.4 million.
That was until he opted out this summer and decided to test free-agent waters.
Brown's move adds another position the Lakers must fill this offseason with the little bit of financial flexibility they have.
A perennial fan favorite for his high-flying dunks, Brown has been largely inconsistent as a Laker. Despite showing serious improvement as a shooter last year, Brown was a huge liability on defense, was prone to turnovers with his high-octane play and was never a consistent scorer coming off the bench.
Brown certainly possesses the physical tools and talent to be a starter in this league.
If Brown can get a lucrative contract from a team under the salary cap, say Indiana or Washington, then all the better. This is America. You need to get yours.
But had he any intention of staying in Los Angeles—any intention at all—he would have chosen not to opt out and would have finished the last year on his contract before hitting the free-agent market.
Big bucks could have certainly awaited him a year later, not to mention the possibility of acquiring yet another NBA championship playing alongside Kobe Bryant before signing a new contract.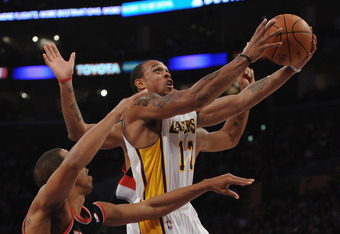 Harry How/Getty Images
Couldn't he have waited one more year before looking for that monster four-year deal? Apparently the lure of more playing time and dollar signs swayed Brown to leave Los Angeles the first chance he got.
So now, the Lakers' $3.2 million per year kitty allotted to free agents must be divided up even further to find a backup shooting guard.
Stay one more year and we're not having this conversation.
To that, I say good riddance. While your showtime dunks might be missed by casual Laker fans, this side of Laker faithful will certainly not miss your inability to play one-on-one defense and your inconsistencies with the ball.
Best of luck with your new team.