NBA Trade Rumors: Why Rondo for Westbrook Makes Sense for Both Sides
December 1, 2011
Patrick McDermott/Getty Images
*Note: Article submitted before Celtics announced that they will not trade Rondo.*
The NBA hot stove is heating up as we approach the start of the league's highly anticipated free agency/player movement period and the trade winds are swirling furiously around Boston Celtics All-Star point guard Rajon Rondo.
According to ESPN's Chris Broussard, the Celtics reportedly reached out to the Oklahoma City Thunder after the conclusion of the 2011 playoffs with an offer to send Rondo to Oklahoma City along with former Thunder forward Jeff Green in exchange for All-Star and 2nd Team All-NBA point guard Russell Westbrook and former Celtics center Kendrick Perkins. According to Broussard, the Thunder balked at Boston's offer to swap point guards and essentially undo last season's Perkins-for-Green trade.
Since then, Perkins has signed an extension with the Thunder, signifying Oklahoma City's intent to hold on to the big man, and cementing the Perkins/Green transaction. However, I believe the Thunder should seriously consider dealing Westbrook for Rondo straight up.
When you analyze the exchange, it actually makes a lot of sense for both teams from a purely on-court perspective.
In Rondo, the Thunder would have a pass-first (and second, and third) point guard who does an outstanding job of running an offense. As opposed to Westbrook, who dominates the ball and oftentimes looks for his own shot first, Rondo's primary objective is to set his teammates up and get them the ball right where they want it.
Just imagine Rondo feeding Durant as he curls off of down-screens for wide open catch-and-shoot jumpers. Or picture him tossing up inch-perfect lobs for Serge Ibaka to slam home. It would be a joy to see such harmony in motion.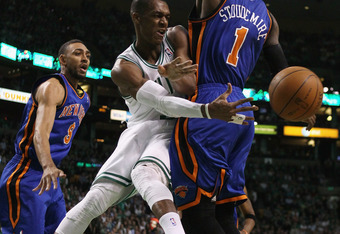 Elsa/Getty Images
We saw in the playoffs last season how bogged down Oklahoma City's offense could get with Westbrook at the helm. He and Durant had an ongoing power struggle for crunch time shots. Inserting Rondo at the point alleviates the Thunder's half-court troubles. Durant becomes the unquestioned go-to guy on the floor, and would be the beneficiary of countless good looks at the basket courtesy of Rondo, who had the second highest assist ratio among NBA point guards in 2011. Rajon lives to get his teammates going offensively, and he would have Oklahoma City's offense running on all cylinders.
The biggest positive for the Thunder in flipping Westbrook for Rondo is that it would unleash James Harden. With Westbrook and Durant in the lineup, there weren't many scoring opportunities left over for Harden, who was a big-time scorer in college. With two offensive juggernauts already on the floor, Thabo Sefalosha's defense was required as a counter-balance, stealing minutes from Harden at the 2-guard spot. When Harden did check in alongside his high-scoring teammates, his role was reduced to little more than a catch-and-shoot three-point specialist, even though he showed a lot of promise at playing with the ball in his hands.
Switching from Westbrook to Rondo at the helm would allow Harden to get on the court more often and play a more natural role as a scoring guard. Harden has a bright future in this league, and Rondo's unselfish point guard play would unlock the full extent of his considerable talents.
Furthermore, Oklahoma City would be adding an elite perimeter stopper in Rondo. Widely considered the best defensive point guard in the league, Rondo has received All-Defensive 1st Team honors in two consecutive seasons. Westbrook, on the other hand, hasn't stood out on the defensive end despite all the requisite physical tools to be a top-tier defender.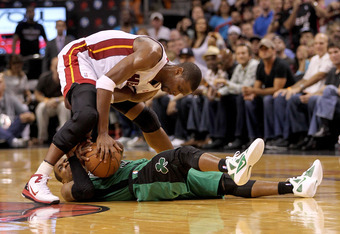 Mike Ehrmann/Getty Images
The Thunder defense allowed five fewer points when Westbrook was off the floor compared to when he was on it, and opposing point guards notched a PER of 16.9 (an average PER is 15) against him with a 50% effective field goal percentage (field goal percentage adjusted for three-pointers).
Rondo, meanwhile, held his opposition to a 13.3 PER with a 45% effective field goal percentage. He also forced opponents into nearly one full turnover more per 48 minutes than Westbrook did, while giving up one fewer assist per 48 minutes.
The aspect of this hypothetical deal that Oklahoma City's front office may be the most pleased with is the economic benefit Rondo would provide. At just 25 years of age, Rondo has several years of great basketball left in him, and he just signed a very cap-friendly contract extension last season. Westbrook, though, will command a maximum extension when the time comes for him to re-sign. If his contract goes along the same lines of the extension Kevin Durant inked in OKC last summer, it would cost Oklahoma City around $17 million a season. Rondo costs just about $11 million a year, a figure that would equip cap-savvy Thunder GM Sam Presti with significantly more cap room, an asset he covets highly, to work his magic with.
Right now, you might be wondering, if Rondo's such an upgrade over Westbrook for the Thunder, why the heck would the Celtics even think about giving him up???
Ask Danny Ainge, who's reportedly shopping Rondo all around the league.
If Boston is intent on moving their best young player, they better go through with it. Earlier this offseason, reports surfaced about Rondo being devastated by a comment President Obama jokingly delivered to some Celtics teammates. According to Shaquille O'Neal, the President's remark negatively affected Rondo's play on the court.
Over the years, Rondo has cultivated a reputation of being a moody and sensitive individual. If a lighthearted comment could impact Rondo's game in a negative fashion, I don't imagine constant chatter about his team trying to ship him out of town would be any less of a distraction for him.
Since the Celtics have already begun to go down this road, they'd be better off going all the way. And trading Rondo for a young stud like Russell Westbrook is terrific compensation. 
Westbrook would infuse the aging Celtics with a burst of youthful vigor and energy. Not that Rondo is ancient, but Westbrook is nearly three years younger, having just turned 23 a few weeks ago. As Boston's window for a championship closes on them, a core of Westbrook and his former teammate Jeff Green would not be a bad duo to build around going forward.  I believe Westbrook's ceiling is higher than Rondo's, and he's just beginning to realize that after making the leap last season from burgeoning prospect to borderline MVP candidate. 
And replacing Rajon with Russell isn't just a move for the future. Westbrook can give them a boost right now too. He can create his own shot, which is something no Celtic other than Paul Pierce can do. He's a force in transition that can get Boston easy buckets on the break. And even though he doesn't possess Rondo's pure point guard savvy, Westbrook isn't a bad floor general.
Westbrook was in the top 10 in the NBA in assists, averaging more than eight helpers a contest. His turnover total may seem astronomical (he turned it over more times than anyone in the league), but it's skewed by his high usage rate. In fact, Westbrook actually turned it over at a less frequent rate than Rondo did last year.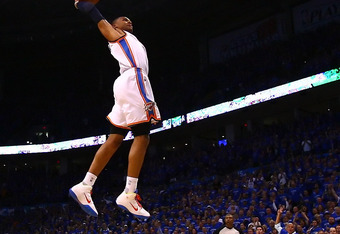 Ronald Martinez/Getty Images
Westbrook also adds some scoring punch to Boston's lineup. Some teams, like the Lakers, would completely ignore Rondo on offense, and he couldn't burn them for it. Westbrook will have the full attention of every opposing defense, which could create more space for Boston's Big Three to operate. 
Westbrook vastly improved his shooting last season, a quality Rondo has lacked throughout his career (as President Obama aptly pointed out). Rondo wasn't even in the top 50 among NBA point guards in True Shooting percentage in 2011, finishing behind such acclaimed sharpshooters as Sebastian Telfair, Earl Watson, and Baron Davis. Westbrook, meanwhile, climbed all the way to the brink of the top 20 in TS percentage, improving by nearly five full percentage points over his 2010 mark. And he will only get better from here.
In addition, Westbrook's aggression is an added bonus over Rondo, especially in crunch time. Whereas Rondo can disappear down the stretch on offense due to his reluctance to get sent to the free-throw line, Westbrook attacks the rim with abandon. He draws fouls more than twice as often as Rondo does and converts free-throw attempts at a nearly 30 percent higher clip. His confidence in crunch time adds another dimension to the Celtics offense in tight games.
A straight point guard swap between Boston and OKC would be mutually beneficial. Rajon Rondo fits right in with the Thunder roster, while Russell Westbrook furnishes the Celtics with a sturdy bridge between their current title contender and the one they hope to build soon after their Big Three move on. In a pure basketball sense, it's a sensible move that both sides should consider pursuing.