NFL Week 13 Waiver Wire: Vince Young and the Top Must-Haves at Quarterback
November 30, 2011
Patrick McDermott/Getty Images
Entering Week 13 of the 2011-12' NFL season, there is only one more matchup before the fantasy football playoffs begin.  It is crucial that you get rid of any unproductive or injured players and search the waiver wire for players to strengthen your squad for a run at the championship.
Quarterback is the highest grossing position in fantasy football, in terms of fantasy points, and this year there has been a lot of inconsistencies with starters between lack of productivity and injuries.  This has given young and underrated players an opportunity to prove themselves.  
From Vince Young to Alex Smith, athletes that seem to have struggled in the past, have really begun to take advantage of their second chances, thriving so far this season. 
Take a look at the following waiver wire must-haves at quarterback, and add accordingly.
Andy Dalton, Cincinnati Bengals
Andy Dalton has been ridiculously good in his rookie season, not only putting up impressive stats but also leading his team to a very solid 7-4 record, only one game out of first place in the AFC North behind the Baltimore Ravens and Pittsburgh Steelers.  
Dalton had a very productive college career, but he wasn't expected to be this good and consistent so quickly.  Not only has Dalton been making big plays—at times he has looked like a veteran out on the field.  
If he can continue to grow and get better, the Bengals will be good for quite some time.  Dalton is a reliable pick-up at QB, earning 10 or more fantasy points in the last eight games and only owned by 29.3 percent of fantasy owners in ESPN leagues.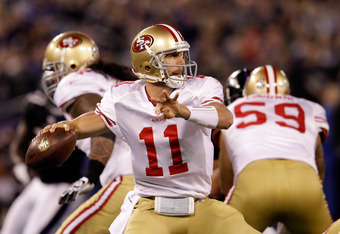 Rob Carr/Getty Images
Alex Smith, San Francisco 49ers
Alex Smith has finally turned the corner and it looks as if he may pan out to be a decent quarterback in the NFL.  Leading the 49ers to a 9-2 record, Smith has what it takes to earn the win, scoring a touchdown in eight of the last 10 games. 
Smith is only owned by 37 percent of leagues, so he is still very available. With 13 touchdowns this season, and only five interceptions, Smith has been great so far.
Vince Young, Philadelphia Eagles
Young hasn't recorded the best of stats since replacing the injured Michael Vick, however, he has earned a total of 34 fantasy points in the past two games.  The Eagles play the Seahawks on a short rest this Thursday, so should Vick be out, making Young a good start.
It is unknown how long Young will continue to play, but against the Seahawks, he should put up at least 20 fantasy points.  Only owned by 8.8 percent of fantasy owners, Young is one of the most available of the current starting QBs around the NFL.