If Peyton Manning Retires, Where Does He Rank Amongst the All-Time Great QBs?
November 29, 2011
Andy Lyons/Getty Images
There is a big hole in the NFL this year with Peyton Manning out for the entire season with a neck injury. 
Regardless of what team you pledge your loyalty to, you have to respect Manning's abilities as a quarterback. He has been one of the best in the league for so long that his incredible consistency is sometimes overlooked. 
It is clearer this season more than ever how much Manning means to the Indianapolis Colts. Their current 0-11 record and dismal offense says all you need to know about Manning's role on that team. 
The bad news about Manning's injury is that he may never be the same. 
This is the type of injury that could easily reoccur and put him right back on the sidelines. Manning has proven to be one of the more durable quarterbacks in the league. It's been just another part of Manning's game that could be labeled as consistent.
However, he is now 35 years old with an injury that could linger for the rest of his career.
Whether retirement is closer than previously expected is still unknown. We know that Manning is a competitor and wants to play. What we don't know is if he will ever be the same.
If Manning's career is coming to an end, the question is where does he rank on the list of all-time great quarterbacks?
Statistically he is already one of the best to ever play the game. He ranks third in passing yards and passing touchdowns. He is only 21 touchdowns behind Dan Marino for second all-time. 
Before the injury, many already had Manning penciled in as the new record holder in most of these career categories. 
Here is a short list of other categories Manning is in the top 10 of:
Passer rating (5th)
Completion percentage (5th)
Game winning drives (2nd)
Comebacks (1st)
There is no denying Manning's statistical greatness. If he was able to come back healthy to play three or four more years, his numbers would be even more staggering. The 11 Pro Bowl appearances and four MVP awards also bulk up his already impressive resume. 
The one area where Manning has always been called in to question is his postseason play.
Manning has a career 9-9 record in the postseason. Much lower than his regular-season winning percentage. 
In fact, this is the trend with most of Manning's postseason stats. His career postseason completion percentage and quarterback rating are both lower than his regular season numbers. Manning's career regular season touchdown to interception ratio is 2.02, but in the postseason it drops to 1.47.
This means that Manning throws two touchdowns for every interception in the regular season, but only about a touchdown-and-a-half to every interception in the postseason. 
Manning did get his first Super Bowl ring in 2007 against the Chicago Bears. However, he also threw away his chance at a second one against the New Orleans Saints in 2010 when he was intercepted by Tracy Porter for a touchdown.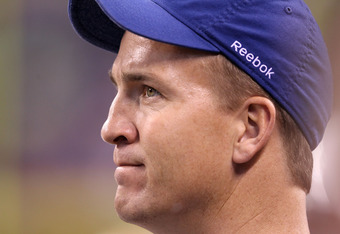 Andy Lyons/Getty Images
In fairness to Manning, every team he faces in the postseason is a good team. There are no teams to pad the stats against like there are during the regular season. 
While he certainly isn't the worst postseason quarterback in history, he clearly isn't the same quarterback he is during the regular season. 
So how does this all add up to measure Manning's rank on the list of all-time quarterbacks? How much do Peyton's postseason struggles impact his regular season dominance?
The answer is purely subjective. 
It all depends what you value in a quarterback and what you feel defines greatness. Personally, I look for a balance between statistics and postseason success. 
Peyton Manning is certainly in my top five. 
If he had won the Super Bowl against New Orleans, I may be prepared to label him as No. 1. However, the way the Colts lost the game certainly has a negative impact.
The only way I see Manning going any higher on my list would be with another Super Bowl victory. I'm not sure that the Colts are good enough to win a Super Bowl even if Manning returns at an elite level of play. 
The finish of Tom Brady's career will also impact Manning's ranking. Without turning this in to a Manning versus Brady debate, I feel that Brady still has a chance to define his rank clearer at this point of his career than Manning does. 
Regardless of all of the above factors, it still comes down to personal preference. Most lists you'll see will be different, and they will all be different for various reasons. There is no way to truly define levels of greatness at the quarterback position.
No matter where Peyton Manning ranks on your personal list of all-time greats, you have to appreciate everything he has accomplished and the way he redefined the role of the field general. 
We should worry less about where Manning ranks compared to other great quarterbacks and just be thankful we've had the chance to watch his spectacular career.