UNC Basketball: Kendall Marshall Is the Reason Tar Heels Won't Win in April
November 29, 2011
Nick Laham/Getty Images
Kendall Marshall is doing things for the North Carolina Tar Heels that head coach Roy Williams never expected from his sophomore point guard.
So why is Kendall Marshall the Tar Heels' biggest potential liability?
At first glance, the converse seems true. Through six games, Marshall is second in the nation in assists per game (10.8) and first in assists per 40 minutes (14.1).
In addition to looking great on paper, his assists are equally amazing in reality: Marshall's eye-popping passes and preternatural awareness of space on the hardwood have turned the Tar Heels' already dynamic offense into an uptempo ballet of fast breaks, alley-oops and seemingly impossible post feeds.
Coach Roy Williams said recently that Kendall Marshall is "sensational...To say that he leads us would be the understatement of the year." 
His gaudy numbers and flashy style don't mean he's being loose with the basketball, either: So far this season, Marshall is averaging a mind-numbing 4.33 assists per turnover. For comparison, UNC's last great passing point guard, Ed Cota, owner of Carolina's top-two single-season assists records (274 in 1997-98 and 279 in 1999-2000), averaged 2.18 A/T for his career.
As has been discussed ad nauseum this fall, Kendall Marshall is largely responsible for the Tar Heels' surge in offensive efficiency since he took over for a petulant Larry Drew II midway through last season.
There is no debating that he has turned his team into one of the most potent offenses in the country.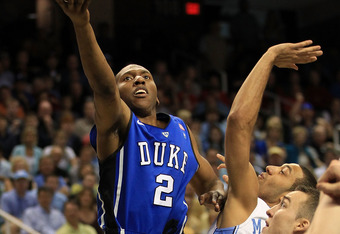 Streeter Lecka/Getty Images
Unfortunately for the Tar Heels, Marshall is also doing things that head coach Roy Williams absolutely expected: "We've got to get him to do a little bit better defensively, and I think he'll even tell you himself..."
If there is one giant red flag in his otherwise-stellar scouting report, it's his lack of speed and lateral quickness, especially on the defensive end.
Kendall Marshall struggles mightily to defend point guards who attack using their dribble. In some cases, quicker guards use their speed and explosiveness to blow past Marshall, while in other examples, the guards use ball screens to shed the slower Marshall and attack the paint.
This usually results in either a high-percentage shot near the basket or, if a help defender rotates over to cut off the attacking lane and challenge a shot, a kick-out pass to a now-open shooter on the wing or in the corner.
Carolina's last five losses (UNLV on Saturday, Kentucky in the Elite Eight last March, Duke in the ACC tournament, at Duke in February and at Georgia Tech in Atlanta in January) reveal what is essentially a blueprint for how to beat this North Carolina team.
Carolina fans who watched those painful games will remember two things: being scorched by opposing guards and watching bomb after uncontested bomb being launched from behind the arc. In those games, their opponents attempted at least 20 three-point field goals in every contest, respectively: 32, 22, 20, 26 and 21.
The first common denominator of teams able to wrest a win from the Heels is outstanding guard play, highlighted by constant dribble penetration. In each of Carolina's last five losses, the high scorer for the opposition was a guard (or in UNLV's case, a guard/forward): Chace Stanback (28 points), Kentucky's Brandon Knight (22 points), Duke's Nolan Smith (20 points in the ACC tourney in March, 34 points in Durham) and Georgia Tech's Iman Shumpert (30 points).
It doesn't end there.
The second-leading scorer in each of those games were also guards: Deandre Liggins (Kentucky), Seth Curry (Duke, twice), Glen Rice (GT) and Oscar Bellfield (UNLV).
It might seem unfair to pin all of Carolina's defensive woes on Kendall Marshall. Harrison Barnes, Dexter Strickland, Reggie Bullock and PJ Hairston are all charged with defending opposing guards as well.
After all, basketball is played by five men, not one, and while offensive sets might involve isolations, defenses are designed to operate as a unit and help against the inevitable breakdown that occurs on most quality possessions.
This is precisely why Marshall is largely responsible for UNC allowing opposing teams to shoot over 40 percent from downtown and allowing guards to set new season-high scoring totals.
Kendall Marshall's role on defense includes ball denial and keeping his assignment in front of him, both to prevent easy passes and challenge jump shots. This assignment is so important to the Tar Heels that Roy Williams instructs his front line to help his guards by jumping out or "hedging" on screens, forcing the opposing guard away from the basket to give his defender time to recover his position between the guard and the basket.
When Marshall fails to keep his man in front of him, Carolina's big men, eager to swat a shot attempt into the parking lot, quickly rotate over to cut off the lane and prevent an easy basket. As soon as the defense has committed to the drive, the driving guard counters by attacking Carolina's vulnerable underbelly with a kick-out to an open shooter.
When a team gives any college-level player repeated open looks, it can expect a barrage of buckets as a consequence. In the five games mentioned above, Carolina's opponents shot 40.4 percent from three, compared to 32.2 percent in the rest of UNC's matchups last year.
Compounding the matter is Kendall Marshall's indispensability. Of all the players on the Tar Heels' roster, Marshall is the most irreplaceable.
If John Henson needs a breather or Tyler Zeller gets into early foul trouble, Coach Williams can bring in James Michael McAdoo off the bench. When Carolina needs a big bucket, he can sub PJ Hairston or Reggie Bullock for Dexter Strickland and create instant offense.
There is no substitute for what Kendall Marshall does.
If the Tar Heels are to fulfill their potential this season, they need Kendall Marshall carrying their elite offense for 35 minutes a game.
On the other hand, if the Tar Heels are to fulfill their potential this season, they can't afford to carry Kendall Marshall's defensive deficiencies for 35 minutes a game.
With matchups against sharp-shooting Jordan Taylor of Wisconsin and athletic freak Marquis Teague of Kentucky looming, Marshall's defense will continue to be tested. The North Carolina Tar Heels have to hope he's ready to answer the bell.