Harrison Barnes Is Not the Best Player on the North Carolina Tar Heels
November 21, 2011
Kevin C. Cox/Getty Images
When Harrison Barnes chose to forgo the 2011 NBA Draft despite being a projected lottery pick, he immediately became a favorite for the Naismith National Player of the Year and the 2011-2012 North Carolina Tar Heels were installed as the preseason No. 1. 
While much has been made of the merits of Barnes' preseason first team All-America nod, head coach Roy Williams' dirty secret is that Harrison Barnes is not, in fact, the best player on this year's Tar Heels squad.
At least not in any one area.
Rebounding
The Tar Heels led the nation in rebounding last year with 42.5/game. Despite being outworked in their season-opener against the Michigan State Spartans, the Heels are once again among the NCAA leaders in 2011, pulling down an impressive 45.7 boards per game.
The Tar Heels play a notoriously fast-paced style of offense that results in a high volume of possessions and, therefore, shot attempts.  All those shots (and misses) will provide ample opportunities for Barnes and co. to corral rebounds.  So far this season, the star sophomore has replicated his efforts of last year to the tune of 5.7 RPG.
To put that in the proper context, that's approximately half the average of teammate John Henson (11.0 RPG). 
A nightly double-double threat, Henson led the Heels in rebounding last season with 10.1/game.  This year, Henson figures to be a bigger factor on the glass after earning more playing time (28.3 MPG through three games this season) and establishing a role for himself as the team's defensive anchor in the paint.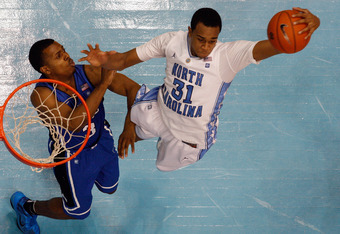 Streeter Lecka/Getty Images
Patrolling the lane with his 88-inch wingspan, when Henson is not blocking opponents' shots, he's snatching errant balls from the air well above the reach of opposing forwards.
With such a gifted and dedicated teammate focused on cleaning the glass, Barnes' rebounding stats will be noteworthy only as a footnote on his Naismith Player of the Year résumé.
Scoring
The logic behind predicting Harrison Barnes to lead the Tar Heels in scoring goes like this: with Kendall Marshall feeding him the ball full-time, Barnes is going to take fewer "bad" shots and make more "good" shots. 
Additionally, he added 15 pounds of muscle during the off-season to improve his control and power when attacking the basket. 
So far, his efforts and focus have borne results: his shooting percentage is up 10 points to 51 percent this season, he is attempting twice as many free throws as last season and he is tied for the team lead in scoring.
It won't be enough to lead the Tar Heels in points scored.
While an increase in scoring over last year seems certain, other factors indicate that the Tar Heels will be paced this year by starting center (or "forward", if you prefer to pretend that a seven-foot post player not named Kevin Garnett is anything but a center) Tyler Zeller, with whom Barnes shared the team scoring lead last season.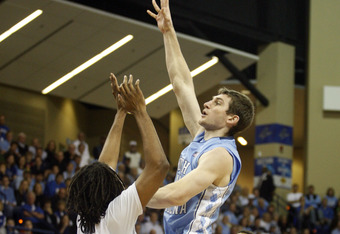 Through three games this year, Zeller and Barnes have remarkably similar scoring statistics: 19/36 FG, 14/21 FT, 52 points (Zeller) compared to 19/37 FG, 12/20 FT, 52 points (Barnes). 
Consider, however, that Zeller shot over 54 percent from the field last season and almost 80 percent from the free throw line, as opposed to 42 percent and 75 percent, respectively, for Barnes. 
Assuming that their field goal and free throw attempts remain roughly equal throughout the season, Zeller stands to convert at a higher rate and score more points than Barnes.
It is unlikely, however, that their attempts will remain the same.  Zeller's size presents match-up problems for most teams and, as a result, he is the focal point for point guard Kendall Marshall when initiating the offense. 
Additionally, his speed down the court has earned him the role of Marshall's favorite target in transition: Zeller frequently leaks out on defensive rebounds to capitalize on fast break opportunities.
Harrison Barnes will not lead the Tar Heels in scoring this season, though it will be a tight race.
Assists
Anyone who hasn't heard the ballyhoo surrounding Kendall Marshall's prodigious assist totals as a freshman hasn't clicked to ESPN in the last two months. 
After entering the starting lineup midway through last season, replacing a deposed and soon-to-be-departed Larry Drew II, Marshall wasted no time harshly imposing his style of play on the ill-prepared ACC.  In the 20 games he started last season, Marshall averaged 7.7 assists, finishing as the top distributor in the conference.
At 9.3 assists per game in 2011, Marshall is currently on pace to break Ed Cota's team record for assists (284) and challenge the conference record, currently held by Georgia Tech Yellow Jacket Craig Neal (303 assists in 1988). 
As the beneficiary of Marshall's unselfish play and unprecedented court vision, Barnes is certainly happy to concede the assist duties to his dime-dropping teammate.
Summary
After returning all five starters from last year's ACC Championship squad, the Tar Heels are a threat to lead the NCAA in points scored, rebounding, and assists.  With teammates John Henson, Tyler Zeller, and Kendall Marshall stuffing every column of the stat sheet, it seems possible that Harrison Barnes won't lead his team in any statistical category this season.
For the 2011-2012 North Carolina Tar Heels, that's excellent news, indeed.