MLB Free Agents 2012: Is Jimmy Rollins Still Worth a Long-Term Deal?
November 28, 2011
Drew Hallowell/Getty Images
Jimmy Rollins, long-time shortstop for the Philadelphia Phillies, is currently a free agent, and due to the relatively shallow depth of the player market, is considered one of the premier talents available.
The problem is that he hasn't been an elite player for several years, and he just celebrated his 33rd birthday over the weekend.
Various reports have indicated that Rollins is seeking a five-year deal, a lengthy contract that would keep him under team control beyond his 38th birthday.
Such a significant commitment to a player on the wrong end of his prime years—and with declining production since his MVP season of 2007—should scare off most clubs with interest in Rollins.
However, with limited quality options available after the marquee attraction Jose Reyes, Rollins just may get his wish for a five-year deal.
With the pool of available shortstops leaning heavily toward veteran players beyond their prime years, Rollins stands out slightly from a less than impressive class. Players like Rafael Furcal, Edgar Renteria, Alex Gonzalez, Orlando Cabrera, Yuniesky Betancourt and others round out the group, each with plenty of wear on them as well as deficiencies of their own.
Of course, Rollins is clearly better than that crop, but is he "five-year deal" better?
Back in 2007, Rollins won the National League MVP award with a statistically impressive season in which he played 162 games, led the league with 139 runs scored and joined the exclusive 20-20-20-20 club. Along with Curtis Granderson, who also accomplished the feat in 2007, Rollins joined Frank Schulte and Willie Mays as the only players in MLB history to surpass 20 doubles, 20 triples, 20 home runs and 20 stolen bases in a single season.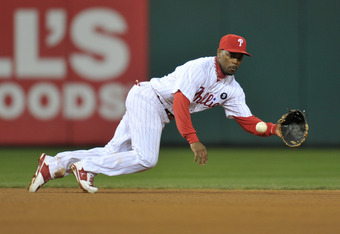 Drew Hallowell/Getty Images
That year, Rollins produced career highs in nearly every category, including batting average (.296), OPS (.875), OPS+ (119), runs (139), hits (212), triples (20), home runs (30), RBI (94) and wRC+ (123).
He also played solid defense, for which he was awarded his first career Gold Glove.
Only 28 years old that season, he appeared to be entering his prime on a high, sure to be an elite performer for several more big league campaigns.
Something happened over the course of the next few seasons, however, and rather than maintaining the production he had tantalized with in '07, Rollins experienced three consecutive seasons of significantly declining production.
In 2008, the Phillies won the franchise's first World Series since 1980, but Rollins couldn't duplicate his brilliance of 2007, dropping off considerably in the follow-up to his MVP season.
An early-season sprained ankle derailed him slightly, but he still stole 47 bases in 50 attempts, so it can't be fully blamed for his drop-off. He hit .277 with 11 home runs, 59 RBI, a .786 OPS and a 103 OPS+. His wRC+ declined to 114, but that still placed him 14 percent above league average.
Despite the reduction in his offensive value, he played excellent defense at short, posting a career-high 15.2 UZR per 150 games, and winning a Fielding Bible Award as a result.
Rollins continued his decline the next season, as he hit only .250 with a putrid on-base percentage of .296. His counting stats rebounded, as he scored 100 runs, hit 21 home runs and drove in 77, but his OPS (.719), OPS+ (87) and wRC+ (88) all represented significant drop-offs, continuing the disturbing new trend.
He still stole 31 bases and again played excellent defense, allowing him to delay the whispers of his decline that had begun to surface.
Unfortunately, the 2010 season was another disappointing one for Rollins, who missed significant portions of the season due to a calf injury and other ailments, limiting him to a career-low 88 games.
He hit only .243, also a new career low, as his OPS dropped to .694, his OPS+ to 85 and his wRC+ was a less-than-league-average 93. Again, he played great defense at short, posting his second-highest UZR per 150 games of his career (12.3), but his injuries robbed him of playing time and a chance at a fourth consecutive Gold Glove.
Mercifully, Rollins' downward spiral subsided somewhat in 2011, as he remained mostly healthy and rebounded offensively from the disappointing 2009-10 seasons.
He hit .268 with 16 home runs, 63 RBI, a .736 OPS, and he boosted both his OPS+ (101) and wRC+ (106) back above league average. Rollins also stole 30 bases again and played his customarily fine defense at short.
Just in time for his free agency, Rollins restored some of the luster that had faded since his MVP season of 2007.
Will it be enough for him to tempt some team into giving him a four-year commitment, or even the five-year contract he craves?
Considering the dearth of quality free agent options available both this year and next, it might not be terribly surprising to see Rollins extract a longer commitment from a team than it feels comfortable with.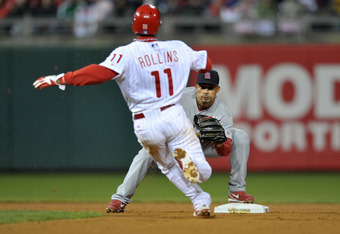 Drew Hallowell/Getty Images
Rollins will hope that the highly-sought Jose Reyes signs his expected mega-deal soon, leaving him as the only shortstop with star power left on the free-agent market. The disappearance of Reyes from the pool would greatly increase the chances of a team overpaying and overcommitting to Rollins in order to avoid being left with scraps to choose from.
Though Rollins does offer great defense, as well as dynamic speed for the time being, his power has become inconsistent, and his meager .316 on-base percentage over the last three seasons is far more Yuniesky Betancourt than Hanley Ramirez.
While Rollins has always been a fantastic base stealer, swiping 373 bags in 451 attempts for an 83 percent career success rate, the leg injuries in recent seasons have to be a concern when looking four or five years into the future.
What will a 37-year-old Jimmy Rollins be worth if he's no longer the base-stealing, Gold Glove-caliber defender he once was? Five years is a long time in the life of any ballplayer, but far more so for one already beyond his 33rd birthday.
As far as comparable MLB shortstops who have recently signed deals, there are two players that immediately stand out as points of reference for a potential Rollins contract.
J.J. Hardy signed a three-year, $22.5 million deal with the Baltimore Orioles midway through 2011, following a strong first half with the club. Though younger than Rollins at only 29, and clearly not a speedster, Hardy is an apt comparison on several levels. 
Hardy, like Rollins, has been one of the elite defensive shortstops in baseball from 2008 to 2011. His 9.8 UZR per 150 games ranks him just above Rollins, who checks in at 8.4 per 150.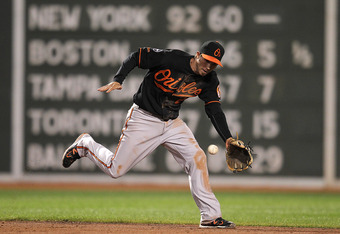 Jim Rogash/Getty Images
Over the last four seasons, the two have been remarkably similar in several aspects. Both produced strong 2007 and 2008 seasons, before injuries and declining production derailed their 2009 and 2010 seasons. Within the four-season span, Rollins played 522 games to the 491 Hardy participated in. 
From 2008 to 2011, Hardy hit .264 to Rollins' .261. In on-base percentage, Rollins' .325 edged out Hardy's .320 mark. Rollins drove in 240 runs to Hardy's 239 RBI. 
Fangraphs estimated Rollins' WAR from 2008 to 2011 at 14.9 to Hardy's mark of 13.4. Rollins' weighted on-base average or wOBA was .330, while Hardy produced a .329 wOBA. If you look into wRC+, Hardy's 101 barely surpasses Rollins' 100.
It's rather amazing how similar the two players have performed over the last several seasons.
Of course, Rollins' base-stealing ability and thrilling triples totals would likely cause most to assume that the comparison would heavily favor the Philly shortstop, but Hardy holds his own under closer inspection.
Late in the season, SI.com's Jon Heyman reported that a few rival GMs had estimated that Rollins might command a deal in the three-to-four-year range for $12-14 million per season.
Additionally, Rollins is designated as one of the few Type-A free agents, which will require the forfeiture of a top draft pick as compensation, making his signing even more costly for a team other than the Phillies.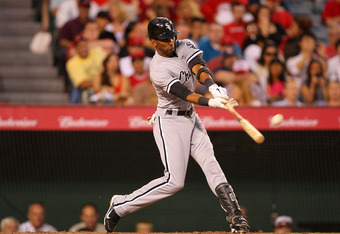 Victor Decolongon/Getty Images
Interested parties might do themselves a favor using Hardy's deal as a starting point, rather than falling victim to overpaying for Rollins simply because the other options are underwhelming. 
Another potential point of comparison is the contract of Alexei Ramirez, shortstop for the Chicago White Sox. The 30-year-old Ramirez signed an extension in February, which will pay him $32.5 million from 2012 to 2015. 
In his four-year career, which began in 2008, Ramirez has hit .279 to Rollins' .261, owns a similar OBP at .323 to Rollins' .325 and owns the edge in OPS at .745 to .737. His adjusted OPS+ of 96 edges out Rollins' mark of 94 during the four-year span. Rollins wins the wOBA comparison, .330 to .324, and the wRC+ battle, 100 to 94. 
Defensively, the two are close competitors as well, with Rollins' 8.4 UZR/150 edging out the rangy Ramirez's UZR/150 of 7.8. Fangraphs gives the edge in WAR to Rollins at 14.9 to Ramirez's 12.7.
As far as Hardy and Ramirez are concerned, their contracts both average nearly $8 million per year for three and four years respectively. 
Neither has the cache Rollins possesses in Philly, nor the MVP award or World Series ring, but Hardy is nearly four years younger and Ramirez three, so the likelihood of each living up to the value of their contract is probably greater than Rollins doing so.
If Jimmy Rollins is rewarded with a three- or four-year contract worth approximately $10 million per year, I could see the speedy defensive whiz living up to such a deal. 
But, if the deal approaches Rollins' requested five years and the $12-14 million annual value speculated by the rival GMs mentioned previously, there is a great chance that whichever club signs him will regret it significantly after a couple seasons.