New York Jets Week 12 Report Card: Grading Each Unit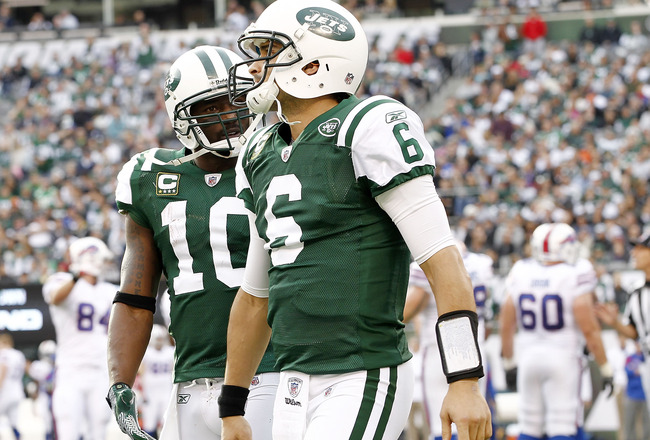 Jeff Zelevansky/Getty Images
The New York Jets went into their Week 12 showdown with the Buffalo Bills needing a victory, and in the end, came away with one.
It wasn't pretty by any means, but it was a win and it counts the same as any other win.
Mark Sanchez had another inconsistent game, completing under 50 percent of his passes, yet threw for four touchdowns and led the game-winning drive in the final minutes.
Sanchez's counterpoint, Ryan Fitzpatrick, had a field day against the normally stringent Jets secondary and was clearly the superior quarterback on the field, but came up short on the final drive.
Before we move on to next week, let's take a closer look at this week's game and grade how each unit played.
Quarterback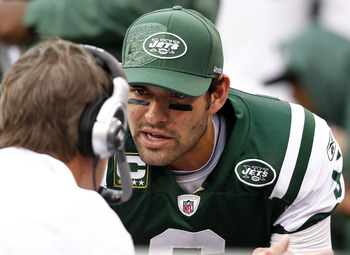 Jeff Zelevansky/Getty Images
It's not often a quarterback throws four touchdowns in a win and yet is the most scrutinized player on the team. That was the case for Mark Sanchez on Sunday.
Sanchez had a very uneven performance, missing open receivers and throwing into coverage. His four touchdown passes were a career high, though he had more incompletions than completions.
While Sanchez wasn't accurate, he did only turn the ball over one time on the afternoon. Most importantly, with the Jets' backs against the wall and the season on the line, Sanchez rose to the occasion and led the Jets on a 82-yard touchdown drive keeping their playoff hopes alive.
Why he can't play like that for the entire game? Now that's the million dollar question.
Grade: C
Running Backs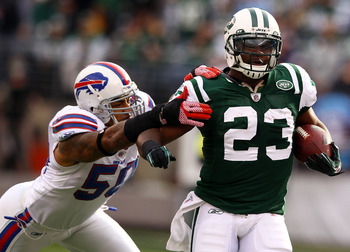 Al Bello/Getty Images
Shonn Greene had one of his finer performances of the season, averaging six yards per carry.
Joe McKnight was also effective, totaling 40 yards on seven touches. I think it's time to give McKnight the ball more on offense.
Grade: A-
Wide Receivers/Tight Ends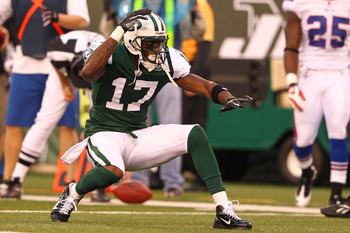 Al Bello/Getty Images
Mark Sanchez's top three targets all had nice games on Sunday.
Plaxico Buress led the way and made a couple of tough catches that kept the New York Jets alive on their final drive. Dustin Keller contributed with two touchdowns of his own. Finally, Santonio Holmes came up with the game-winning touchdown reception.
Grade: B+
Offensive Line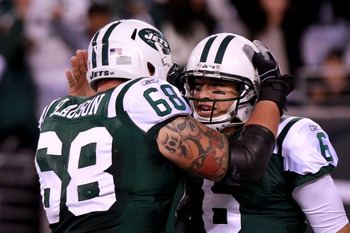 Nick Laham/Getty Images
The offensive line has been a weak spot all season long, but the unit really stepped on Sunday and were a key cog in their victory.
They opened holes for the running game, which Shonn Greene took full advantage of. Also most importantly, they kept Mark Sanchez clean and upright. Sanchez wasn't sacked and had plenty of time to throw in the pocket.
Grade: A
Defensive Line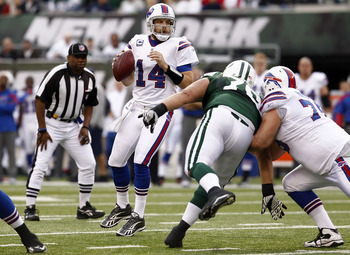 Jeff Zelevansky/Getty Images
The New York Jets dominated on the defensive line as well.
Their front three (Sione Pouha, Muhammad Wilkerson, Mike DeVito) were dominant and owned the Buffalo Bills offensive line. C.J. Spiller had nowhere to run all game and averaged under three yards per carry.
Grade: A-
Linebackers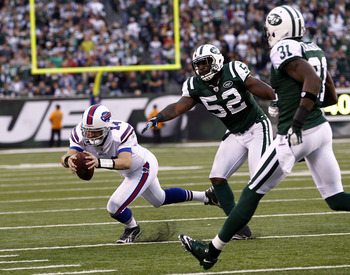 Jeff Zelevansky/Getty Images
It was a mixed bag from the New York Jets linebackers Sunday afternoon.
There was the good, courtesy of David Harris and Aaron Maybin. Harris was a menace, always near the ball and making plays. Maybin continued his comeback with a pair of sacks against the team that cut him.
However, you also had some bad. Bart Scott was a ghost in this game, failing to record a single tackle. Garrett McIntyre didn't add much on the outside.
Grade: B-
Secondary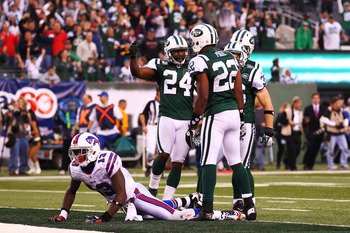 Al Bello/Getty Images
The secondary is supposed to be the strength of the New York Jets strength. They pride themselves on being able to shut down the opposing passing game. Against the Buffalo Bills, the secondary was the complete opposite.
Everyone played bad, even the great Darrelle Revis. It appears as if Revis is actually human, as he was torched by Stevie Johnson. Antonio Cromartie, Jim Leonhard, Eric Smith and Brodney Pool all had bad games.
They completely shut down Ryan Fitzpatrick just three weeks ago, forcing him to complete under 50 percent of his passes. This week, however, he completed over 66 percent of his passes while throwing for three touchdowns. They would have allowed another one, the game-winner, had Stevie Johnson not blown it.
Grade: F
Keep Reading

New York Jets: Like this team?