2011 NBA Free Agents: Marc Gasol and More Bad Contracts Waiting to Happen
November 27, 2011
Andy Lyons/Getty Images
Not even a prolonged lockout, two months of missed games and a new collective bargaining deal will keep the NBA owners from handing out boneheaded deals to free agents like it's going out of style.
Heck, if this year's record sales on Black Friday are any indication, that spending trend might even reach new heights—especially with the dearth of quality players available on the market.
That scarcity will inevitably give way to fierce competition and big paydays for these guys, whose teams will wish the amnesty clause were an annual occasion too.
Marc Gasol
There's a lot to like about Marc Gasol—he's pretty young (he'll be 27 January), he's big (7'1", 265 pounds) and he can do just about everything perennial All-Star and older brother Pau can do, but with decidedly more strength and authority.
That figures to earn Gasol, a restricted free agent, offer sheets that will pay him eight figures on a yearly basis.
A king's ransom to be sure, considering Gasol will be entering just his fourth year in the league and carries career averages of 12.6 points on 54.5 percent shooting with 7.8 rebounds, 2.2 assists and 1.4 blocks.
Those numbers are respectable, but hardly worth beaucoup bucks—particularly in today's more austere system.
Still, the Memphis Grizzlies have a good thing going with Gasol and Zach Randolph, and with Rudy Gay returning from injury, they won't likely want to break up the band just yet.
As such, don't be surprised if Memphis matches any offer that comes Gasol's way and ends up footing the bill in a big way as a result.
As anyone chasing Gasol will attest, legitimate seven-footers are hard to come by these days—especially ones as bouncy and with as much defensive prowess as Tyson Chandler.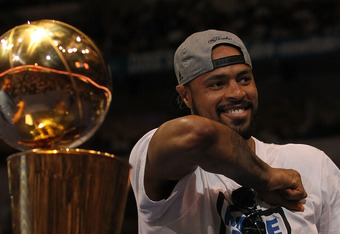 Ronald Martinez/Getty Images
The big fella had a banner year in 2010-11, posting averages of 10.1 points on 65.4 percent shooting from the field with 9.4 rebounds and 1.1 blocks while anchoring a banged-up front line for the NBA champion Dallas Mavericks.
Chandler controls the paint like few others in the NBA today, thereby putting his particular skills at a premium.
So much so, in fact, that the Mavs might not be able to afford him unless he gives them a discount that would allow them the flexibility to bring back JJ Barea, DeShawn Stevenson and Caron Butler as well.
Either way, Chandler is set to cash in his chips in the next few weeks, though whoever gets him will be overpaying for a big man with a history of foot problems who's never played a full 82-game season in 10 years at the pro level.
Shannon Brown
Everyone loves a high-flying act—they're fun to watch, which makes them good for business and even better for racking up hits on YouTube.
Shannon Brown certainly fits the bill in those regards and he comes equipped with two championship rings. Granted, he only started seven games as a member of the Lakers and has never averaged more than 8.7 points per game in a single season.
But, then again, the guy's set to turn 26 and has the kind of ridiculous hops that will have fans lining up around the block to see what he'll do next.
Certainly, there are more than a few general managers who would be willing to overlook just how much his season-ending stats were buoyed by a hot start to the 2010-11 campaign.
If Brown decides to ditch the Purple and Gold for more playing time elsewhere, he'll be in line to triple his previous $2.3 million salary, much to the chagrin of someone else's salary cap not too far down the line.