Raiders vs. Bears: 3 Matchups Oakland Must Win to Beat Chicago
November 27, 2011
Jonathan Daniel/Getty Images
The Raiders are facing a very winnable game against a Bears' team that just lost its quarterback for several weeks. Coming off a solid, albeit a little sloppy, victory in Minnesota, the Raiders can build a two-game lead in the division with a win Sunday and a Charger victory over Denver (San Diego is a six-point favorite).
The Raiders of three or four years ago would find a way to lose this game, but these are the type of games a playoff team has to win. A contender welcomes a reeling team to their home stadium and takes care of business.
Are the Raiders finally ready to be that contender, to be the bully coach Hue Jackson wants them to be? We'll find out Sunday. Here are three key matchups Oakland must win to bring joy to Raider Nation with a victory.
Bears' running back Matt Forte vs. the Raiders' run defense
Before we get into the matchup, let me clear two things up right now: Matt Forte is very good, and it's not fair that the Bears are probably not going to reward him with the big contract he deserves.
Chicago will probably hit Forte with the franchise tag, which sucks for him, but is probably the smart thing to do. He gets a big salary next year, but no long-term guaranteed money.
Running backs can see their numbers plummet in the blink of an eye (Chris Johnson, anyone?), so perhaps franchising Forte for a year is a good idea. Hell, the Seattle Seahawks used to franchise tag offensive tackle Walter Jones every single year. But what you risk doing is pissing off Forte and inspiring him to hold out or demand a trade.
Forte will probably never have a better year than this season. He has told everyone who will listen that he wants to get paid, and if you want the big bucks you gotta' have the big plays. Knowing this, Forte has put up 139 all-purpose yards per game, and is on pace to have the best season of his career by far.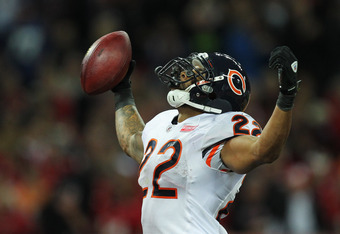 Streeter Lecka/Getty Images
Oakland's run defense has been as inconsistent as Tony Romo's passing, alternating between tremendous performances (holding Arian Foster to 3.1 yards per carry) and embarrassing efforts (the St. Tebow show in Week 9's loss to Denver).
With Caleb Hanie starting for the injured Jay Cutler, you know the Raiders will be crowding the line of scrimmage and daring the Bears to throw.
The problem is, this was the exact strategy the Raiders used successfully against Tebow for two quarters, but then inexplicably abandoned in the second half. The Raiders must commit completely to stopping the run, whatever the cost.
Will Hanie complete some throws? Sure, even a guy like Kyle Boller gets lucky sometimes. But you live with those completions, because in the long run, if you force Hanie to beat you—he can't. 
Raiders' coach Hue Jackson vs. himself
Ever hear the saying, "Too smart for your own good"?
That might be the most appropriate way of describing Hue Jackson.
He's a phenomenally charismatic guy, rocks some great postgame suits and is undoubtedly a great football mind. But Jackson's biggest setback is that he gets in his own way too often.
I haven't seen another team whose offense plummets so badly in the second half like the Raider offense. In the last seven games, the Raiders have scored an average of just six points after halftime.
Even worse, Oakland has been shut out in the fourth quarter five different times over that span. After breaking down the numbers, the fact the Raiders managed to go 4-3 over that span seems amazing.
Hue must stay creative, be smart and aggressive after halftime, because you can't put up second-half numbers like that and expect to win every week.
A prime example of poor play-calling was the Raiders' first drive at Minnesota last week: three straight run plays and a punt—simply unacceptable.
Running clock is important, and the ground game will help you do that, but the offense needs to continue to attack whether the Raiders are down 10 or up 20.
The beastly Michael Bush, who probably scares the team chef and opposing defenders equally, should continue to get ample carries, but there has to be smarter pass plays called in the second half to extend drives and keep putting up points.
Bears' kick return specialist Devin Hester vs. Raiders' safety Mike Mitchell and the special teams players
I have a strategy for dealing with Devin Hester, it's very simple. Five words: Don't kick to him. EVER.
I understand some teams are proud, they want to prove they're tough or smart or whatever, so they will want to kick to Hester. To these teams I say: I bet there's a lot of unemployed players and coaches who are pretty proud. You want to be like them?
Take for example, Raider safety Mike Mitchell, who thought it would be funny to say this the other day to Yahoo! Sports: "After (Hester) gets machine gunned a couple of times he's not going to be too quick to return punts. I'm not talking any trash either."
I wasn't an English major, but I'm pretty sure talking trash is exactly what you just did, Mikey. And that was very, very stupid.
The last thing you want to do is taunt a player as good as Hester. He has already set the NFL record for punt return touchdowns (12) in less than six full seasons. Former Bear Gale Sayers, often considered the best kick return man of all time, is in the Hall of Fame, and Hester has already matched his number of kickoff return touchdowns. Seriously, do not kick to this guy. Ever.
In fairness, the last time the Raiders and Bears met, coach Lane Kiffin declared the team would kick to Hester every time. True to his word, the Raiders didn't avoid the dreadlocked menace, and Hester had a very quiet day.
But do you really want to tempt fate twice?
The Bears will struggle to score points without Jay Cutler, so the last thing you want to do is allow Hester to put six on the board. For the sake of Raider Nation's sanity, be smart Hue, and punt it out of bounds.
For more foolish analysis, along with the occasional witty comment, follow Fernando on