NBA Free Agents: Tyson Chandler and Top Difference Makers on the Market
November 26, 2011
Mike Ehrmann/Getty Images
Basketball at the highest level is back.
The NBA will be making its much anticipated debut on Christmas Day, pending approval of a tentative agreement.
Now that we have a deal that was agreed upon, teams need to start thinking about adding pieces to their championship puzzle. There are several touted individuals in free agency but these players would be the biggest difference makers to a championship contender.
Shane Battier
Shane Battier can do a plethora of things on the court that could impact his team. He is known for his man-to-man defense. Not only does he defend the opposition's best guard but he accepts the challenge.
Battier is a two-time NBA All-Defensive Second Team selection.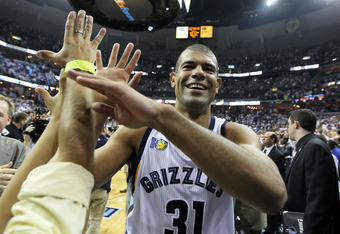 Andy Lyons/Getty Images
Playoff-caliber team needs somebody who can lock a player down in the clutch who you know will take the final shot like Kobe Bryant or Paul Pierce. Battier is willing to fill that void.
Another area that he would give teams a boost in would be productive, spot-up shooting. Even though Battier is past his prime (33 years old), he still can be used if given a guard that can penetrate the lane with relative ease.
  Battier shot 39 percent and 33 percent from beyond the arc with the Houston Rockets and Memphis Grizzlies in 2010-11. The better the point guard is at penetrating, the more productive Battier can be.
Battier's defensive prowls and spot-up shooting would be a difference maker to playoff clubs.  
Nene
If healthy, and that's a big if, Nene is one of the best centers in the NBA. Health has always been Nene's No. 1 issue. He has only played in all 82 games once in his career.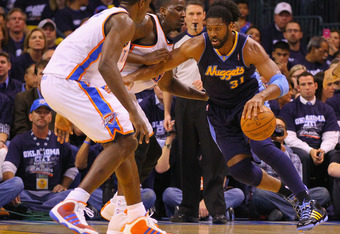 Dilip Vishwanat/Getty Images
Nene can do work on both sides of the floor. He has averaged 12 points and seven rebounds in his 9-year career. He is one of them more efficient big men in the league, averaging a 56 percent field goal percentage in his career.
He is coming off a 2010-11 campaign where he averaged 15 points, eight rebounds and 62 percent shooting from the floor.
If he could remain healthy for an entire season teams would be happy to snatch him up in free agency.
Remember this guy? Tayshaun Prince hasn't been talked about in recent years mostly because the Detroit Pistons haven't been any good. However, Prince has provided solid minutes to the Pistons and he could potentially be a tremendous difference maker for playoff teams.
Prince brings the experience wanted out of a free agent. He won the NBA Championship with the Pistons in 2004. He has played in 118 playoff games.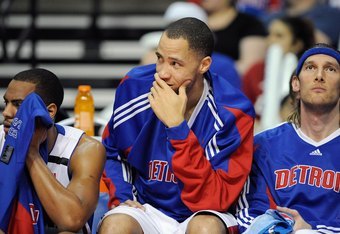 Gregory Shamus/Getty Images
His production has been consistent in Detroit. Aside from his first year (2002-03) Prince has averaged double-digit points and four or more rebounds per game. Prince doesn't miss a ton of time either. He has played in all 82 regular season games six times.
Prince can do it all on the court. Whether it's scoring, dishing out assists, rebounding, blocking shots or steals, Prince has an all-around game.
But what gets overlooked is his defensive ability. Prince is a 4-time NBA All-Defensive Second Team selection. Prince's lanky 6'9" body gives the opposition fits. He can guard multiple positions, doesn't mind doing the little things, and he is a winner.
Prince would be a perfect fit for playoff teams.
Tyson Chandler
For years the Dallas Mavericks were missing an inside presence capable of blocking/altering shots, being active and being able to dominate the glass.
In comes veteran center Tyson Chandler.
His 7'1" 235 pound frame not only gave the Mavericks inside help but changed the culture and reputation of the club. He averaged 10 points and nine rebounds while averaging 28 minutes on the floor.
The NBA doesn't have too many "pure" centers that dominate games like in the past, but Chandler brings different strings to both sides of the ball that make him reliable underneath.
His solid rebounding, ability to improve on his offensive game and hustle makes him one of the most touted free agents in the class.
He is a guy that isn't afraid to get his hands dirty. Chandler will give you 100 percent maximum effort. Players like Chandler are needed to win a championship and teams would be crazy to overlook him in free agency. 
Note: This article is not intended for restricted free agents.