NFL Week 12 Picks: Breaking Down Key Divisional Matchups
November 26, 2011
Rob Carr/Getty Images
Week 12 of the 2011 NFL season is chock-full of important divisional showdowns, some for your viewing pleasure and others because, well, they had to play 'em some time, didn't they?
While only some of them are bound to make for good games, they all carry some measure of intrigue within the context of the playoff picture and beyond.
Except for Arizona at St. Louis, so I'm going to do y'all (and myself) a favor by leaving that game off the list.
Houston Texans at Jacksonville Jaguars
Under most circumstances, this game would mean absolutely nothing and, as such, I'd advise you to avoid it like the plague. After all, the Texans are 7-3 and, as such, have all but sewn up the AFC South while the 3-7 Jaguars can't score points to save Blaine Gabbert's flowing locks, much less his life.
This one would've been a walkover had Matt Schaub not been careless enough to break his foot (because clearly, that sort of thing is intentional, right?) against the Buccaneers last Sunday.
And it still may be, seeing as how Arian Foster and Ben Tate are still healthy enough to run amok and Houston's defense has yet to step off the cliff from the elite.
But, with Matt Leinart taking over under center, you never know what might happen. There's always the chance that Jacksonville running back and human bowling ball Maurice Jones-Drew takes a blunt object to the back of Leinart's kneecaps mid-game to even the score a bit from their collegiate days, when Leinart's Trojans trounced MoJo's Bruins year after year as they were re-enacting the real story of Thanksgiving.
Still, look for the Texans to do just enough to escape swampy northern Florida with another "W."
Buffalo Bills at New York Jets
When Supreme Court Justice Louis Brandeis talked about the "race to the bottom" back in the late 1800s, I think he was talking about the battle between the Bills and the Jets for second-place in the AFC East. Both have summarily stunk of late, with New York losing its last two games and Buffalo dropping its last three and four out of five overall, including a 27-11 decision to Gang Green in Week 9.
Mike Ehrmann/Getty Images
Meanwhile, the Patriots have taken firm control of the situation and the Dolphins looked to be getting back in the thick of things before dropping a heart-breaker in Dallas on Thanksgiving Day.
Which leaves Mark Sanchez and Ryan Fitzpatrick to slog it out in the muddled middle, with each guy taking turns yelling at the other, "No, I'M the more disappointing quarterback!"
At least those two will have a chance to settle that score, though the Bills' defense is bad enough to make anyone with the ability to put projectile motion into practice look like Dan Marino these days.
And now that Fred Jackson's done for the year, the Bills' magical carriage hasn't turned into just any pumpkin, but the one you first tried to carve as a kid after nearly cutting off your own finger.
Yeah, it's that bad, folks. Even the Jets will be left shaking their heads, wondering where it all went wrong.
After chalking up another victory, naturally, and somehow hanging onto a Wild Card spot.
Cleveland Browns at Cincinnati Bengals
Before the season started, everyone and their mother thought the Browns would be the surprise playoff contender and the Bengals would be the ones busy upholding that great Buckeye State tradition living up to expectations by stinkin' up the joint.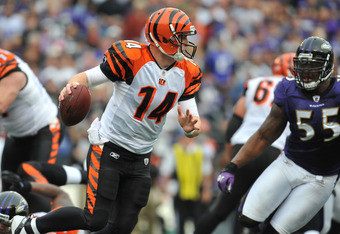 Larry French/Getty Images
Funny how things worked out. Instead, it's Colt McCoy who's looked like the overmatched rookie and Andy Dalton who's proven that his play on the field can be as hot as the fiery red hair underneath his helmet.
Neither of these teams puts up many points, but the Browns (oh, the Browns) have turned offensive ineptitude into a veritable art form. In fact, Cleveland has cracked the 20-point glass ceiling but once this season, against the winless Colts.
And against Cincy's D, one of the best in the NFL, I'd give Beavis and Butt-Head better odds of scoring.
Also, Cedric Benson has some sort of sycophancy for buttering up the Browns' porous run defense.
Makes him hit the hole faster, I suppose, or just makes snagging a playoff spot that much easier.
Denver Broncos at San Diego Chargers
It'd take more than a Tim Tebow miracle to turn the Chargers' tragic season around. Where once Qualcomm Stadium was just a graveyard of broken Super Bowl dreams, now it's become a disaster zone for all things Powder Blue.
And as nice a guy as Tebow seems to be, even he's not about to lend a helping hand to Norv Turner and Philip Rivers, not so long as his Broncos are in the thick of the race and he's trying (in vain) to impress John Elway.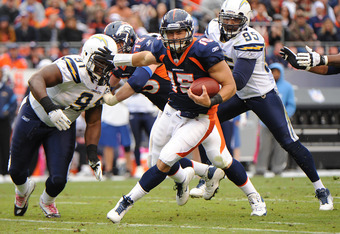 Bart Young/Getty Images
Strangely enough, it's Rivers who could stand to learn a thing or two from Tebow in this one. San Diego's signal caller has accounted for 23 turnovers against just 16 total touchdowns while Tebow has tallied 10 touchdowns compared to just three giveaways.
The irony will hardly be lost on Broncos head coach John Fox, who's proven to be much more pragmatic than his southern California counterpart.
Then again, Fox is used to dealing with dreck under center, surviving in Carolina as long as he did with Jake Delhomme doing most of the heavy lifting.
But before we get too carried away showering Timmy with love and affection, let's not forget that Denver's defense has been the real star of the show, with the pass-rushing tandem of Elvis Dumervil and rookie Von Miller serving as the protagonists.
They'll be the ones causing most of the mayhem on the field, while Tebow will inevitably get all the credit for Denver improving to 6-5 on the season.