San Francisco 49ers NaVorro Bowman: This Year's Breakout Star in the NFL
November 26, 2011
Wait, who?
NaVorro Bowman, a second-year linebacker out of Penn State, is actually leading the NFC in tackles.
More importantly, Bowman is leading the 49ers to the playoffs as they run away with the NFC West.
He will be a household name before long, as well as a Pro Bowler.
Bowman is a major reason why the 49ers have held opposing running backs to a remarkable 73.9 yards per game, the best in the league.  
Fellow linebacker Patrick Willis is regarded by many as the best the NFL has to offer at the position, and with the emergence of NaVorro Bowman, this unit is surely as dominant as any.
Bowman (6'0", 242 pounds), looks nearly identical to Willis (6'1", 240) on the field with very similar body types and jersey numbers one number away from each other (Bowman is 53, Willis is 52). Furthermore, their skill sets make it even harder to distinguish between the two 'backers.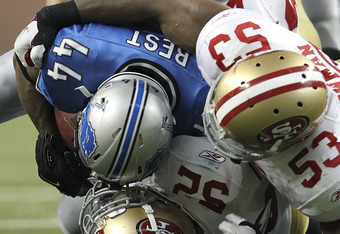 Leon Halip/Getty Images
Pat Willis is recognized for his incredible speed for such a muscular body. He terrorizes opposing offensive coordinators every week with the mismatches he is accountable for. Now, with the emergence of Bowman, it is virtually impossible to stop each of these forces from mauling a quarterback from both sides.  
It has become a nightmare for offenses trying to prepare for a showdown with San Francisco.
Led by Bowman and Willis, the 49ers defense has allowed the least points per game in the NFL. The have also forced (and recovered) the most fumbles in the NFC, along with totaling the second-most interceptions in the conference.
Because of the defense making so many plays, the 49ers are 9-2 despite recording only 180 passing yards per game—the worst in the NFC.
It has been an exciting year for an upstart franchise with a rookie coach. Jim Harbaugh appears to be the favorite to win the Coach of the Year award, a remarkable feat in his first year coaching at the pro level.
This defensive-minded team, whose quarterback is average at best, has been compared to the 2000 Baltimore Ravens.
I think we all know how that story ended.