Arkansas vs. LSU: The Top 5 Player Matchups in This SEC West Showdown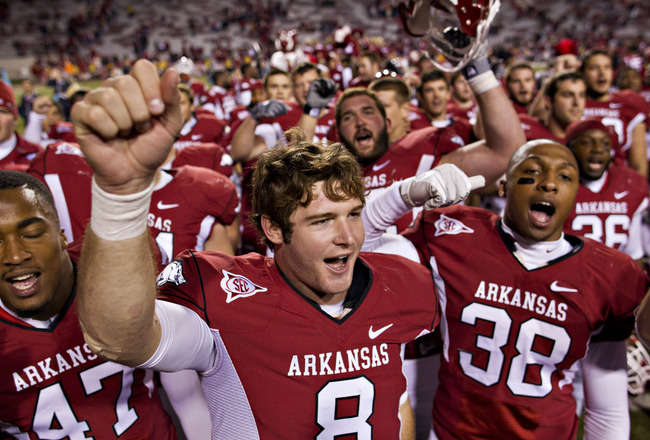 Wesley Hitt/Getty Images
The Alabama-LSU game earlier this season was referred to as the "Game of the Century." As a result, many are calling this game the "Game of the Century II." That might be a bit of a stretch at this point.
However, this game does have the rare matchup of a No. 1 and No. 3-ranked team in the regular season.
This game should be far more entertaining to those fans who like offense. A 9-6 outcome is highly unlikely, but if the Razorbacks do not win these key battles, the outcome will be the same.
There have been numerous "what if" articles written the past few weeks on what will happen if Arkansas wins. Well, those articles are irrelevant if they do not focus on these key areas in today's game.
Brad Wing vs. Joe Adams
Kevin C. Cox/Getty Images
Strong special teams play has been one of the top reasons that both LSU and Arkansas are ranked in the Top Three nationally. Moreover, both of these two have had the punting game mean the difference in a win and a loss this season.
LSU is led by Brad Wing and their punting team. Wing is averaging 43.0 yards per punt, and the Tigers are first in the SEC in net punting.
Arkansas will try to counteract the Tigers strong punting team with perhaps the top punt returner in the nation in Joe Adams. Adams leads the SEC with 16.2 yards per punt return and has returned three punts this season for touchdowns.
The Razorbacks offense is going to find life much more difficult against LSU than other teams. As a result, Arkansas will need to make sure they start their drives with good field position. Adams does not have to return a punt for a touchdown, but he must be able to flip field position.
Wing has proven this season that he is a clutch punter and is going to put his team in the best possible scenario most of the time. However, he must do everything within his power to limit Adams' returns. It is better to punt the ball five yards shorter out of bounds than to have the human highlight film return his fourth punt of the season for six points.
Jerry Franklin vs. Spencer Ware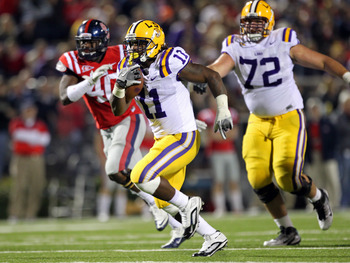 Joe Murphy/Getty Images
Spencer Ware is a strong and physical running back who runs best between the tackles. Les Miles would love to control the line of scrimmage with a large dose of Ware. This would allow them to score points and control the time of possession.
Moreover, the longer they are on the field, the less time Tyler Wilson and the Razorbacks offense are on the field.
If Arkansas is going to win this game, then Jerry Franklin must have a career day for the Razorbacks. Franklin leads Arkansas in tackles and is fifth in the SEC with 87 tackles on the season. He is also 10th in the SEC in tackles for loss with 10.
Ware shares the backfield with Michael Ford, and they have combined for 1,275 yards on 266 carries and have scored 14 touchdowns.
As this LSU rushing attack goes, so does the team. The Razorbacks are eighth in the SEC in rushing defense, giving up 164.2 yards per game.
Morris Claiborne vs. Jarius Wright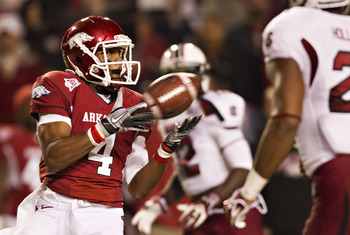 Wesley Hitt/Getty Images
There are several different formations the LSU Tigers will line up with on defense in today's game, including the nickel and dime defenses.
However, whenever their cornerbacks are required to cover Arkansas in man-to-man coverage, Morris Claiborne will be matched up against Jarius Wright.
Wright leads the SEC in yards receiving per game at 100.2, has more than 1,000 yards on the season and has scored 10 touchdowns.
Claiborne, on the other hand, is one of the top lockdown corners in college football. He has amassed 40 tackles and four interceptions on the season, but that only tells half the story.
The Razorbacks offense is too complex to completely shut Wright down. However, they need to be able to keep him out of the end zone on the deep ball. If Wright gets off to a hot start, it will free up everyone else, and the Tigers secondary will have a repeat of the West Virginia game.
Montgomery/Mingo vs. Peacock/Freeman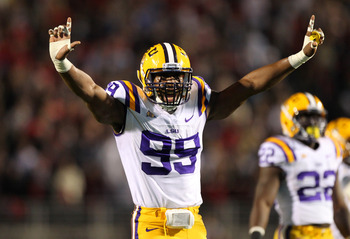 Joe Murphy/Getty Images
If the Tigers fail to get pressure on Arkansas quarterback Tyler Wilson, they will lose this football game.
However, at the same time, they have so many responsibilities in the passing game that it will be risky to blitz the linebackers too often. As a result, the Tigers will need to have a strong day from Sam Montgomery and Barkevious Mingo.
Montgomery and Mingo are two of the best defensive ends in the SEC, and have combined for 70 tackles, 12 sacks and 19 tackles for loss.
Wilson has the ability to dissect a defense like a surgeon when given time. As a result, the Razorbacks will be looking for a big game from offensive tackles Jason Peacock and Grant Freeman. Both players will be called upon to block Montgomery and Mingo many times in this game.
If the Tigers get pressure without much blitzing, Arkansas might as well not even show up because this game will result in a major defeat.
Rueben Randle vs. Tevin Mitchell/Greg Gatson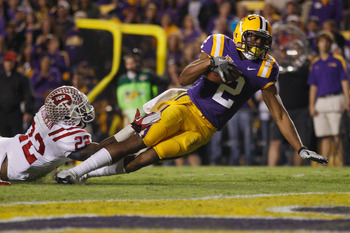 Chris Graythen/Getty Images
Rueben Randle is one of the top wide receivers in the nation, and the Arkansas secondary has been shaky and inconsistent this season. Les Miles' first objective is to run the ball down the throat of the Razorback defense.
However, they love to set up the play action pass and hit Randle with the deep ball.
I listed Tevin Mitchell and Greg Gatson on the slide title. However, Arkansas will throw several different defensive backs and Randle in the game. If the Tigers get off to a strong start in the running game, the Razorbacks will have to leave their defensive backs on an island against Randle.
Randle has caught 39 passes for 755 yards and eight touchdowns for the Tigers this season, and will be looking to have his fifth game of 98 yards or more.
Randle is an x-factor for this offense; when he is on, they are almost impossible to slow down. Whoever wins this battle is likely to win the game.
Keep Reading

LSU Football: Like this team?