Baltimore Ravens: Officially Second Best Team in NFL After Beating 49ers
November 25, 2011
Larry French/Getty Images
Thursday night's game between the San Francisco 49ers and Baltimore Ravens was a great matchup between two playoff-bound teams, but one thing is now very clear.
After the Packers, the Baltimore Ravens are the NFL's best team.
The Ravens, coached by John Harbaugh, proved that even without Ray Lewis, the team can still lock down opposing offenses.
Baltimore allowed only six points tonight, with players like Terrell Suggs stepping up in Lewis' absence. The team set an all-time franchise record for sacks in a single game with nine—Suggs accounted for three.
It's scary (not the good kind) to think about a Ravens team without Ray Lewis, but Baltimore looked awfully good on defense Thursday night.
The 49ers were 9-1 coming into their game against the Ravens—knocking off a team with that good of a record is a huge accomplishment. Some say that the balance of power has shifted to the NFC, but Baltimore slowed that down Thursday.
After this game, the Ravens proved that they (not the 49ers) are the best team after the Green Bay Packers.
Offensively, not a lot clicked tonight for John Harbaugh's squad.
Quarterback Joe Flacco threw a clutch touchdown to Dennis Pitta in the fourth quarter, putting the Ravens up a score, but the team had trouble getting into a rhythm.
It starts with Ray Rice, Baltimore's young star running back, who was in a funk all night and couldn't lift the Ravens offensively.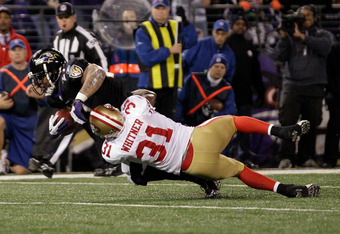 Rob Carr/Getty Images
Rice will snap out of this—most defenses aren't nearly as good against the run as the 49ers is.
In the passing game, Flacco was solid, managing the Ravens up and down the field with a 15-of-23 for 161 yards and the aforementioned touchdown, not throwing a pick.
He's not Aaron Rodgers, but Flacco does just what his team needs to win games. Sixteen points isn't a lot, but it was just enough for the Ravens to triumph on national television.
Getting contributions from budding stars down the stretch will be key. Torrey Smith in particular needs to roll.
When Smith plays well, Flacco typically follows suit, and the Ravens are explosive offensively.
Either way, the Ravens didn't even have much offense tonight and beat a 9-1 team. If they played the Packers right now, the game would be tight.
The Ravens are the best team in the AFC after this win, and it's not even close.