Chicago Bears: 5 Players Who Must Step Up in Jay Cutler's Absence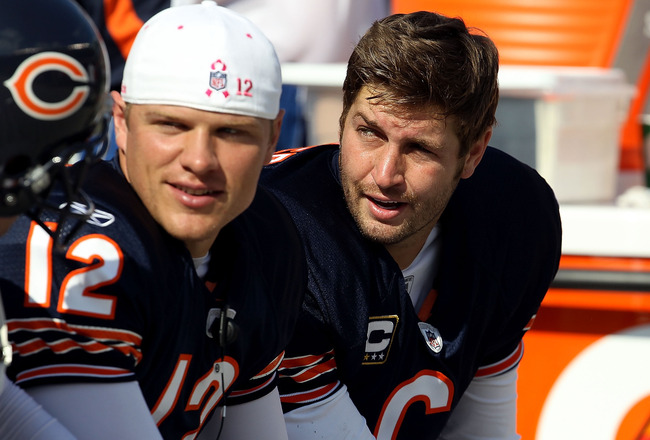 Jonathan Daniel/Getty Images
The Jay Cutler thumb injury was a huge loss for the Bears and could quite possibly end the Bears' playoff chances.
Quarterback play is what takes teams to that next level, and Cutler finally has the look of a star in the league. This injury is a big setback for an aging defense and a gun-slinging offensive coordinator.
Here are five players who must step up in order for the Bears to make the playoffs in the wake of the painful loss.
Major Wright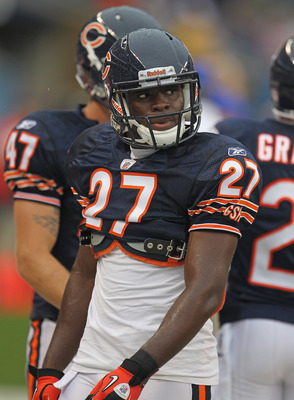 Jonathan Daniel/Getty Images
Major Wright has taken huge steps in becoming a solid starting safety in this league. He seemed to have problems early on in figuring out the Cover 2 scheme, but recently has played well.
Wright is a great run stopper and sure tackler. Still, he seems to have problems in the passing game and will need improve to keep the deep-ball at bay.
Watch for Wright to get some more picks and take the Bears run defense to another level.
Devin Hester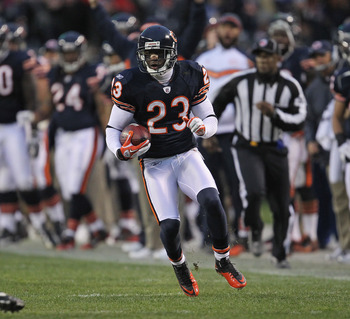 Jonathan Daniel/Getty Images
The Bears have a lot of success when Hester scores. He is currently the Bears' starting receiver, but as everyone knows, the most important thing about Hester is his return ability.
Every week, opponents are expected to not kick to Hester, but for some reason, they continue to do so. When he touches the ball, expect gains of over 20 yards per return, and quite possibly a touchdown.
Hester must give backup quarterback Caleb Hanie and running back Matt Forte great field position in order for the Bears to succeed.
Look for Hester to add to his legacy as the best return man in the game and step up his play in Chicago's push to the playoffs.
Brian Urlacher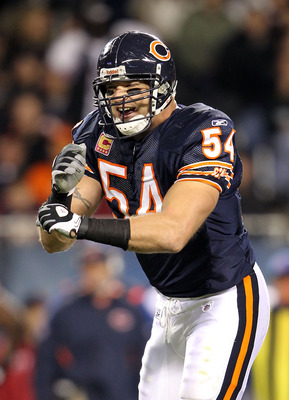 Jamie Squire/Getty Images
As the season has progressed, Urlacher has been dominant and continues to get even better. He looks to be back to his Defensive Player of the Year form, and the overall defense has been better because of it.
Urlacher's play can elevate this team into the playoffs, and quite possibly the Super Bowl—just as he had in their 2006 Super Bowl run.
The captain continues to play fast, rack up tackles, and cause turnovers in key moments. Offenses have to game-plan around Urlacher, which is a big advantage for the Bears.
Urlacher has the talent and mentality to lift this team's spirits and level of play, and will need to continue to do so with the loss of Cutler.
Matt Forte
Streeter Lecka/Getty Images
Matt Forte is one of the best running backs in the league and has the talent to take over games. The previous two games have been average at best, but he has been stellar all season long.
He must get back to his old self and play even better to keep the Bears in the hunt for the playoffs; the teams needs Forte to step up more than any other player on this team.
Forte makes up 46 percent of the Bears' current offense. With Cutler done for the season, Forte will need to further raise that percentage.
If Forte wants to be paid, and if the Bears want to reach the playoffs, then he must continue to dominate in the final six games.
Caleb Hanie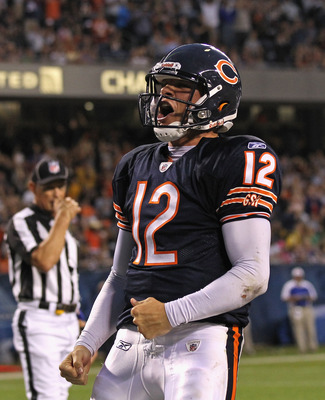 Jonathan Daniel/Getty Images
Caleb Hanie will get his first chance as the starting quarterback against the Oakland Raiders this week.
Though he has not even thrown a single pass this season, he must step up his game if the Bears are to have any change at and in the playoffs.
We shouldn't expect Hanie to throw too many passes, but the key will be for Hanie to game-manage and limit turnovers. He must utilize the running game and short dump-off passes to keep the Bears moving forward.
I do not see Hanie taking this Bears team to the level Cutler had and can, but he must be competent enough to be a game manager. That is the level that Hanie must step his game up to and nothing else.
Hanie must hold the fort down until Cutler can return, and I expect him to do so.
Keep Reading

Chicago Bears: Like this team?