Fantasy Football Week 12 Quarterbacks: Upgrades, Downgrades and Sleepers
November 23, 2011
Kevin C. Cox/Getty Images
Each week FFSpin will analyze the matchups and provide our take on which quarterbacks you should start and which should be sitting on your fantasy pine. We take several variables into account, including matchups, injuries, potential weather problems, arrests, baby mama trouble, etc.
With three games on the Turkey Day slate (Green Bay @ Detroit, Miami @ Dallas, and the battle for brotherly love San Fran @ Baltimore), we look to get the Upgrades/Downgrades article on your plate as soon as possible this week.
The bye weeks are over, but numerous injuries could have fantasy owners scrambling to the waiver wire for Week 12. Jay Cutler's fractured thumb could keep him out for the remainder of the season. Mike Vick will test his fractured ribs on Tuesday, but is no lock to return for the dream matchup with the Pats 32nd-ranked pass defense.
Houston used the Week 11 off week to acclimate Matt Leinart to the starting gig now that Matt Schaub will be lost for the season with a foot injury—a major blow for Andre Johnson owners.  Those looking for an injury replacement should take a look at our Week 12 Waiver Wire Recommendations.
In this article we go under the premise that you are starting your studs unless they face elite pass defenses. Revis Island hosts a struggling Ryan Fitzpatrick who should remain on fantasy benches.
As we approach the home strength of the 2011 season, the trend continues that this is a passing league. There are eight passing games averaging more than 270 YPG including New England, New Orleans, Green Bay, San Diego, Carolina, NY Giants, Dallas and Pittsburgh.
The following defenses have allowed the most fantasy points to opposing QBs (more that 22 FPG): New England, Minnesota, Denver, Green Bay, Oakland , Miami, Chicago and Buffalo.
The top defenses at defending the pass in 2011 (allow less than 16 FPG) are Pittsburgh, NY Jets, Cincinnati, Baltimore, Cleveland, and Houston. Pittsburgh faces Tyler Palko and the Chiefs while Houston welcomes Blaine Gabbert—both defenses could pitch shutouts in Week 12.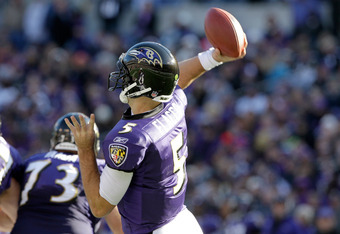 Rob Carr/Getty Images
Don't miss the upgrades, downgrades, as well as the sleepers at running back and wide receiver after you get smart on the signal-callers.
Also be sure to check out the FFspin Sunday Morning Chat from 11 a.m. to 12 p.m., where we will tackle your last-minute fantasy football questions, including starts/sits, injury updates, keeper questions, etc. Set a reminder and reserve your spot at the link above.
UPGRADE: Matt Ryan (vs. Minnesota)
Ryan has been somewhat of a disappointment for fantasy owners as the fourth-year signal-caller from Boston College had only two multiple TD games in the first half of the season. On the plus side, he is on pace for a career-high in yards (262 YPG). Even with rookie WR Julio Jones' sidelined in Week 11, Ryan impressed against the Titans completing 29-of-52 passes for 351 yards, two touchdowns and one interception.
Ryan is a solid trade target as his first-half schedule included numerous difficult matchups, while the second-half schedule softens up and he won't face weather concerns in any of the Falcons final six games.
In Week 12, Atlanta welcomes Minnesota's 28th-ranked pass defense that will be without its only decent CB Antoine Winfield (lost for the season with a fractured clavicle). Ryan is a borderline QB1 this week as Atlanta could employ more of a pass-happy approach as the Vikings run defense could limit Michael Turner.
Plus Matchups: Carson Palmer (vs Chicago) - Bears 30th ranked pass defense (271 YPG), Joe Flacco (vs San Francisco) - 49ers 23rd ranked pass defense allowing 249 YPG. Ravens might be forced to pass more often as Ray Rice could find tough sleddding against San Fran's No. 1-ranked run defense.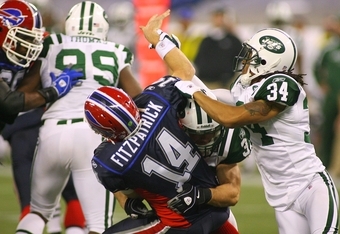 Rick Stewart/Getty Images
DOWNGRADE: Ryan Fitzpatrick (@ NY Jets)
The Jets and Revis Island rank sixth in yards allowed (200) and have only yielded eight passing TDs through 11 games. Harvard alum Ryan Fitzpatrick will need to use his big brain in order to outsmart Sexy Rexy in this week's AFC East battle.
After getting off to a blistering start, Fitz has fizzled over the last three games with seven interceptions and only two touchdowns, while averaging a less than impressive 182 YPG. In the Week 9 matchup against Revis Island, Fitzpatrick was held in check (191 yards, one TD, two INTs).
In 2009/2010, Fitzpatrick faced the NY Jets in three games and averaged a very pedestrian 114 YPG with three TDs and two INTs. With both starting WRs (Stevie Johnson and David Nelson) at less than 100 percent this is a matchup to avoid in Week 12.
Bench Worthy: Alex Smith (vs Baltimore) - Ravens pass defense allowing 211 YPG and have only given up seven passing TDs through 10 games. Tarvaris Jackson (vs Washington) - Redskins 10th-ranked pass defense allowing 221 YPG and the 9th fewest fantasy points to opposing QBs.
SLEEPER: Mark Sanchez (vs Buffalo)
The Jets season is spiraling downward and some of the blame falls on their less than accurate QB who has given new meaning to the Dirty Sanchez. Sanchez has had his ups and downs but is still on pace to have the best season of his brief career.
On the season the USC alum is averaging 233 YPG with 14 TDs and 10 INTs. Over the past three weeks Sanchez is averaging 252 YPG. In the Week 9 matchup with the Bills, Sanchez completed 71 percent of his passes (20-of-28) for 230 yards with one TD and one INT.
The injury-riddled Bills secondary has been torched of late (made Matt Moore look like an NFL QB in Week 11). Buffalo's 24th-ranked pass defense allows 250 YPG and have given up 17 TDs. Sanchez is well worth considering for those that lost Jay Cutler.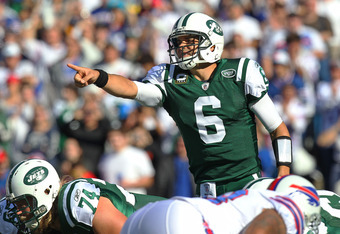 Tom Szczerbowski/Getty Images
Sleeper Potential: Christian Ponder (@ ATL) – It's expected that the Vikes will be without AP for at least one week which should force a more pass oriented game plan. Atlanta's 26th ranked pass defense is allowing 254 YPG.  Matt Hasselbeck / Jake Locker  (@TB) – Hasselbeck is listed as questionable and Locker impressed in limited action in Week 11. Tampa's 29th ranked pass defense allows 265 YPG and have yielded 18 passing TDs in 10 games.
Did you know you can have roster decisions customized to you players at no cost at Fantasy Football Crystal Ball?  Seriously, you can. They'll pull your roster each time you visit your league manager, unless you are with MyFantasyLeague.com or RTSports, in which case they are directly integrated and it's even easier. You'll get start/sit recommendations based on the aggregate rankings from over 30 of the top fantasy experts on the web.